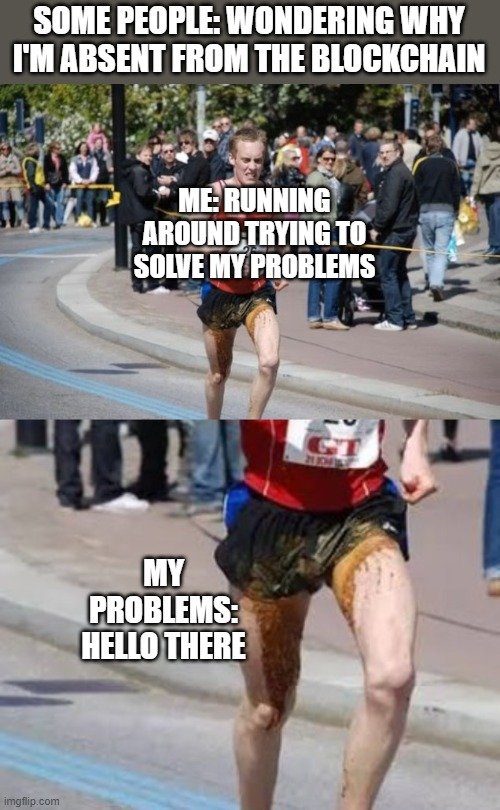 You've all heard of Spooktober, now get ready for the smelliest new meme trend: Craptober. Nah... I'm just messing around, this is the tale of how the past month went for me and why I had to unfortunately take a break from blockchain buffoonery.
Firstly I want to thank all the people that asked about how I was doing or missed my shenanigans in any way. It means a lot knowing that I have a very very small contribution to people's everyday entertainment or virtual social life. To be honest I didn't think anybody would notice my month long absence but I was pleasantly surprised by people giving a shit about the crazy clown going missing in action.
So what was I up anyways ? There's quite a bit to unpack there, because I wouldn't put the old crypto grind on pause for any dumb reason. I won't go into a lot of details because privacy and stuff but I'll try my best to explain why I was so caught up dealing with real life challenges. To start off, I knew this year will be kind of a headache and that it would kind of culminate in October but like with most things in life, you can't always prepare the way you would want in an ideal world. I put a lot of effort for months in advance, in order to be ready for a series of hurdles, that I was fortunately able to overcome. Even though it was super stressful and mentally draining, so much so that I don't remember being that tired since university. On the flip side, I'm pretty happy that I succeeded in keeping my anxiety to manageable levels without medication or shit like that, despite the pressure and expectations that were on my shoulders. In the past I had plenty of bad experiences in high stress situations were anxiety screwed me over so it was nice overcoming this old demon, at least this time around. It was very important that this whole ordeal would end well and I'm happy to report I didn't screw up as I was dreading I would.
But there is more: I'm also in the process of moving to a different town and a different job. And those two things are way less stressful than the stuff I went through recently. The city I currently live in is super expensive and crowded, both of which have become more irritating as time went by and I had to make a change at some point, so here I am packing and slowly moving my shit several hundred kilometers away. The job situation is a little more uncertain but I'm not going to dwell on it too much since my expenses will be much less as well and I won't be super pressed to make fat stacks right away.
The next part of the Leo "Khalendar" is also in the works and will be posted in the next few days, while slowly trying to get back into the swing of things. So if you've missed my retarded comments on your posts, fear not: the crazy clown is back !