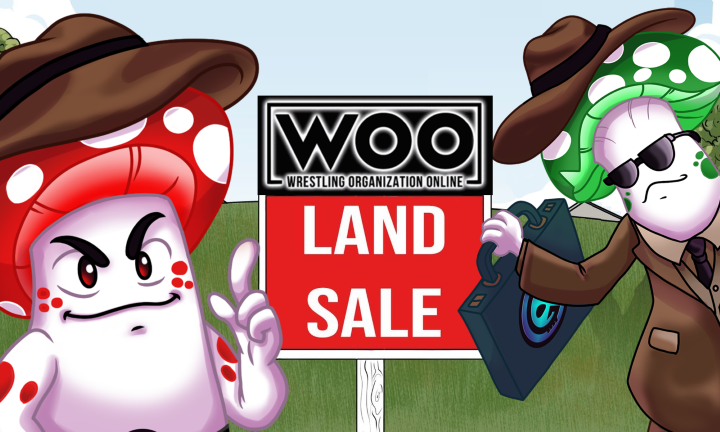 Happy New Year everyone!
The Cartel is happy to announce, that we are in the Platinum tier of the WOO Land Sale Whitelist. Due to this we offer to buy plots for the general public during the pre-sale, favouring in price our loyal token holders: the Cartel owners.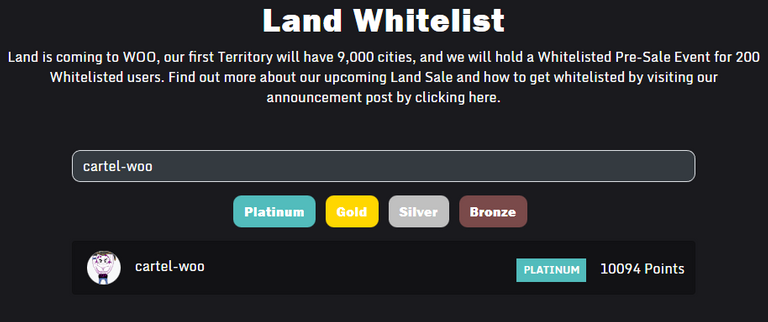 Let me first introduce what the WOO land sale is about, then we will go through our offer:

What is WOO?
WOO is the abbreviation for Wrestling Organization Online. This is a Play2Earn game with playable and sellable NFTs on the Hive blockchain.
In the game you will be able to manage a Wrestling Organization by
Arranging fights for your wrestlers and managers
Improve your own stadium where other players can compete
Create championship titles and tournaments with other players by joining promotions
For more info follow the project on:

What is the WOO Land Sale?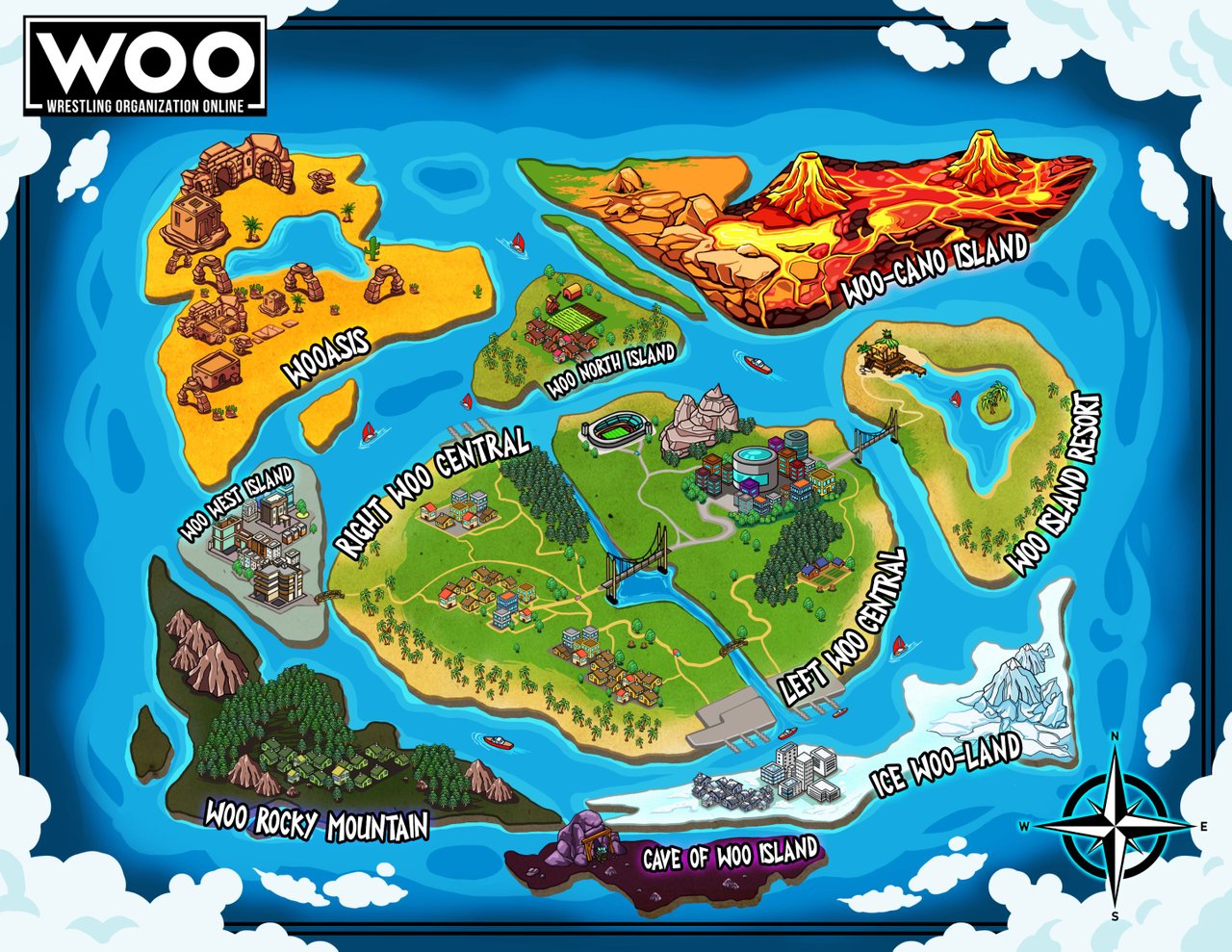 WOO Land is where the PvP fights happen. Basically you will manage a stadium in a city. You will try to improve the amount of Wrestling Fans and the money they are willing to spend on matches so Wrestling Organizations come to you to fight.
You get a small percentage on income from each fight won in your stadium.
Stadiums can be upgraded with WOO so that players (and also stadium owners) can earn more in the city. This will create a competition between stadium owners to attract Wrestling Organizations.
For more info on how this will work you can check out this post:
WOO Game Introduction: Land
---
Short summary on the Pre-Sale:
1st WOO Land Sale will happen in Q1 2023.
A total of 9000 cities (land plots) will be sold. This is the only land sale before the game launch, but not the only land sale.
1 city will cost 20$ or 15$ + 500 $WOO tokens.
Accounts with a high enough amount of WOO assets will be whitelisted and can buy land in the pre-sale.
Only a maximum of 200 accounts will be whitelisted!
The Platinum tier allows the account to have no buy limits (Bronze = 1 plot, Silver = 5 plots, Gold = 25 plots)
Pre-Sale will last 4 weeks
If there are available land plots after the pre-sale then these can be bought by the general public with the same restrictions
Here is all the information around the WOO Land Pre-Sale:
WOO Land Pre-Sale announcement

The Cartel Pool Offer
---
EDIT: WOO WILL ONLY ACCEPT SWAP.HBD SO WE WONT ACCEPT ANY HBD.
---
Since we are not limited in the amount of plots we can buy, we offer to buy land for you for 20 SWAP.HBD each (or with a discount for Cartel holders). During the pre-sale we will buy the land plots for you and send you the plots after they are acquired.
Cartel Pool Rules:
Send 20 SWAP.HBD to @cartel-woo for each Land plot you wish to reserve. Use Memo: "WOO WL X land plots" (where X is the amount of land plots you want to buy) - If you own Cartel, then see the discount structure in the next paragraph!
Deadline to provide funds will be 2 days before the Pre-Sale is launched, so we can summarize the amount of land plots to buy
Discount for CARTEL holders will be calculated according to a snapshot taken 2 days before the land sale
In case an account sends insufficient funds, then the maximum possible amount of plots will be bought and the remaining funds will be refunded
Wait for the pre-sale to start, where the Cartel will buy a plot for you
Receive your plot on the account the funds were sent from
In case the Cartel can't buy the requested amount of land plots we will distribute the plots according to the "First In First Out"-model, meaning those who reserved their plots earlier will receive their plots, while the others will be refunded.
We will have a limit of the amount of plots we would buy in total. Currently we expect to offer a total of 1000 plots through this campaign, but the amount may change. In this case we would inform you about it with an update post.
In case you have any questions feel free to reply to this post, look for the Cartel-WOO channel on the Cartel Discord or contact @arkasz directly.
In case the pre-sale won't sell out all land plots, then you can reach out to us on Discord to see if we offer further sales.

Discount for Cartel owners
We have decided to offer 4 Discount Tiers for CARTEL holders. The more CARTEL one owns the better the discount will be:
| Tier | Amount of Cartel | Discount |
| --- | --- | --- |
| 0 | Less than 1 | $0 |
| 1 | Between 1 and 4.99 | $1.00 |
| 2 | Between 5 and 9.99 | $2.00 |
| 3 | Between 10 and 19.99 | $3.00 |
| 4 | 20 or higher | $4.00 |
Example: If someone holds 7 Cartel in their wallet during the snapshot, then they will get a discount of 2$ for each plot they buy through us. They will only need to send us 18 SWAP.HBD instead of 20 SWAP.HBD for each plot.
Feel free to ask any questions in the Cartel discord channel in the #Cartel-WOO section

What is the Cartel?

The Cartel is a Meta-Guild for play2earn games, with focus on the HIVE blockchain. We are investing into the games that are build on HIVE and hold a large amount of tokens and assets in most of them. They are being played and managed by our Cartel operators.
We are also running the @curation-cartel service, which is specialized on curating delegated HIVE tribe tokens, like #spt, #leo and our very own #oneup (for which we are currently building our own HIVE frontend for crypto gaming topics).
Further, we are constantly building new bots and tools on HIVE, like our own @cartel.swap service for SWAP.HIVE <-> HIVE and even SWAP.HBD <-> HBD, which you can find under https://swap.oneup-cartel.com.
The CARTEL token gives holders co-ownership in our treasury, with various benefits.
This WOO Land Pool is one of them.
Thanks for reading and have a successful 2023!