---
Betting was a bit difficult this past weekend. If you read my other posts, you will know that I was down in Ohio for the better part of the holiday weekend and unfortunately, sports betting isn't legal in Ohio yet.
The good news is, in one more month that will all change and then I should be able to keep track of my bets when I am down there visiting. It's crazy the amount of money these companies are giving away to people just to get them hooked.
I saw a billboard on our drive down to Columbus and I think it said something like $1000 in free credits with your initial deposit. That's a ton of money! Sadly, most people are going to blow through it and not see any return on it. Those lucky few though might make out quite well.
I keep waiting to hear if my brother in law is going to set up an account, or more accurately, if his wife is going to let him :)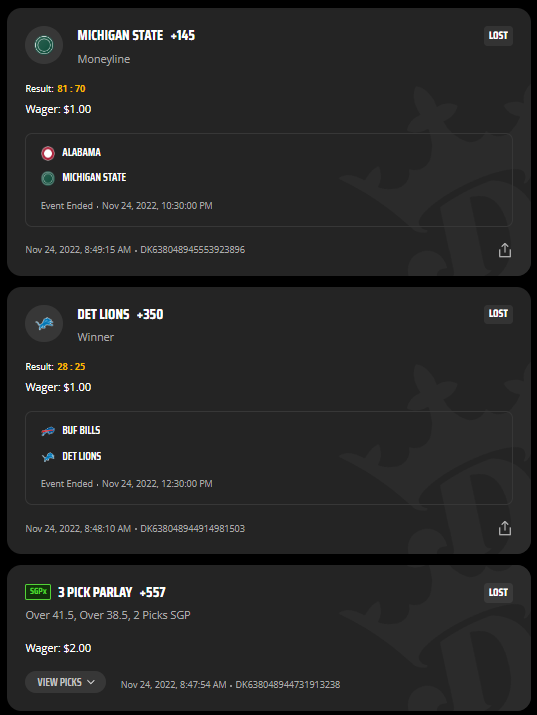 ---
As you can see, Draftkings wasn't that kind to me over the holiday break. I placed a parlay bet on something that didn't hit for me. Oh right, it was the three Thanksgiving day games that were on. Only the Bills/Lions game hit on that parlay. Kind of a bummer.
I also bet on the Lions to win that game. They almost did it too. It was a last second field goal by Buffalo that cost me the win. Thankfully I only bet $1 on that game!
Finally, you can see I bet on the Michigan State basketball game from the Phil Knight Invitational. The only game they lost that weekend was the one that I bet on. Figures right?
The good news is, my Fan Duel account did a bit better and some of it came from the most unexpected places!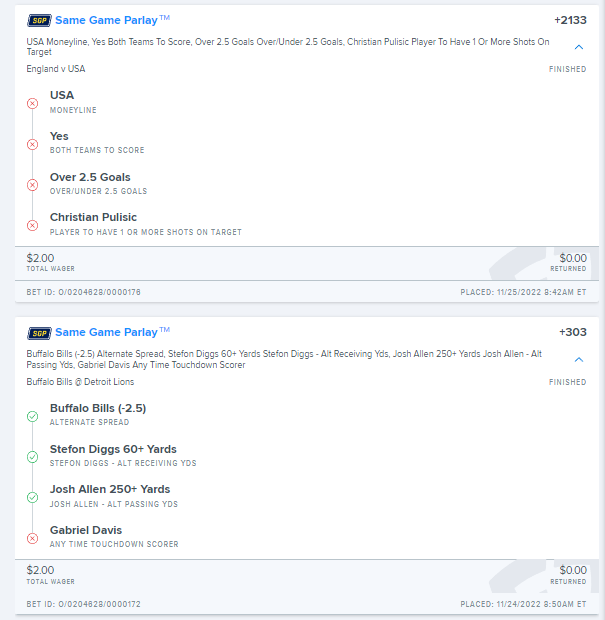 ---
Yep, that's right, I bet on some more soccer games. I don't know what this world is coming to. As you can see I did a same game parlay for the US/England game. We all know by now that game turned out to be a snooze fest and ended in a 0-0 tie. As you can see the parlay was banking on a 2-1 win by the US or something similar. It just didn't happen for me.
Likewise, the parlay I placed on the Bills/Lions game didn't work out for me either. It's always a bit heart breaking for me when I miss a parlay by one leg. With such a high score in this game, it would have been nice if Davis could have scored at least once. Plus, I have him on my fantasy team I think, so that would have been doubly good.
My bets on Fan Duel were not working out too well at the beginning of the weekend.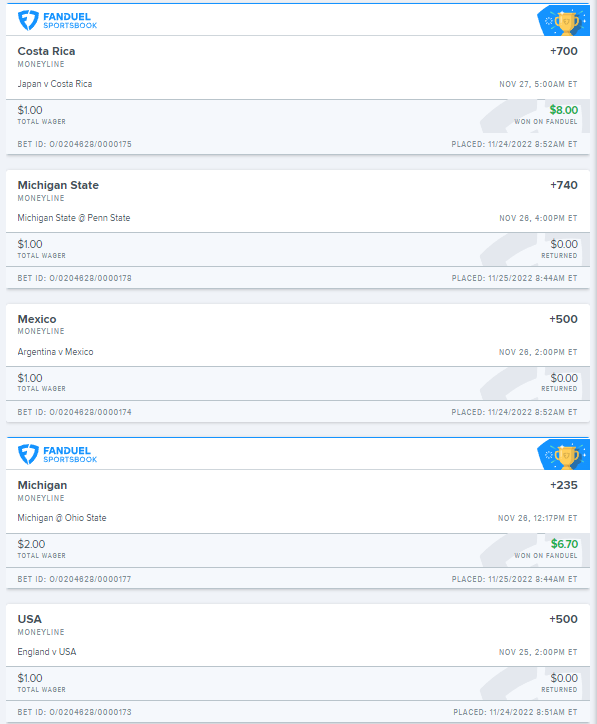 ---
Thankfully, things started to turn around. I also placed a bet on the US to win outright against England an clearly that didn't hit for me.
Then, I placed a bet for "The Game" on Saturday. With the game being at Ohio State, the Buckeyes seemed to be the clear favorite. Pretty much everyone I was talking to felt that way (except Michigan fans of course). I've watched both teams this season and I just had a good feeling about Michigan.
I placed the bet for them to win and my $2 turned into $6.70.
Not as good as a parlay might pay out, but still not too bad. I will take a win where I can get it.
Just for fun I figured I would throw some money at some more soccer games. I don't really know anything about any of the teams, so it was just a guessing game at this point.
I had Mexico beating Argentina and apparently that didn't happen because I didn't win. Just for fun though I decided to bet another game and I picked Costa Rica over Japan. I know that Japan had some early luck in the tournament, but I wasn't riding the band wagon like some people were. As you can see, that $1 bet turned into $8 for me. Not bad at all!
Unfortunately, my bet for Michigan State to win over Penn State didn't play out. I had a feeling it wouldn't, but I gotta support my team right?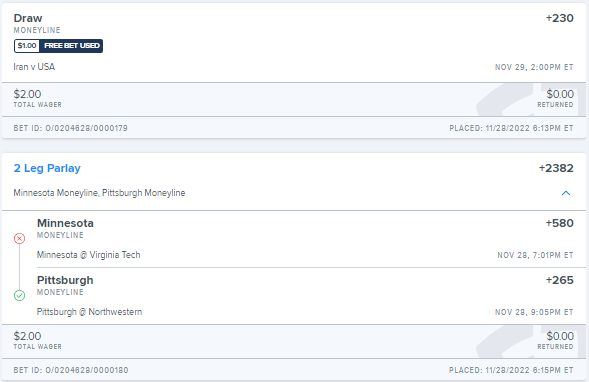 ---
Finally, when I got home on Sunday, I decided to do some late bets on a couple more games. I put in a 2 leg parlay on a couple of college basketball games. Unfortunately, it didn't work out for me. Pitt beat Northwestern, but Minnesota couldn't come out on top versus VA Tech. I'm not sure the Big 10 is looking as strong as they have in the past couple of years.
Also, you can see that I put a bet on the US to tie once again with Iran. I think a lot of people were surprised when the US ended up beating Iran 1 to 0. I'm happy for the team, so I will take the loss graciously.
I would like to point out that I was trolling around on one of my sports betting subreddits and I noticed a guy who had put in a 7 leg parlay or something like that. He bet a modest amount (something like $15) and each of the legs were exact scores of World Cup matches. He had hit six and was waiting for the seventh to finish up.
Turns out it was the US/Iran game and he had the line as US 1, Iran nil. The guy ended up winning something like $4400 on a $15 bet. It was pretty awesome. I hope I can have that luck some day!
---
---

---
All pictures/screenshots taken by myself or @mrsbozz unless otherwise sourced