---
I knew it was coming, but dang if this college basketball season just sneak up on me. Heck, the whole month of November basically snuck up on me. I can't believe we are just a couple of weeks away from Thanksgiving. Next thing you know it is college football bowl season and Christmas. This year is speeding to a conclusion it would seem.
I'm still going to cover all the games that were played this week even though I don't expect there to be too many upsets for me to talk about. This is the time of year when most teams play cupcake games that give their players some time on the court, but doesn't really challenge them too much.
It's a time where coaches can play around with different lineups, give some of those rookies some time on the court to see if they could be starters one day and stuff like that. It doesn't usually amount to some very exciting basketball, but every now and then you get that one game that surprises you.
On Monday this past week, there were no such games. Every top 25 team came out victorious in their season openers. I should point out that #14 TCU only won by one point against the UAPB Golden Lions. I honestly don't even know what UAPB stands for without looking it up. Congrats to them for taking the Horned Frogs to the wire.
My Michigan State Spartans started action on Monday as well. They aren't ranked (yet), but I am going to talk about them anyway. They easily handled their opponent. I can't even tell you who they played because the game wasn't broadcast on any channel that I have available to me.
That definitely won't be the case tonight when they take on #2 Gonzaga. You gotta love Coach Izzo. When all these other teams are playing trash games with easy victories, Michigan State continues their "any time, any place, any one" mentality. In this case, it happens to be pretty epic!
The any time: Tonight (Friday) at 6:30 EST
The any one: #2 ranked Gonzaga
The any place: The flight deck of the USS Abraham Lincoln.
That's right, once again the Spartans are playing on an aircraft carrier for the Armed Forces Classic.
If you go to Pixabay and you type in "basketball", one of my favorite photos shows up from one of the past Armed Forces Classic games on the deck of an aircraft carrier: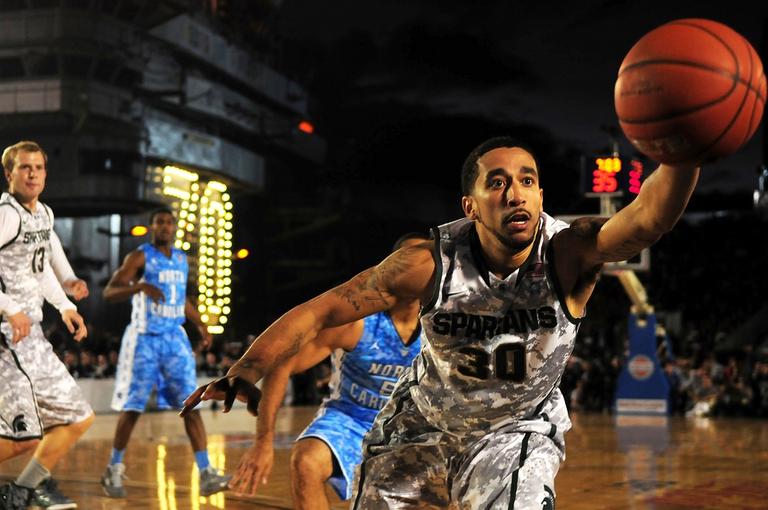 ---
That's Brandon Wood going for a loose ball in their matchup against North Carolina in 2011.
Tuesday and Wednesday gave us no games in college basketball. With football season still going on, they have to be careful about not splitting our attention too much I guess. Fun fact, I read the other day that more people were watching Football on Saturday night last weekend than were watching game six of the World Series. Interesting...
Thursday night gave us five games among the top 25 teams in the country. Once again, they all came out victorious. No upsets so far. That could all change this weekend though. This is the time of year where teams start playing early season tournaments in exotic locations like the Bahamas and stuff like that.
You can occasionally see a top 25 team get upset.
If I had to pick one or two games to keep an eye on tonight besides the Michigan State game, I'd probably pick:
SMU/Dayton, Liberty/Alabama, BYU/San Diego State. I think any of those three games could end up in upset victories. Since I haven't seen the Spartans play yet this season, I am not going to say too much about their chances tonight. Gonzaga is good. They have been pretty dominant for the past two or three regular seasons, so win or lose, it is going to be a tough game for MSU tonight.
Ain't no doubt about it!
---
---

---
All pictures/screenshots taken by myself or @mrsbozz unless otherwise sourced