---
Wow, this weekend was definitely a nail biter for me. It might not look like it when I show you the final score, but there was a bit of time there when I was staring right down the barrel of a big fat loss. I was playing my nephew this week and he hasn't been doing a very good job of managing his team.
On the flip side of things, I have been doing my best to manage my team, but I had a lot of players out on bye this week as well as some injuries. I had to pick up some last minute players to fill my roster. My nephew had yet to do anything with his team, so I was sitting on the winning side of a 75 to 35 projection.
I guess I got lazy because I figure that was good enough. Imagine my surprise when I noticed that my nephew had actually logged into his account and made some moves. I was suddenly looking at a projected loss. At that point my roster was already set. All I could do was cross my fingers and pray.

---
Thankfully, the football gods were on my side and I ended up squeaking out a win. It wasn't pretty, but I will take it! What I thought was going to be an easy steamroll victory ended up being a bit of a nail biter for me!
I am also happy to announce that @mrsbozz came away with a victory as well. Her season has been a bit bumpier than mine, but she has been getting some key wins when she needs them, so it is hard to say how she is going to finish out the season.
I should also mention that my oldest niece was handed her second loss this week at the hands of my brother in law who was right behind her in the rankings. They both now drop to a tie for second place and my sister in law moves up to the #1 spot. It's funny because I would guess she probably knows the least about football yet she seems to do well pretty much every year.
I guess that is what I get for assuming things!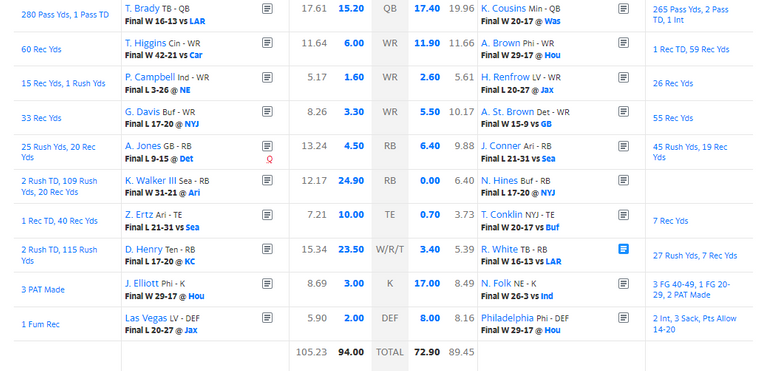 ---
As you can see, Brady was once again far off the mark that I have set for him as my starting quarterback. 20 to 25 points should be easily attainable each week for a player of his caliber. It seems that he and Rogers both have lost a step. It might be time for both of them to hang it up for good. At this point they are just looking silly and not doing themselves any favors.
Higgins was a just a mediocre showing this week, but he at least did better than most of my other running back and wide receivers. Under five points is just unacceptable. I will be happy when this Thursday rolls back around and my players that were on bye come back.
The highlight of my team this week was definitely Henry and Walker III. They have been quite good to me over the last couple of weeks. I hope they can keep producing for me at a high level heading into the remainder of the season.
As you can see, my late kicker and defense addition didn't do me any favors. Ertz pulling in 10 points at tight end is probably one of the best weeks he has had in a while, so I can't really complain about that.
94 points really shouldn't give me the win for the week, but I will take it.

---
As you can see, my bench would have been of very little help to me. With most of my bench cleared out or players on bye, there were hardly any points to be gotten. The good news is. The same was true with my opponent.
I have to admit, I am a little concerned about Mariota. There is going to be a point where I need to lean on him when Brady is on bye week and I am not looking forward to how that is going to work out for me based on these numbers.
Hopefully he can have a record weekend when I need him. Otherwise, I might be screwed.
In other news, Mixon had something like nine touchdowns this weekend and my sister in law who has him on her team came away with close to sixty points from that one player alone. Talk about crazy!
Things could get chippy this coming weekend and I go head to head with @mrsbozz. I'm still sitting at fourth place in the league with one of my nieces close behind. I need this win to maintain my position and my chances at being in the playoffs.
---
---

---
All pictures/screenshots taken by myself or @mrsbozz unless otherwise sourced