---
I know, I know, you are probably thinking wait a minute Bozz, how in the world could a loss be a good loss? Well, let me tell you right now, when you are going to head to head with your wife in a fantasy football battle, It's probably one of the few times that you are better off losing.
That's exactly what happened this past weekend when @mrsbozz and I went toe to toe in our family fantasy football league. I actually didn't have too bad of a weekend, but my wife had one key player that really went off for her and that sealed my fate.

---
As you can tell from the name of her team, my wife has become a bit disenchanted with the whole fantasy football thing. Like me, she was tired of year after year being the only family that hasn't won a championship yet. I think this year we are both a bit indifferent now that the kids are in the league too. There have been a couple of instance of the kids trying to start some trash talk with the adults, but it hasn't really went much of anywhere.
As you can see, I was projected to win this week. Things just didn't go my way. Actually, I really lay it all at the feet of one player but I will get to that in a little bit.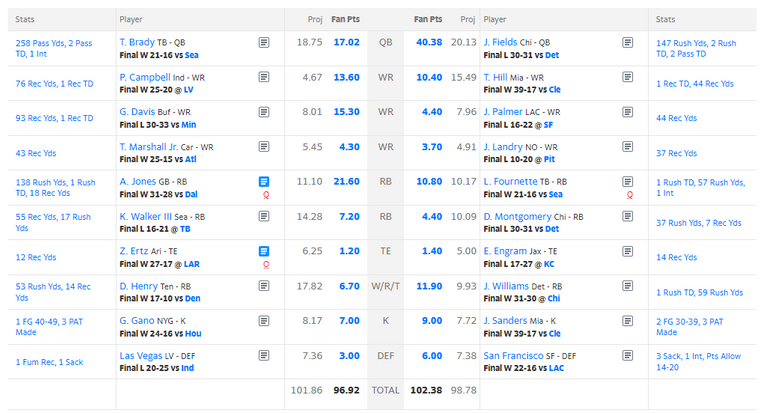 ---
I can't say I am happy with the performance by Brady this week, but I am not going to bag on that too much. While he didn't necessarily help me with his sub 20 point showing, I think the real blame for my loss lies at the feet of Ertz. To be fair, I think he got hurt but still, 1.20 points didn't do anything to help me this past weekend.
Let's break it down:
Brady continues to disappoint and his 17 points is a far cry from the average of 25 that I would expect from a quarter back. I'd like to see my wide receivers closer to the 15 or 20 point mark, but Campbell and Davis both did pretty decent this past weekend. Marshall Jr. was a huge let down though. That 4.3 points just can't cut it. I think he was a replacement for a player that was on bye, so I can't complain too much.
Jones has been my saving grace at running back. It probably doesn't hurt that Green Bay went into overtime last weekend either. 21.60 points is totally acceptable! Then we have Walker III and Henry who did less than stellar. Again, I expect 15 to 20 points from my running backs. 7 and 6 points respectively is not going to cut it.
Gano with 7 points at Kicker is totally acceptable. I think I expect between 5 and 10 from that position.
Vegas with 3 points on defense was a huge let down. They were a late replacement due to my main defense being on bye a week or two ago. They were projected to score more points, so I figured I would leave them in.
As you can see, Fields was the big winner on my wife's team. With one player getting 40 points, it is tough to overcome that. The rest of her team was pretty lackluster, but he more than carried her.
Funny story: We were sitting there watching the Lions game and they talked about the numbers Fields was putting up. We both looked at each other and said I wonder who has him. We seriously didn't know. I looked it up and I said "YOU DO". Oye. She started the season with Stafford as her main quarterback, but Fields was a late season add due to how horrible Stafford has been doing.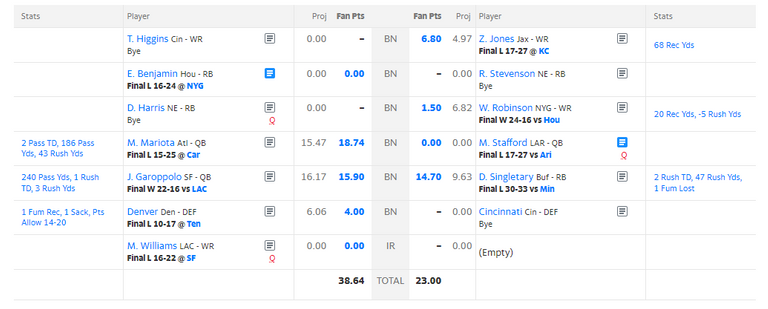 ---
As you can see, our benches did pretty abysmal. It would have taken a whole lot more than they had to give to push either of us into the score range where we should be each week. I might have to do a little more house cleaning as we head towards the end of the season.
This loss didn't hurt me too much. The people around me also lost, so I am still sitting in 4th place in the league. That win for my wife did move her right below me into 5th place. I am not too mad about that. Somehow our sister in law has catapulted to the top of the league. It seems like that is always the case even though I would probably consider her one of the least knowledgeable in the family about football.
Either she has us all fooled, or she is just very lucky.
Either way, I consider myself quite lucky that I didn't need to suffer the disdain of @mrsbozz this week!
---
---

---
All pictures/screenshots taken by myself or @mrsbozz unless otherwise sourced