Feliz día mis amigos, espero que estén muy bien, hoy quiero compartirles una receta deliciosa ideal para una cena un poco más ligera, hasta un rico y diferente almuerzo, les hablo de unos delicioso patacones con carne y pesto, este plato es típico de la ciudad de Maracaibo - Venezuela, hay muchas maneras de prepararlos, la más tradicional es con carne mechada, ensalada, y salsas, y la verdad son muy deliciosos, normalmente los hago con carne y aguacate, pero lo que tenía en casa era pesto, así que les di ese toque especial jajaj, les cuento como los prepare.
Happy day my friends, I hope you are very well, today I want to share a delicious recipe ideal for a slightly lighter dinner, even a delicious and different lunch, I am talking about some delicious patacones with meat and pesto, this dish is typical of the city ​​of Maracaibo - Venezuela, there are many ways to prepare them, the most traditional is with shredded meat, salad, and sauces, and the truth is they are very delicious, I usually make them with meat and avocado, but what I had at home was pesto, so I gave them that special touch hahaha, I'll tell you how I prepared them.
Deliciosos Patacones con carne y pesto/Delicious Patacones with meat and pesto..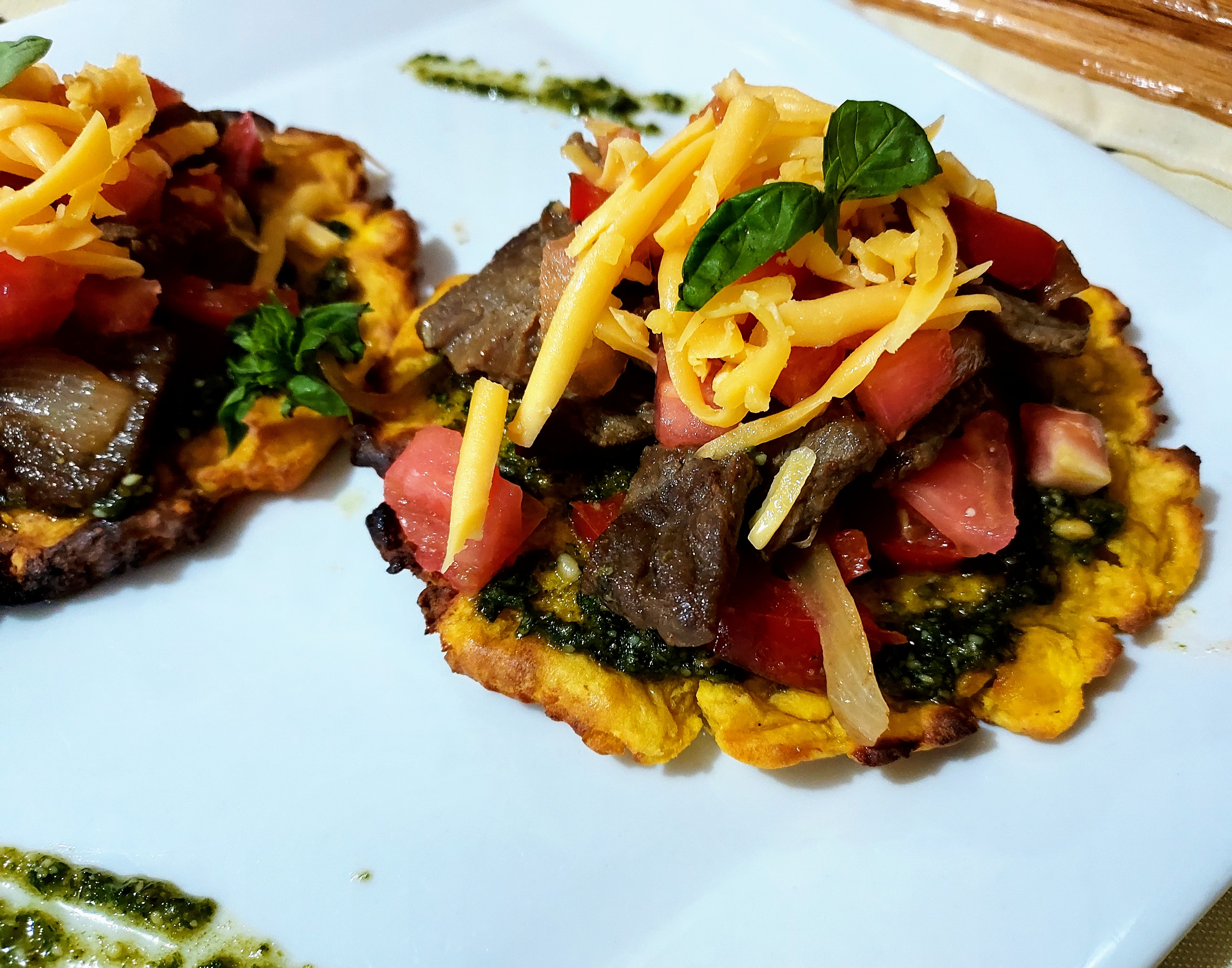 ---
Ingredientes/Ingredients: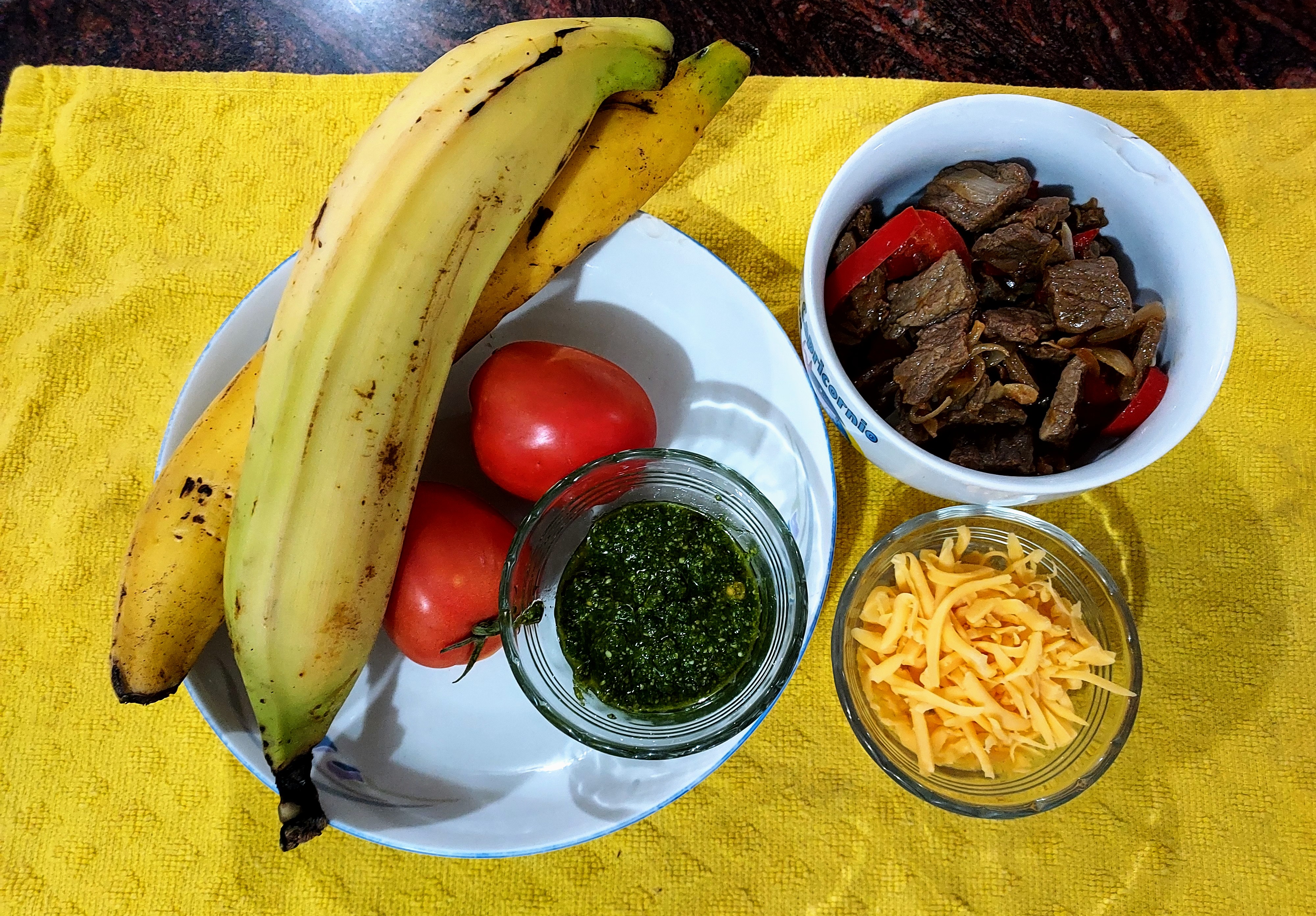 Carne salteada con cebolla y pimentón.
Sautéed meat with onion and paprika.
2 tomates picados en cuadritos.
2 diced tomatoes.
Pesto sauce.
2 plátanos verdes, o pintones, yo tenia unos verde y otro pintón.
2 green bananas.
100 gr de queso amarillo, mozarela o parmesano.
100 gr of yellow cheese, mozzarella or parmesan.
---
Para la carne salteada necesitamos//For the sautéed meat we need:
Tres bistec, carne de primera, 1 cebolla, medio pimentón rojo, y un diente de ajo.
Three steaks, prime meat, 1 onion, half a red paprika, and a clove of garlic.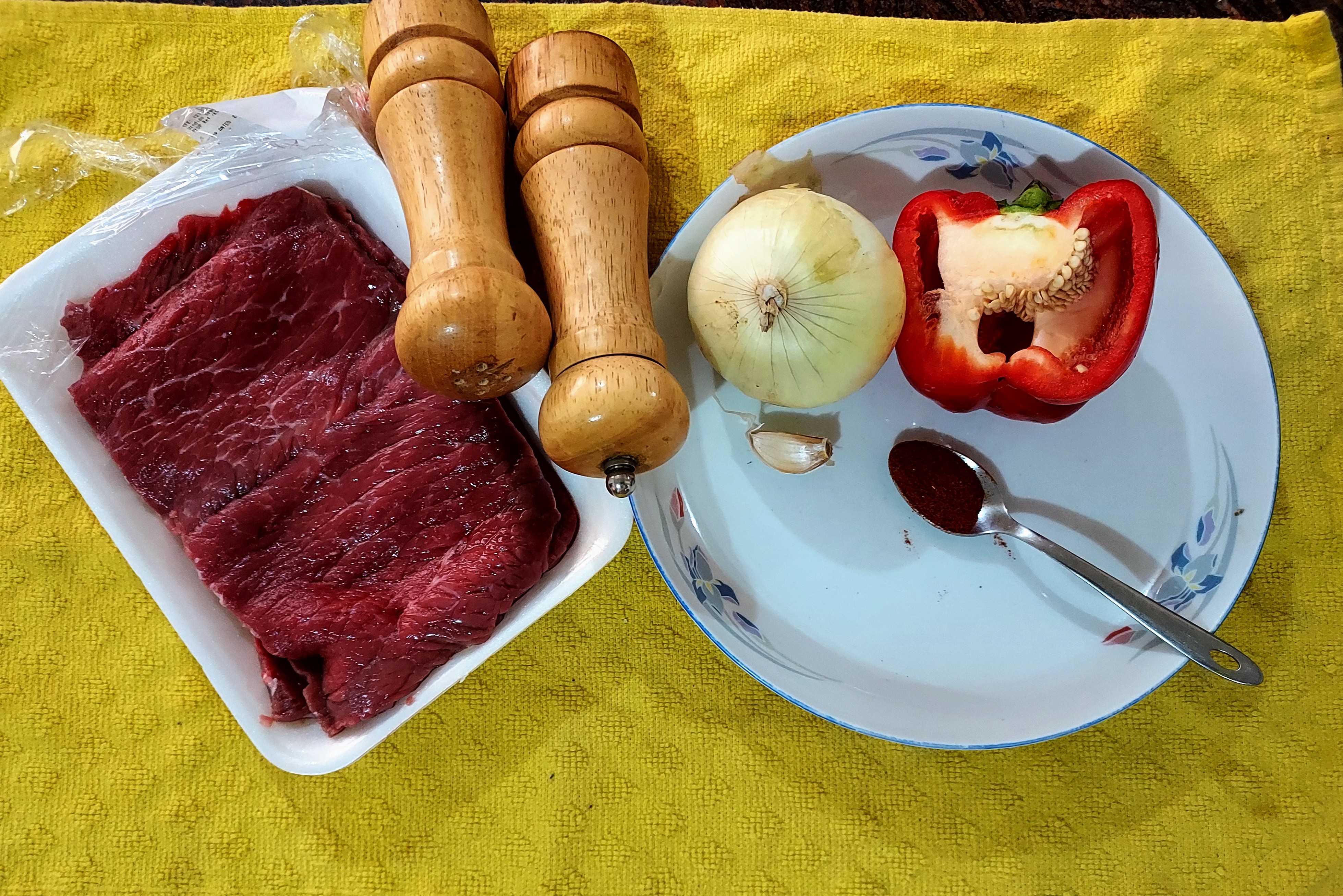 Primero cortamos la cebolla y el pimentón en rodajas y llevamos a sofreír a un sarten, cuando estén cristalizado, los Retiramos del calor y reservamos.
First we slice the onion and paprika into slices and fry them in a frying pan, when they are crystallized, we remove them from the heat and reserve.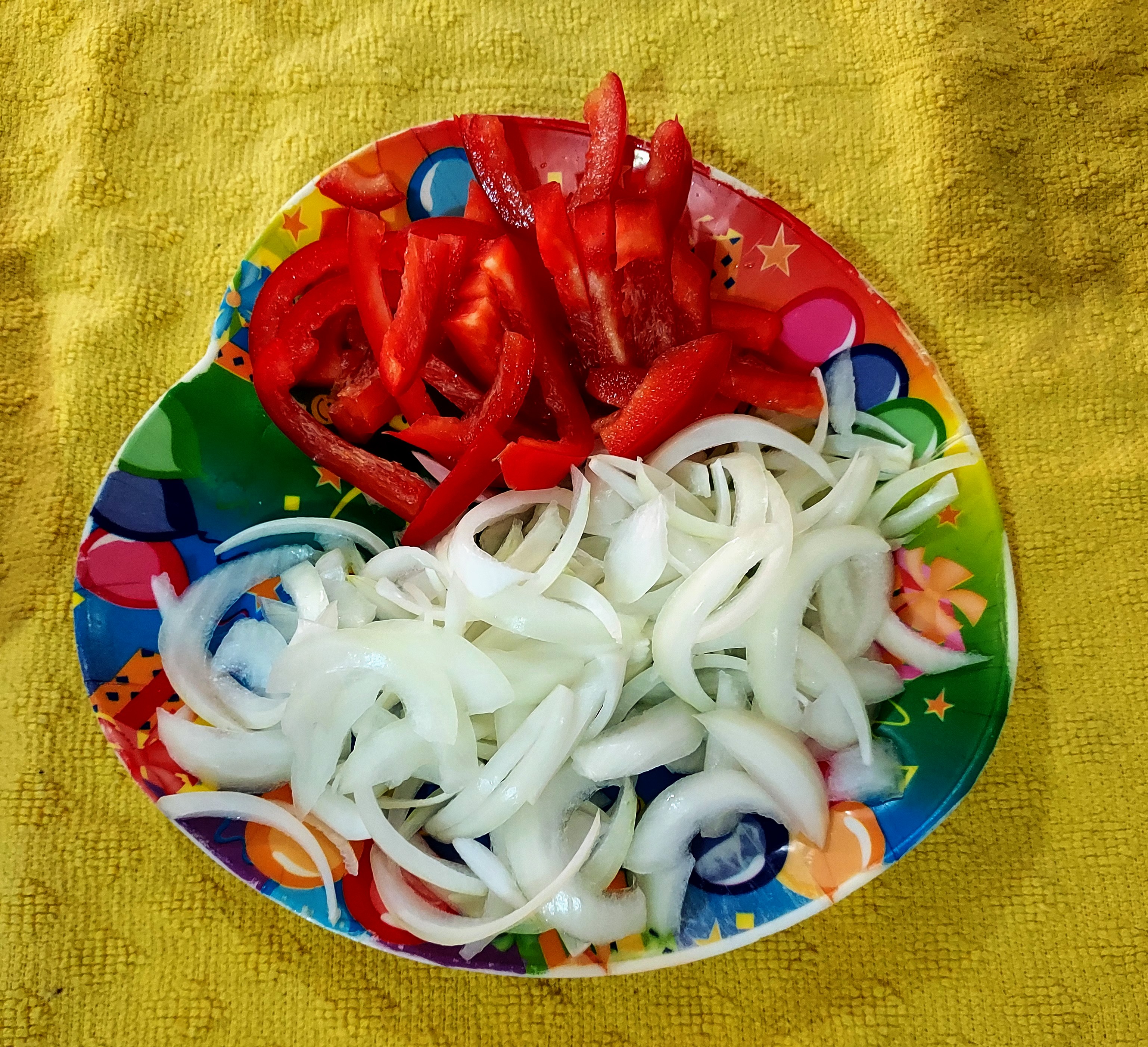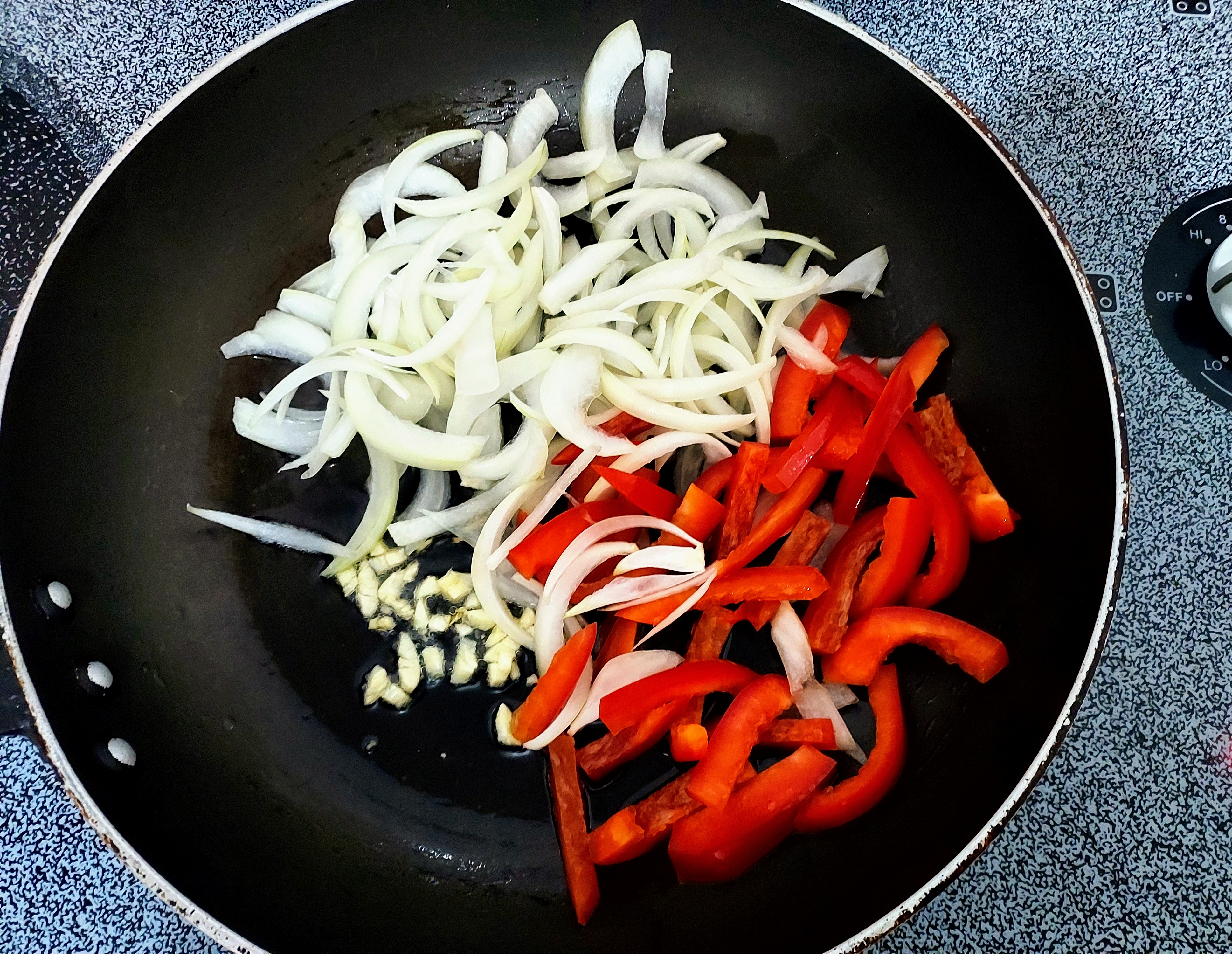 ---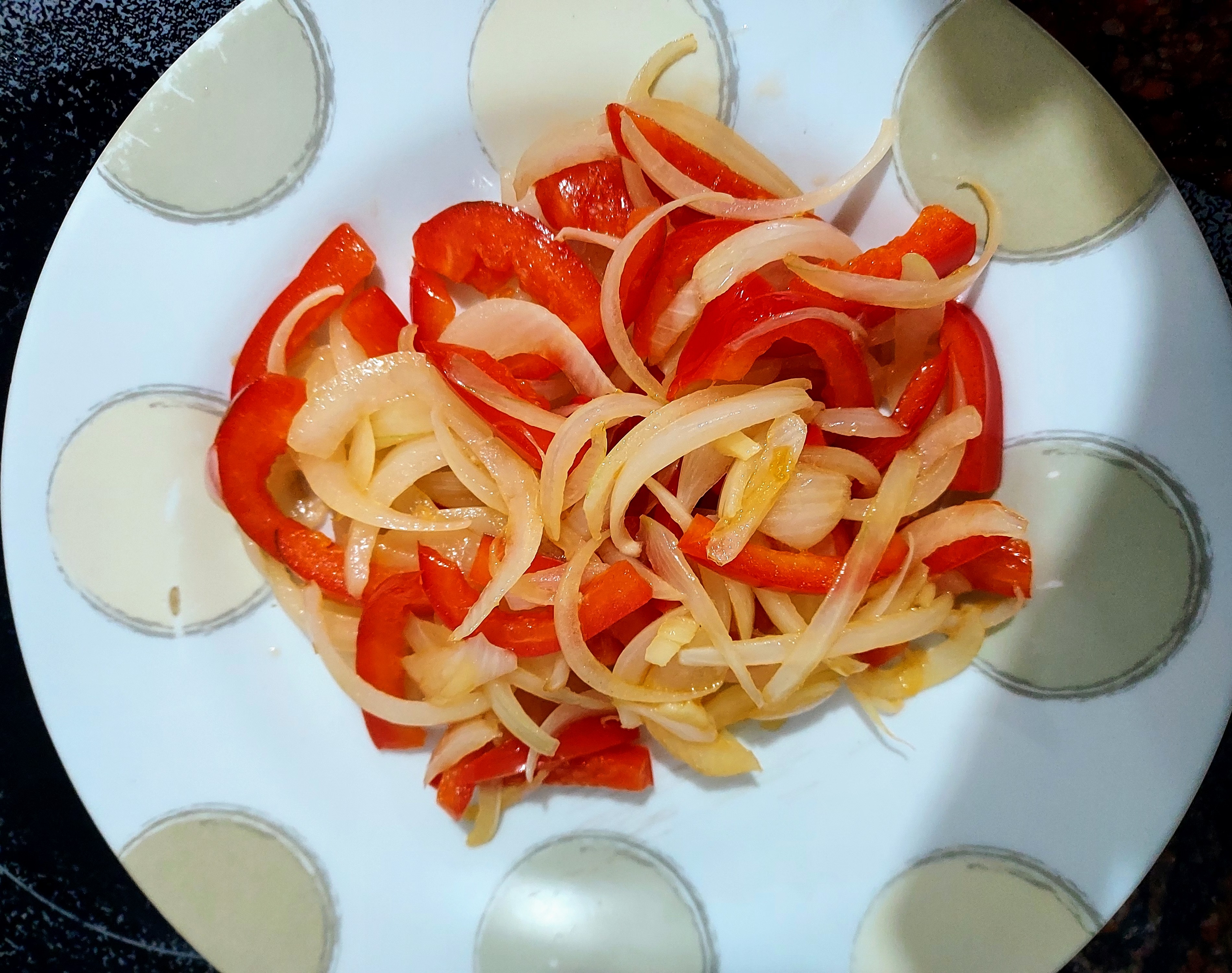 Sazonamos la carne, a su gusto, yo lo hago con mostaza, sal, pimienta, un poquito de pimentón en polvo, y llevamos a sofreír al sarten donde se comieron los vegetales. Cuando la carne este cocidas le añadimos la cebolla y el pimentón, dejamos cocinar por unos minutos más y reservamos.
Season the meat, to your liking, I do it with mustard, salt, pepper, a little paprika powder, and fry in the pan where the vegetables were eaten. When the meat is cooked, add the onion and paprika, let it cook for a few more minutes and reserve.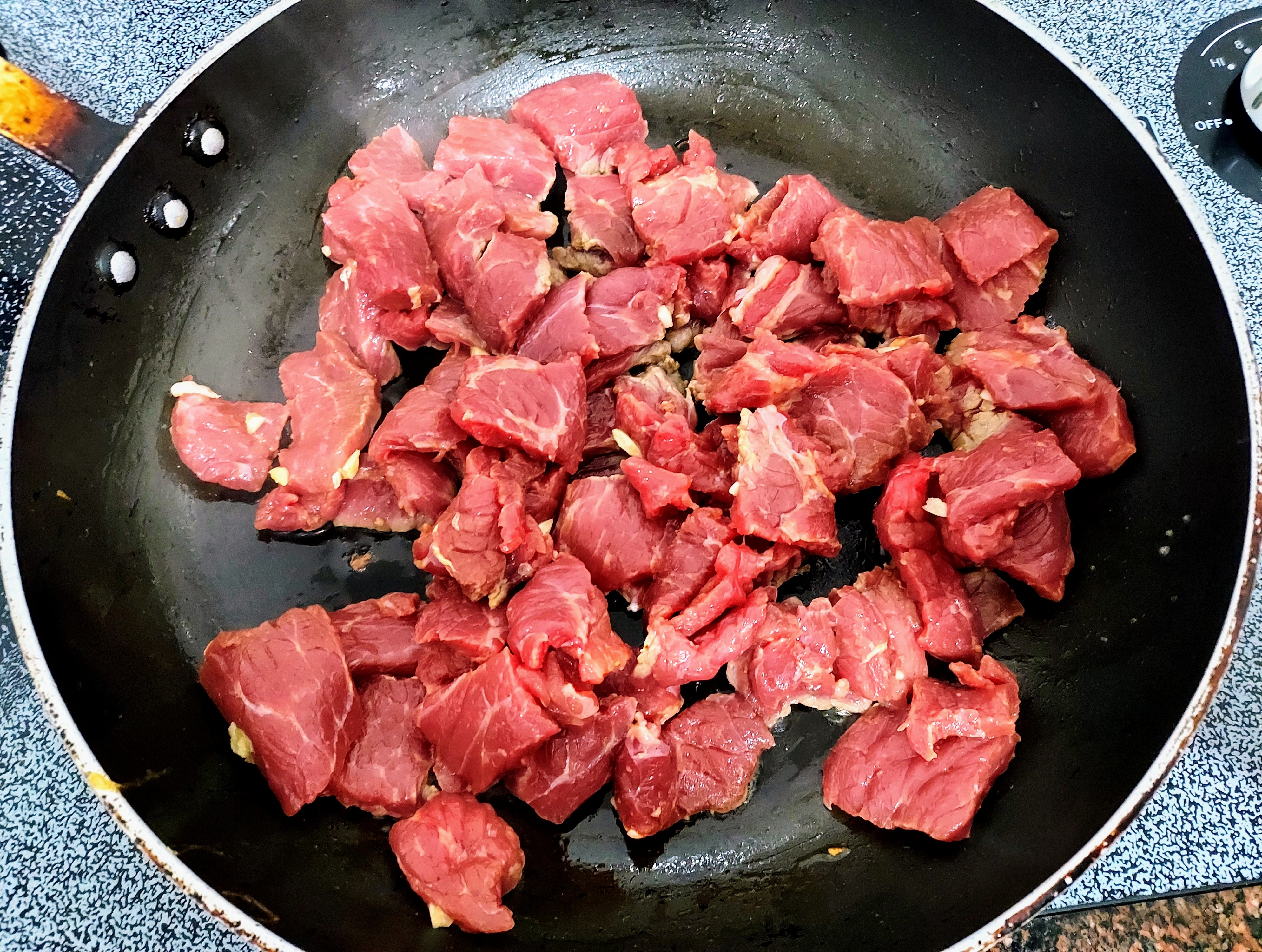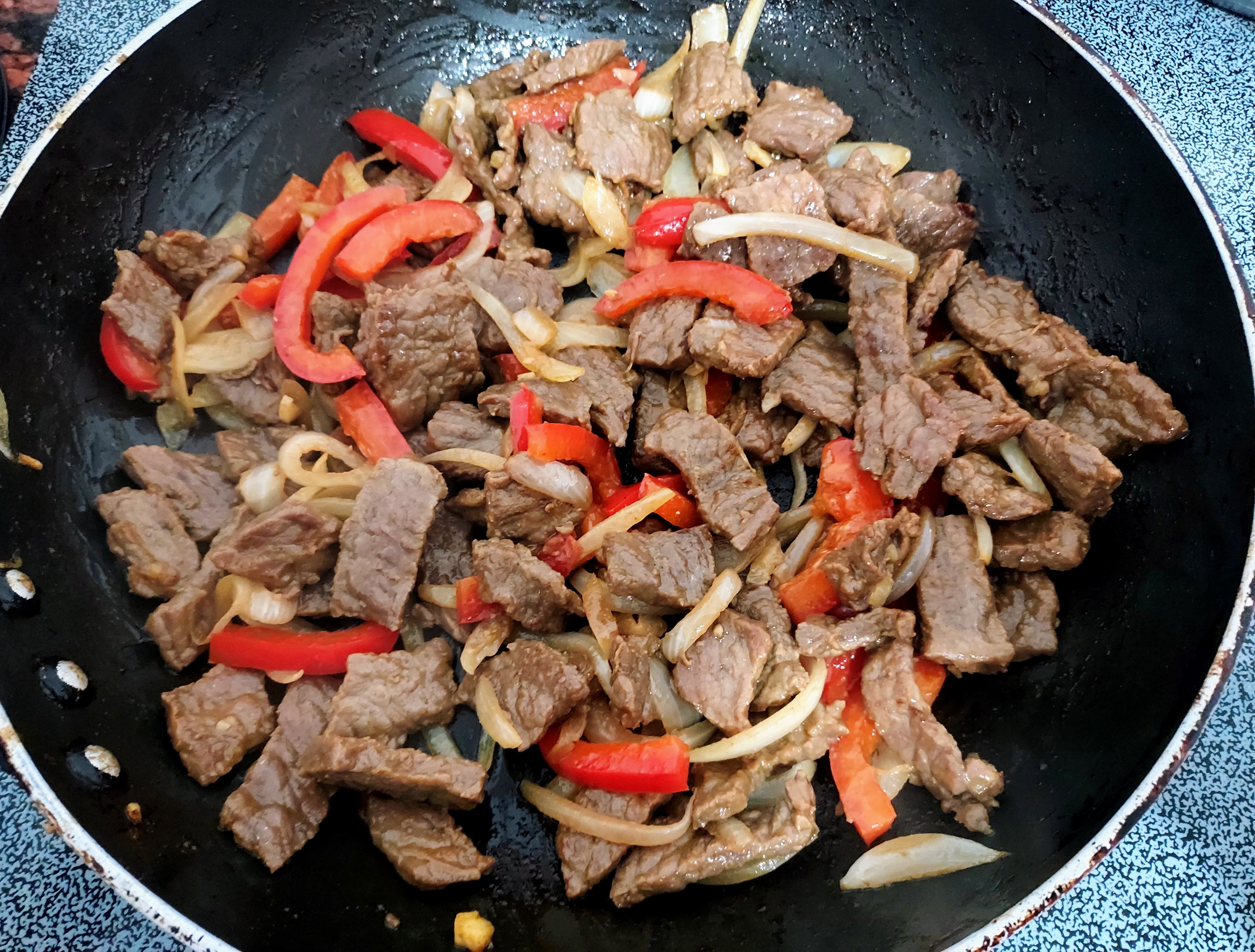 ---
Preparación para los patacones//Preparation for the patacones:
1- 1- Le Retiramos la concha a los plátanos, los Picamos en trozos pequeños, y los llevamos a cocinar en una olla con agua, hasta que estén blandos.
We remove the shell from the bananas, we chop them into small pieces, and we take them to cook in a pot with water, until they are soft.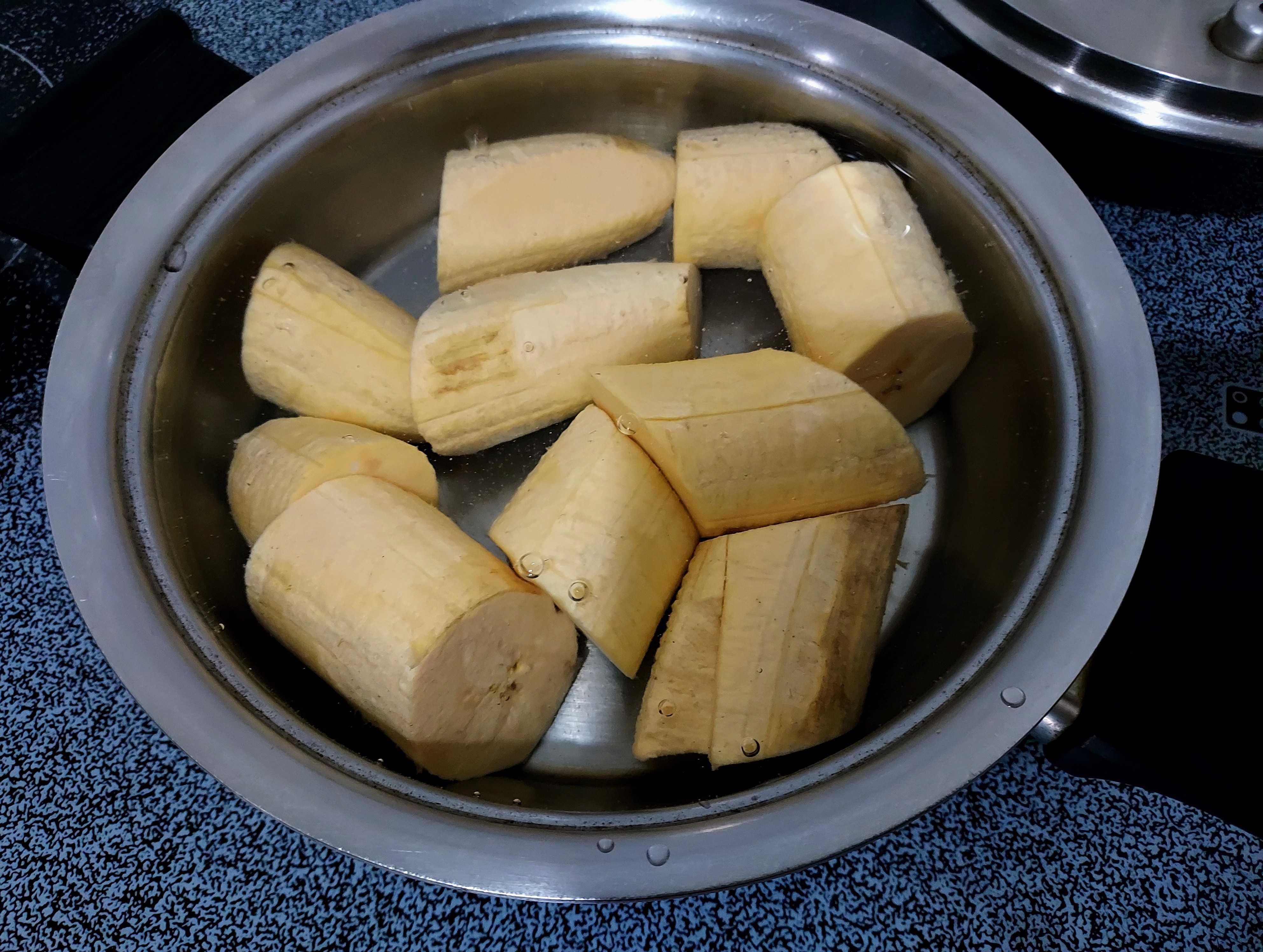 2- Cuando los plátanos estén bien cocidos, le retiramos el agua, y hacemos un puré, agregamos un poquito de aceite de oliva, y amasamos bien hasta formar una masa.
When the bananas are well cooked, we remove the water, and make a puree, add a little olive oil, and knead well to form a dough.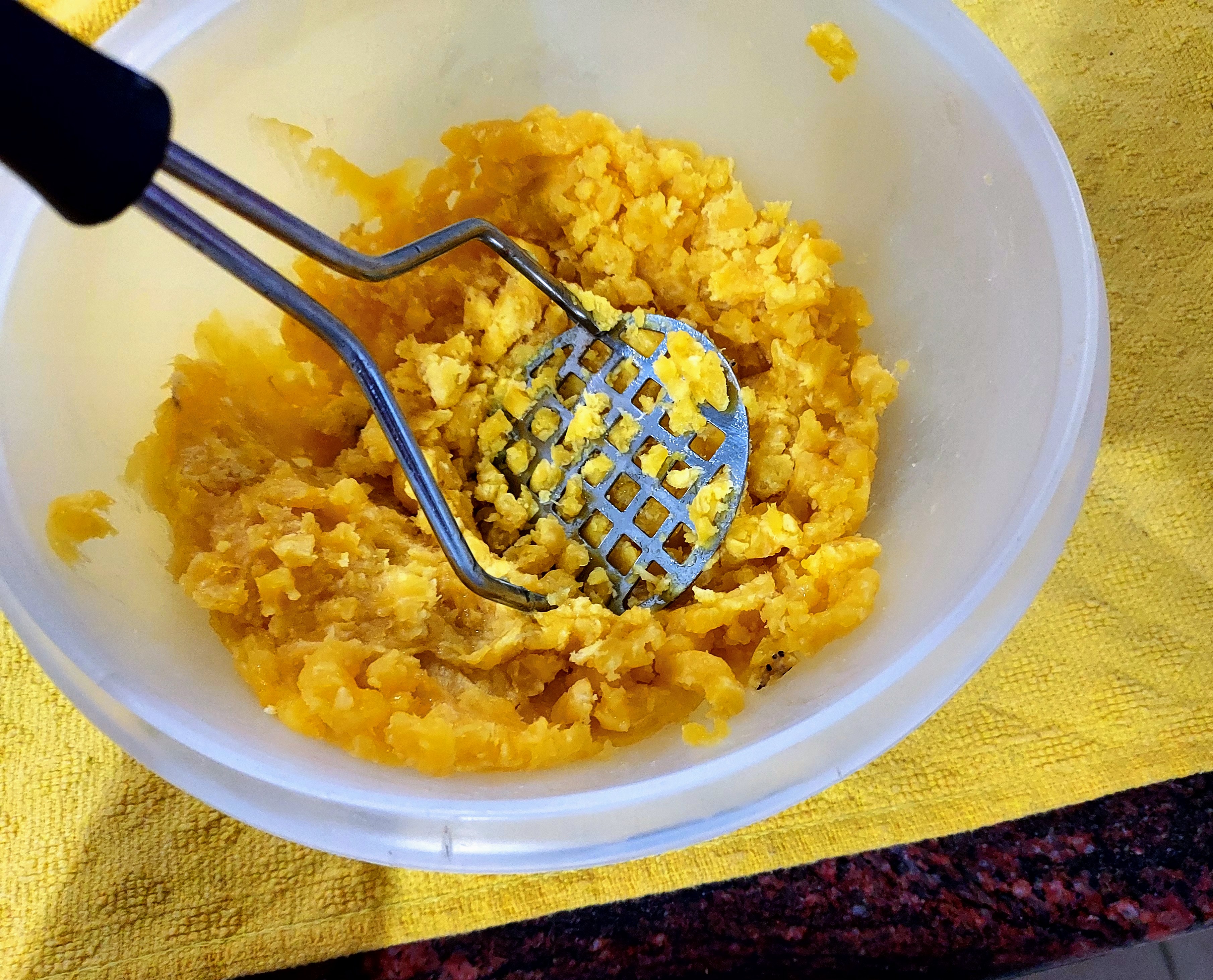 3- Luego, hacemos bolitas, y aplastamos con nuestras manos, o como se les haga más fácil, yo prefiero con las manos, para que no se me rompan, les damos una forma circular, y los llevamos a la freidor de aire, sino tienen freidora, también los pueden llevar al horno.
Then, we make little balls, and we crush them with our hands, or as it is easier for them, I prefer with my hands, so they don't break, we give them a circular shape, and we take them to the air fryer, if they don't have a fryer You can also take them to the oven.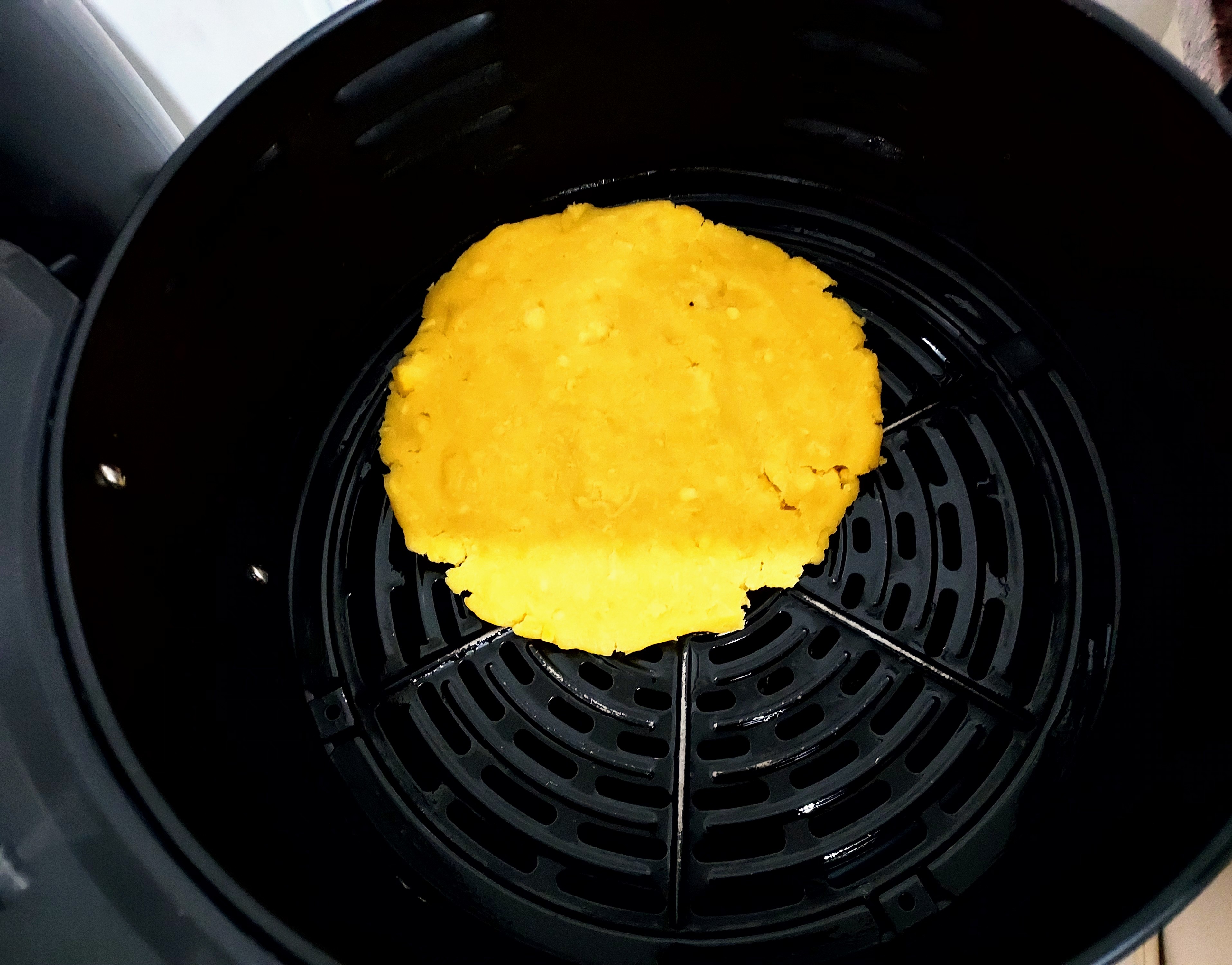 4- Cuando estén listos, retiramos del calor, y formamos los patacones, primero le agregamos la salsa pesto, como base, luego la carne salteada, por ultimo tomate picado en cuadritos y un poco de queso de queso, (el queso es opcional, sino tienen, les quedaran igual de deliciosos), y a disfrutar de estos deliciosos patacones.
When they are ready, remove from the heat, and form the patacones, first we add the pesto sauce, as a base, then the sautéed meat, finally diced tomato and a little cheese, (the cheese is optional, if they do not have , they will be just as delicious), and enjoy these delicious patacones.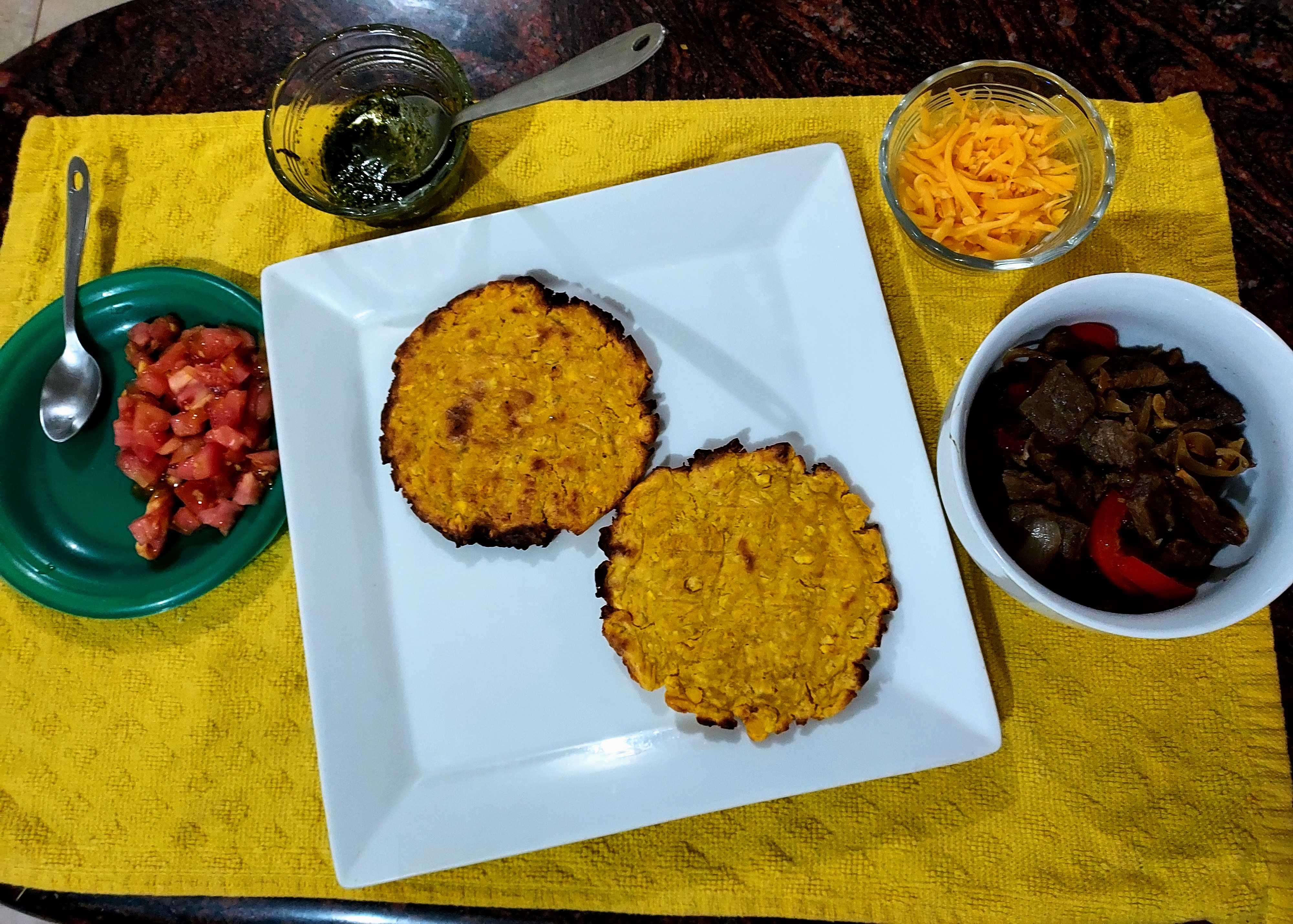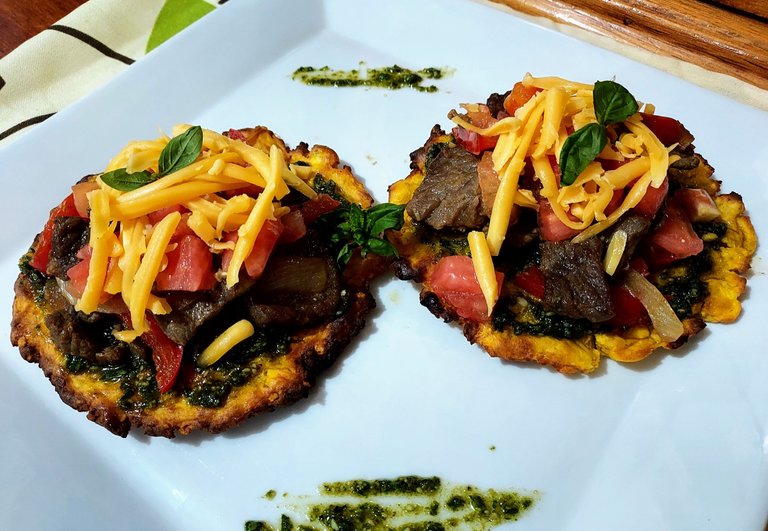 Espero que les haya gustado esta receta amigos, si se animan a prepararla me cuentan que tal les ha quedado, y si conocen otra forma de hacerlo también me pueden contar en los comentarios, muchas gracia por pasar, leer y apoyar mis post, nos vemos en la próxima, bendiciones.
I hope you liked this recipe friends, if you dare to prepare it, tell me how it turned out, and if you know another way to do it, you can also tell me in the comments, thank you very much for passing, reading and supporting my post, see you next time, blessings.