Saludos queridos amigos, hoy nuevamente los acompaño para traerles una reseña sobre un nuevo restaurante de comida rápida que fabrica hamburguesas artesanales, con ingredientes orgánicos.
Greetings dear friends, today I join you again to bring you a review of a new fast food restaurant that makes handmade hamburgers, with organic ingredients.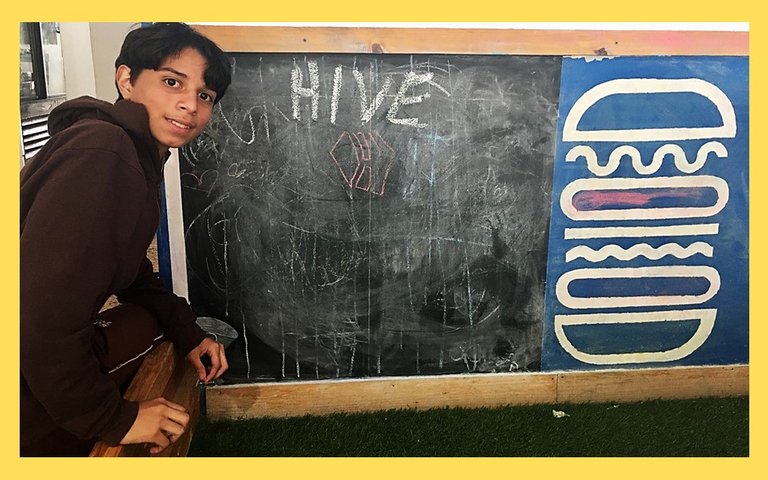 Original image taken with my Samsung A50 phone

ESPANISH / ENGLISH
Probando Hamburguesas artesanales con vegetales orgánicos y pan de batata
Tasting Artisanal Burgers with organic vegetables and sweet potato bun

En términos generales la palabra artesanal ya atrae el público, eso puede ser un buen gancho publicitario en esta época, especialmente si te prometen que el pan es a base de batata y horneado con técnicas antiguas, eso cobra más importancia cuando pasas al frente del local y captas ese olor magnífico, que te hace pensar en una combinación perfecta de ingredientes seleccionados.
Generally speaking, the word artisanal already attracts the public, that can be a good advertising hook in this time of the year, especially if they promise you that the bread is made of sweet potato and baked with ancient techniques, that becomes more important when you pass in front of the place, and you catch that magnificent smell, which makes you think of a perfect combination of selected ingredients.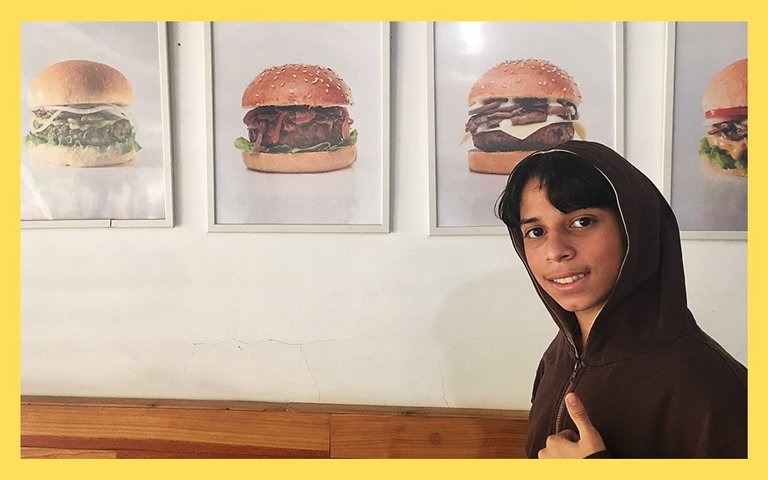 Original image taken with my Samsung A50 phone
Este viernes, fui nuevamente recompensado por mis padres por sacar buenas notas en las primeras evaluaciones de este lapso en el colegio, así que me invitaron a almorzar teniendo yo la posibilidad de escoger el sitio, como saben nuestro presupuesto no es muy amplio, por lo que debemos adaptarnos a locales que ofrezcan cosas de calidad a precios asequibles y si garantizan un buen ambiente, mucho mejor.
This Friday, I was again rewarded by my parents for getting good grades in the first evaluations of this lapse in school, so they invited me to lunch and I had the possibility to choose the place, as you know our budget is not very large, so we must adapt to places that offer quality things at affordable prices and if they guarantee a good atmosphere, so much the better.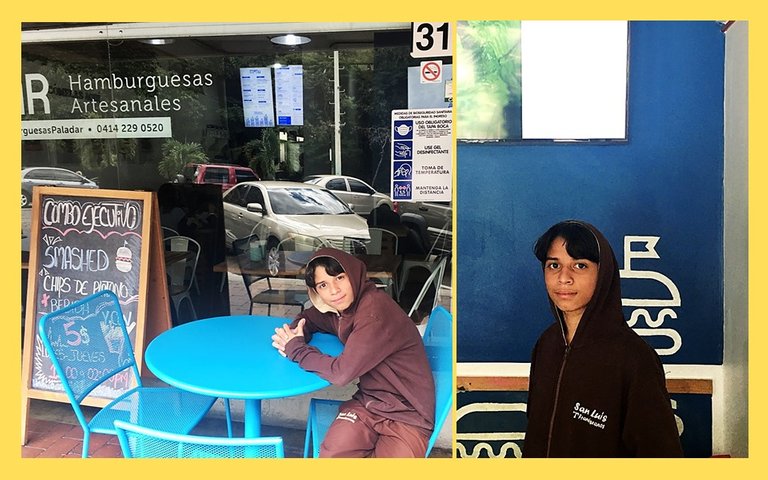 Original image taken with my Samsung A50 phone
En mi recorrido, como buen usuario del mundo electrónico, busqué que comida rápida estaba especialmente en oferta y el menú que ofrecían, con mi navegación web, descubrí este pequeño local que tiene tan solo 2 meses de abierto que ofrece una gran variedad de hamburguesas, con la promesa de que son ingredientes procesados por ellos mismos, además un plus que atrajo mucho más mi atención, es su compromiso con el medio ambiente, ya que en todas sus publicidades resaltan que no trabajan con cosas de plástico desechables, todos sus vasos y envases son o de vidrio o reutilizables, eso me gustó muchísimo porque como saben amo la naturaleza y soy muy consciente de la huella que dejó.
In my journey, as a good user of the electronic world, I looked for what fast food was especially on offer and the menu they offered, with my web browsing, I discovered this small place that has only 2 months open that offers a variety of burgers, with the promise that they are processed ingredients themselves, Also a plus that attracted much more my attention, is their commitment to the environment, since in all their advertising they highlight that they do not work with disposable plastic things, all their cups and containers are either glass or reusable, I really liked that because as you know I love nature, and I am very conscious of the footprint it left.

Original image taken with my Samsung A50 phone
Al llegar al local, mi impresión no fue muy atractiva a la vista, no lo sé, tal vez la combinación de azul y blanco, por algún motivo no es la más ideal para un restaurante de hamburguesas caseras, pero la amabilidad de las personas que atienden y la disposición interna del establecimiento me convencieron de que valía la pena probar su comida.
When I arrived at the place, my impression was not very attractive to the eye, I don't know, maybe the combination of blue and white, for some reason is not the most ideal for a homemade hamburger restaurant, but the kindness of the people who attend and the internal layout of the establishment convinced me that it was worth trying their food.
Original image taken with my Samsung A50 phone
Las hamburguesas se ensamblan de manera personalizada con la asesoría de una muchacha bastante simpática, la cual te explica las mejores combinaciones y el procedimiento para ordenar, esa atención tan buena toma un tiempo para escuchar los deseos de cada cliente, pero realmente vale la pena.
The burgers are assembled in a personalized way with the advice of a very nice girl, who explains the best combinations and the procedure for ordering, that good attention takes some time to listen to the wishes of each client, but it is really worth it.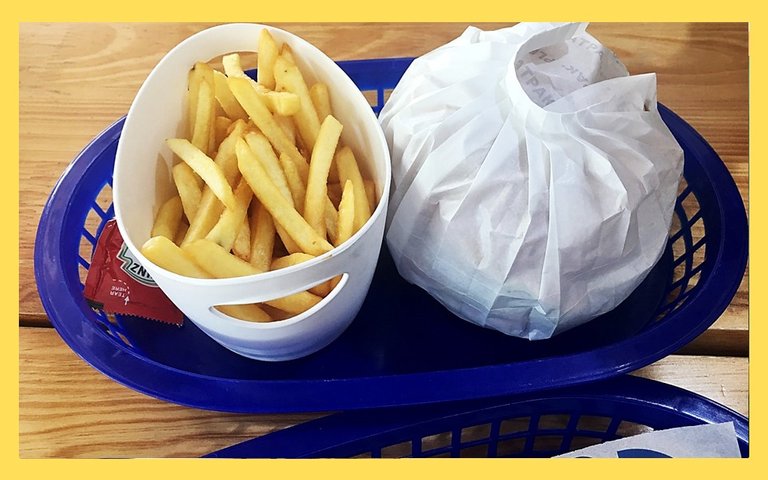 Original image taken with my Samsung A50 phone
La fabricación de las hamburguesas dura al menos unos 15 a 20 minutos, en ese tiempo, aunque parezca mentira, hay todo un mundo de juegos de mesa y atracciones digitales disponibles para entretener a toda la familia, sin importar sus gustos. Si te gusta la televisión, tienes dos excelentes monitores 4k para disfrutar de las películas de moda, pero si prefieres leer, también tienes una selección de libros muy buenos, eso sin dudas le da un toque mágico al ambiente que te hace sentir en la comodidad de la casa.
The making of the burgers takes at least 15 to 20 minutes, in that time, believe it or not, there is a whole world of board games and digital attractions available to entertain the whole family, no matter their tastes. If you like TV, you have two excellent 4k monitors to enjoy the latest movies, but if you prefer to read, you also have a selection of very good books, that certainly gives a magical touch to the environment that makes you feel in the comfort of the house.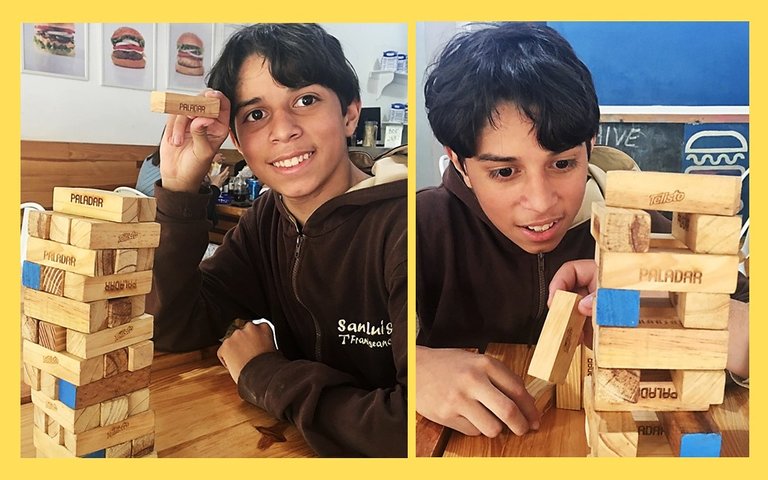 Original image taken with my Samsung A50 phone
Finalmente, llegó la comida, esta es la mejor parte de la historia y puede que hasta chistosa. Yo pedí una hamburguesa estilo granjera, es decir con muchos vegetales frescos, que debo comentar que estaban geniales, porque eran de producción orgánica. Mis padres, en cambio, optaron por algo más sencillo, una selección de mini hamburguesas de diferentes sabores, el tema es que esta es una presentación bastante pequeña y aunque muy sabrosa, definitivamente no son como para satisfacer a un adulto, salvo que coma muy poco.
Finally, the food arrived, this is the best part of the story and maybe even funny. I ordered a farmer's style hamburger, that is, with lots of fresh vegetables, which I must say were great, because they were organically grown. My parents, on the other hand, opted for something simpler, a selection of mini burgers of different flavors, the thing is that this is a rather small presentation and although very tasty, they are definitely not enough to satisfy an adult, unless he eats very little.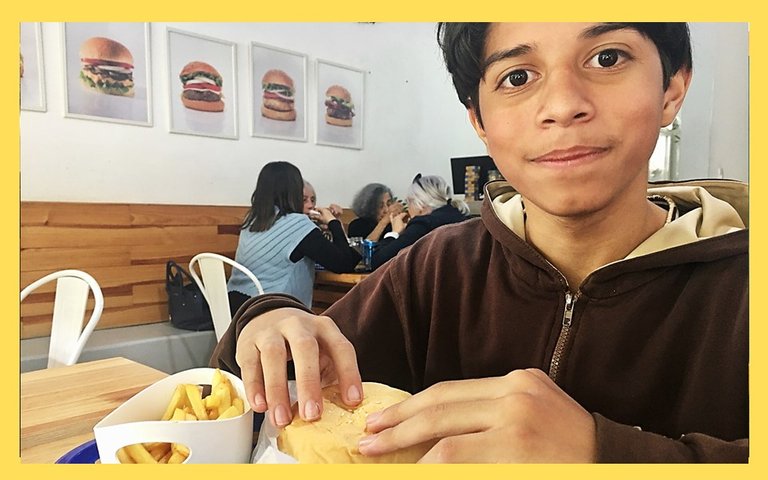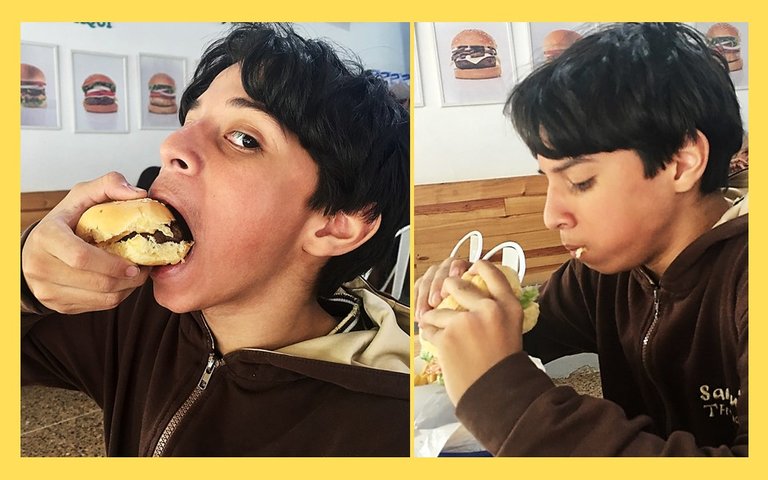 Original image taken with my Samsung A50 phone
El pan de batata es definitivamente una novedad que agregaré a mi lista de cosas favoritas, porque aporta un sabor genial a esta preparación que combinada con la carne jugosa, el queso tipo americano y las salsas variadas hacen un platillo digno de admiración.
The sweet potato bread is certainly a novelty that I will add to my list of favorite things, because it brings a great flavor to this preparation that combined with the juicy meat, the American type cheese and the varied sauces make a dish worthy of admiration.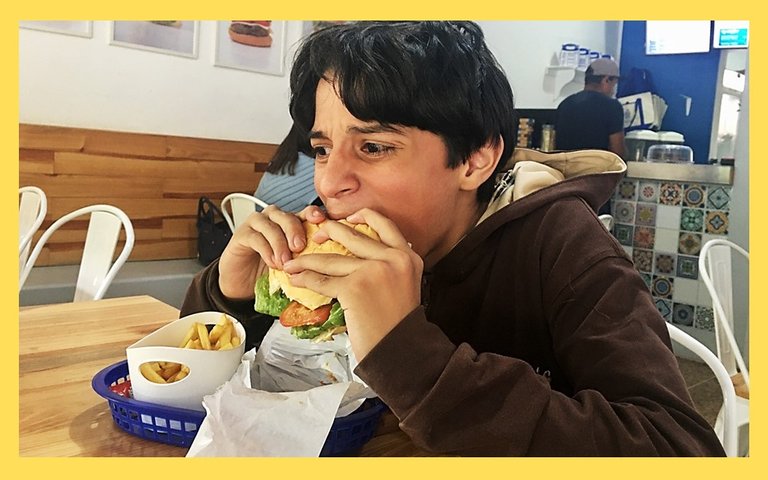 Original image taken with my Samsung A50 phone
Para finalizar, quiero resaltar que experiencias como esta son muy importantes, porque más allá de la comida sabrosa y el buen ambiente del restaurante, puede disfrutar de momentos geniales con mis padres que recordaré por siempre.
To conclude, I want to emphasize that experiences like this are very important, because beyond the tasty food and the good atmosphere of the restaurant, I can enjoy great moments with my parents that I will remember forever.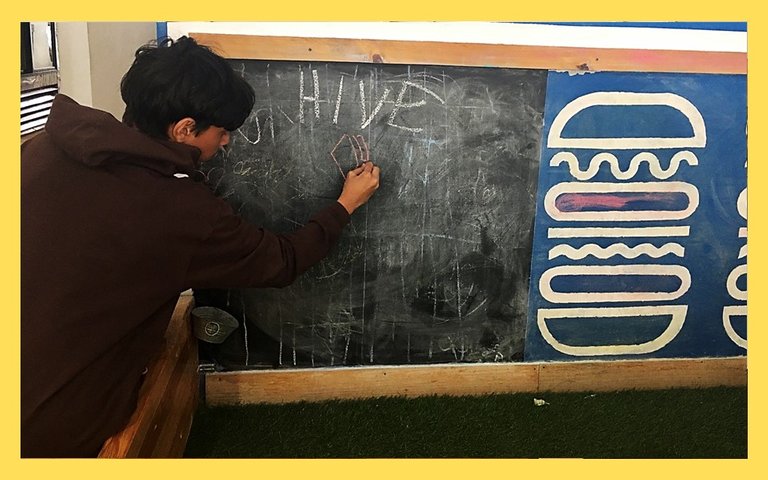 Original image taken with my Samsung A50 phone
Me despido, invitándolos a probar este tipo de hamburguesas artesanales si tienen la oportunidad de hacerlo, en la parte del mundo donde se encuentren.
Nos vemos pronto
I say goodbye, inviting you to try this kind of artisan burgers if you have the opportunity to do so, wherever you are in the world.

See you soon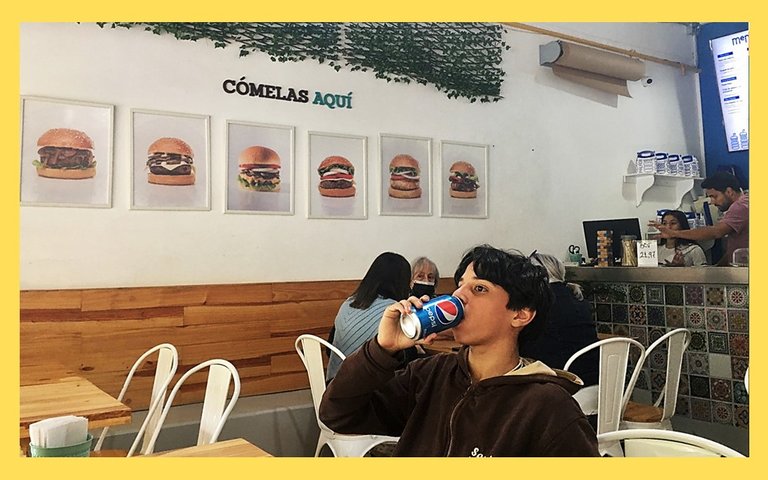 Original image taken with my Samsung A50 phone

Translated with DeepL Translator
Gracias por ver mi post
Nos vemos cuando realice otro review Chau.
We'll read about it in a future post.

Thanks for your support