Source: https://humansarefree.com/2021/03/legal-team-wants-second-nuremberg-tribunal-to-try-global-lockdown-promoters-for-crimes-against-humanity.html
Legal Team Wants 'Second Nuremberg Tribunal' To Try Global Lockdown Promoters For Crimes Against HumanityHAFHAFMarch 6, 2021
Should the technocrats who pushed governments to lockdown their citizens be tried for crimes against humanity?
One prominent German lawyer, Dr. Reiner Fuellmich, who is also licensed to practice law in America, thinks they should. And he is organizing a team of thousands of participating lawyers who want to prosecute a "second Nuremberg tribunal" against a cadre of international elites responsible for what he calls the "corona fraud scandal."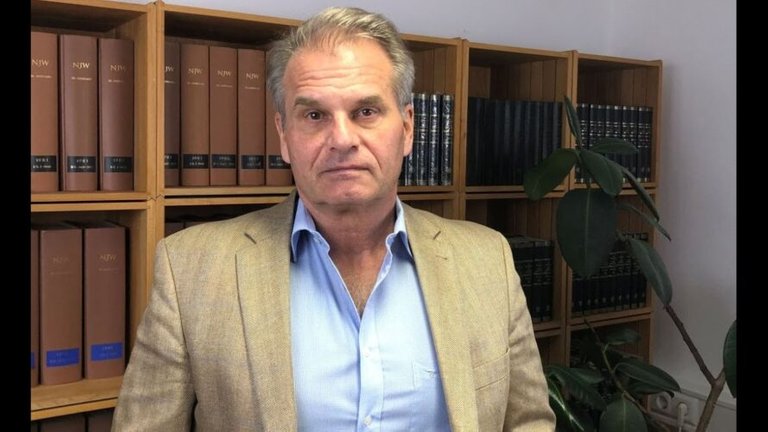 Targeting the Davos, Switzerland-based World Economic Forum and its devotees among global political leaders, attorney Reiner Fuellmich says they are guilty of crimes against humanity for their perpetration of COVID-response policies that led to forced shutdowns, destroyed businesses, impoverished families, broken lives and a spike in suicide rates.
He has formed the German Corona Investigative Committee to pursue civil charges against the main perpetrators, among them being the head of the United Nations World Health Organization Dr. Tedros Adhanom. He hopes a successful class-action lawsuit will also lead to criminal charges.
Fuellmich was on the legal team that won a major lawsuit against German automaker Volkswagen in a 2015 case involving tampered catalytic converters in the U.S. He also was involved in a lawsuit that exposed one of Germany's largest banks, Deutsche Bank, as a criminal enterprise.
The bank was recently ordered by the U.S. Justice Department to pay $130 million to resolve corrupt practices that included money laundering, bribery and fraud between the years 2009 and 2016.
Fuellmich is licensed to practice law in Germany and the state of California.
He believes the frauds committed by Volkswagen and Deutsche Bank pale in comparison to the damage wrought by those who sold the Covid-19 crisis as the worst viral outbreak to hit the world in more than a century and used it to cause media-driven panic, government overreach and human suffering on a scale still not fully quantified.
The truth is revealed in the numbers, Fuellmich said, citing figures that show COVID-19 has not caused any statistically significant increase in the 2020 death counts over previous years.
The scam perpetrated on humanity hinged on one dirty little secret, he said – the PCR Test.
Not only are these tests not approved for diagnostic purposes but the inventor of the PCR Test, the late Kary Mullis, explicitly stated in an interview that this was never the purpose of his test.
Fuellmich explains in the video below how the coronavirus response of governments worldwide working in cahoots with the Bill Gates-funded U.N. World Health Organization "are probably the biggest crimes against humanity ever committed."
"A number of highly respected scientists [he names several in the video including a Nobel Laurette from Stanford University] have concluded there has never been a coronavirus pandemic but only a PCR test pandemic," he says.
"If someone tests positive it does not mean they are infected with anything, let alone with the contagious SARS-COV-2 virus," Fuellmich says in the video.
"Based on the rules of criminal law, asserting false facts concerning the PCR tests, or intentional misrepresentation, that can only be assessed as fraud. Based on the rules of civil tort law, this translates into intentional infliction of damage."
He said persons harmed by the PCR-induced lockdowns are entitled to full compensation for their losses.
"The crimes committed by Mr. Christian Drosten [an epidemiologist and Germany's version of Dr. Anthony Fauci] and Mr. Lothar Wieler, a veterinarian and head of the German equivalent of the CDC, and Tedros Adhanom, head of the WHO, must be legally qualified as actual crimes against humanity as defined in Section 7 of the International Criminal Code."
He said the class-action lawsuit is the best avenue to try the case.
In a Feb. 24 article about Fuellmich's effort, the journal Principia Scientific International quoted him saying "this COVID-19 crisis should be renamed the 'Covid-19 Scandal,' and all those responsible should be prosecuted for civil damages due to manipulations and falsified test protocols.
Therefore, an international network of business lawyers will plead the biggest tort case of all time, the COVID-19 fraud scandal, which has meanwhile turned into the biggest crime against humanity ever committed."
Here is a summarized translation of the most-recent update Fuellmich put out on his German website on Feb. 15:
"The hearings of around 100 internationally renowned scientists, doctors, economists and lawyers, which have been conducted by the Berlin Commission of Inquiry into the COVID-19 affair since 10.07.2020, have in the meantime shown with a probability close to certainty that the COVID-19 scandal was at no time a health issue.
"Rather, it was about solidifying the illegitimate power (illegitimate because it was obtained by criminal methods) of the corrupt 'Davos clique' by transferring the wealth of the people to the members of the Davos clique, destroying, among other things, small and medium-sized enterprises in particular. Platforms such as Amazon, Google, Uber, etc. could thus appropriate their market share and wealth."
Was The Vaccine The Reason For The Virus?
Perhaps the most egregious outgrowth of the coronavirus scam has been the fear-mongering that not only led to devastating and non-scientific shutdowns but also the rush to market of an unproven, experimental vaccine, which is now making billions of dollars for Big Pharma.
Just like the lockdowns, the vaccine is unnecessary because there are already several well-documented treatments involving long-established drugs that are proven safe and widely available.
Also just like the lockdowns, this vaccine carries potentially devastating long-term effects on human health.
There are questions about its effects on the fertility of men and women, and it has already caused more than 1,100 deaths in the U.S. and more than 400 deaths in the U.K.
To make matters worse, it is becoming plainly obvious that the intent is to make this experimental vaccine mandatory for all of humanity.
It was billionaire vaccine investor Bill Gates who originally floated the idea, in April 2020, that humanity could never return to "normal" until "we have a vaccine that we've gotten out to basically the entire world."
This reporter predicted last April that the vaccine would eventually be made mandatory, largely by corporations using coercive tactics.
Israel Takes The Lead In Instituting Medical Tyranny
Among the nations considered to be part of the "free world," Israel is taking the lead in pushing forward with a new type of society in which corporations and governments work together to coerce and eventually force every human being on the planet to get an injection of experimental vaccine treatments.
Not since the Nazi Third Reich has there been so little respect for citizens' rights of individual health autonomy in a Western nation.
Whether you live in America, the U.K., Australia or Europe, if you wish to see what your future holds under the "new normal," just look at Israel.
The Israeli government has announced that people will not be allowed to participate in a host of life functions without showing papers offering proof that they have either been vaccinated or that they have had and recovered from COVID.
A host of Israeli businesses including shops, malls, markets, pubs, gyms, museums, synagogues, hotels and libraries were allowed to reopen Sunday, Feb. 21, the Times of Israel reports.
But only those Israelis who have been vaccinated or have recovered from COVID will be able to use gyms and pools, attend synagogues, sporting and culture events, board a flight or stay at hotels.
To be allowed to open their doors, all relevant businesses have been ordered by the government to scan their customers for the so-called "Green Pass," barring from entry anyone who cannot produce such documentation.
Watch video below of Israel supermarket guard requiring shoppers to show their COVID papers before they can enter the store.
There are three ways for Israelis to get the Green Pass:
Downloading the Traffic Light (Ramzor) app on Google Play or the Apple App Store, entering personal details and getting the pass on one's phone.
Signing up on the Health Ministry website and downloading a printable personal document.
Calling the Health Ministry's hotline and having the pass sent by email or fax.
Europe Also Moving Toward Vaccine Passports
The European Union also appears to be on the cusp of embracing similar draconian measures. German Chancellor Angela Merkel stated this week that the concept of a digital vaccine passport has achieved "unanimous support within the E.U."
"Everyone agreed that we need a digital vaccination certificate," Merkel said last Wednesday after a meeting with European leaders.
E.U. Commission President Ursula von der Leyen also praised Israel's new Green Pass system.
Council of Europe: Vaccine Passports Trample Human Rights.
The Telegraph reports that the government of the U.K. is nearing an announcement of new rules similar to Israel's in which no Brit will be allowed to enter pubs, gyms, large-venue events or hotels without showing their special COVID vaccine passport.
UK: More Than 200,000 Sign Petition Against Vaccine Passports – Parliament Has To Debate
Since when do we take away freedom in order to restore it under a new set of terms defined by unelected "experts" at the United Nations World Health Organization?
This is the twisted way in which the globalist technocrats think. Always perverting the language to sell their lies and enticing ill-informed masses to walk straight into their devious traps.
Forcing people to accept a medical treatment and to "show your papers" proving they have received the treatment in order to participate in society is a violation of the well-established international norms.
The Nuremberg Code came out of the Nuremberg tribunals that convicted leading German Nazis.
David Icke: We Must Demand Nuremberg Trials For All The 'Covid' Perpetrators
The Code states that any experimental medical treatment must not only be voluntary but must include "informed consent," meaning the person not only volunteered but was informed of exactly what the treatment entailed and the risks involved.
Global power elites have already used COVID as cover to clamp down on free speech, assembly, religious gatherings and small business operations, creating a world of the haves and have-nots.
Big-box stores like Walmart and online retailer Amazon have thrived, raking in record profits, while small businesses are dying.
So the class-action lawsuit appears justified, at least in theory. A small cabal of globalist corporations and "experts" at the WHO created the problem, made it impossible for people to live their lives as normal human beings, leading to mass anxiety and huge spikes in suicide.
Now that everyone is miserable and desperate to get back to normal, the technocrats introduce an experimental gene therapy, the mRNA vaccine, and are holding that out as the salvation, making it oh so tempting for many to line up and roll up their sleeve.
Tempting, that is, if you haven't done your research to find out who is promoting the vaccine, what are their long-held motives and goals, and what their previous track record has been.
Such research would lead you straight to the Bill and Melinda Gates Foundation, which has invested billions into an ever-growing lineup of vaccines through the GAVI global vaccine alliance and other organizations.
Gates has bragged about the tremendous 20-to-1 "return on investment" he has reaped by investing in vaccine therapies. His net worth has increased by $17 billion since making the shift in focus from computers to vaccines.
Watch Bill Gates Admitting That His $10 Billion Investment In Vaccines Brought Him $200 BILLIONS (A Return Of 20:1).
Italian Member of Parliament Demands Arrest of Bill Gates as a "Vaccine Criminal" for Pursuing Crimes Against Humanity.
U.S. Companies Bribing Employees To Take The Shot
A number of U.S. companies are now bribing their employees, offering cash bonuses of $100 to $150 if they get the shot.
Meijer, Kroger, Publix, Dollar General, Aldi, JBS Meat Processing and Trader Joe's, among others, have all jumped on the bandwagon. They are being highly praised by "health experts" for doing this, so look for more companies to follow suit.
Those who refuse the vaccine, which is their right under the Nuremberg Codes, will become the new untouchables in a caste system that divides people along medical lines.
Those getting the shot will be allowed to re-enter something closer to normalcy while those rejecting it will be left behind.
The dots are all there – with the virus, the fear-mongering, the lockdowns and mask mandates, and the coming vaccine mandates. All you have to do is connect them.
Source: LeoHohmann.com
---
Sorce for text below: https://connectiv.events/ein-anwaltsteam-will-ein-zweites-nuernberger-tribunal/
Ein Anwaltsteam will ein "zweites Nürnberger Tribunal", um die Initiatoren der globalen Abriegelung für Verbrechen gegen die Menschlichkeit anzuklagen
März 2021 | Autarkie | Freies Leben | Familie | Soziales | Gesundheit | Ernährung | Politik | Geo-Politik | connectiv.events
Müssten die Technokraten, die Staaten dazu gedrängt haben, ihre Bürger einzusperren, wegen Verbrechen gegen die Menschlichkeit vor Gericht gestellt werden?
Ein prominenter deutscher Anwalt, Dr. Reiner Fuellmich, der auch in Amerika als Anwalt zugelassen ist, denkt, dass sie das sollten. Und er organisiert ein Team von Tausenden von teilnehmenden Anwälten, die ein "zweites Nürnberger Tribunal" gegen einen Teil der internationalen Eliten anklagen wollen, die für das verantwortlich sind, was er den "Corona-Betrugsskandal" nennt.
Der Anwalt Reiner Fuellmich nimmt das Weltwirtschaftsforum in Davos (Schweiz) und seine Anhänger unter den globalen politischen Führern ins Visier und sagt, dass sie sich der Verbrechen gegen die Menschlichkeit schuldig gemacht haben. Denn sie haben eine COVID-Politik betrieben, die zu erzwungenen Betriebsschließungen, zerstörten Unternehmen, verarmten Familien, zerrütteten Leben und einem Anstieg der Selbstmordrate geführt hat.
Er hat das deutsche Corona-Untersuchungskomitee gegründet, um Zivilklagen gegen die Hauptverantwortlichen zu erheben, darunter den Chef der Weltgesundheitsorganisation der Vereinten Nationen, Dr. Tedros Adhanom. Er hofft, dass eine erfolgreiche Sammelklage auch zu einer strafrechtlichen Verfolgung führen wird.
Fuellmich gehörte zu dem Anwaltsteam, das 2015 einen großen Prozess gegen den deutschen Autohersteller Volkswagen gewann, bei dem es um manipulierte Katalysatoren in den USA ging. Er war auch an einem Prozess beteiligt, der eine der größten deutschen Banken, die Deutsche Bank, als kriminelles Unternehmen entlarvte.
Die Bank wurde kürzlich vom US-Justizministerium zur Zahlung von 130 Millionen Dollar verurteilt, um korrupte Praktiken wie Geldwäsche, Bestechung und Betrug zwischen den Jahren 2009 und 2016 aufzuklären.
Fuellmich ist als Rechtsanwalt in Deutschland und im Bundesstaat Kalifornien zugelassen.
Er glaubt, dass die von Volkswagen und der Deutschen Bank begangenen Betrügereien im Vergleich zu dem Schaden verblassen, den diejenigen angerichtet haben, die die Covid-19-Krise als den schlimmsten Virusausbruch der Welt seit mehr als einem Jahrhundert verkauften und sie nutzten, um mediengesteuerte Panik, staatliche Überregulierung und menschliches Leid in einem Ausmaß zu verursachen, das noch immer nicht vollständig beziffert werden kann.
Die Wahrheit offenbart sich in den Zahlen, sagte Fuellmich und zitierte Zahlen, die zeigen, dass COVID-19 keinen statistisch signifikanten Anstieg der Todesfälle im Jahr 2020 gegenüber den Vorjahren verursacht hat.
Der Betrug an der Menschheit hänge an einem schmutzigen kleinen Geheimnis, sagte er – dem PCR-Test.
Diese Tests sind nicht nur nicht für diagnostische Zwecke zugelassen, sondern der Erfinder des PCR-Tests, der verstorbene Kary Mullis, hat in einem Interview ausdrücklich erklärt, dass dies nie der Zweck seines Tests war.
Fuellmich erklärt in dem Video, wie die Coronavirus-Antwort von Regierungen weltweit zusammen mit der von Bill Gates finanzierten U.N. Weltgesundheitsorganisation "wahrscheinlich die größten Verbrechen gegen die Menschheit sind, die jemals begangen wurden."
"Eine Reihe von hoch angesehenen Wissenschaftlern [er nennt mehrere in dem Video, darunter einen Nobelpreisträger der Stanford University] sind zu dem Schluss gekommen, dass es nie eine Coronavirus-Pandemie gegeben hat, sondern nur eine PCR-Test-Pandemie", sagt er.
"Wenn jemand positiv getestet wird, bedeutet das nicht, dass er mit irgendetwas infiziert ist, schon gar nicht mit dem ansteckenden SARS-COV-2-Virus", sagt Fuellmich im Video.
"Nach den Regeln des Strafrechts kann die Behauptung falscher Tatsachen bei den PCR-Tests oder die vorsätzliche Täuschung nur als Betrug gewertet werden. Nach den Regeln des zivilen Schadenersatzrechts ist das eine vorsätzliche Schadenszufügung."
Er sagte, dass Personen, die durch die PCR-induzierten Sperrungen geschädigt wurden, Anspruch auf volle Entschädigung für ihre Verluste haben.
"Die Verbrechen, die von Herrn Christian Drosten [einem Epidemiologen und Deutschlands Version von Dr. Anthony Fauci] und Herrn Lothar Wieler, einem Tierarzt und Leiter des deutschen Äquivalents der CDC, und Tedros Adhanom, dem Leiter der WHO, begangen wurden, müssen rechtlich als tatsächliche Verbrechen gegen die Menschlichkeit im Sinne von Abschnitt 7 des Internationalen Strafgesetzbuches bewertet werden."
Er sagte, die Sammelklage sei der beste Weg, um den Fall zu verhandeln.
In einem Artikel vom 24. Februar über Fuellmichs Bemühungen zitierte ihn die Zeitschrift Principia Scientific International mit den Worten: "Diese COVID-19-Krise sollte in 'Covid-19-Skandal' umbenannt werden, und alle Verantwortlichen sollten wegen Manipulationen und gefälschten Testprotokollen zivilrechtlich belangt werden.
Deshalb wird ein internationales Netzwerk von Wirtschaftsanwälten den größten Deliktsfall aller Zeiten, den COVID-19-Betrugsskandal, der sich inzwischen zum größten Verbrechen gegen die Menschheit entwickelt hat, anklagen."
Hier ist eine zusammengefasste Übersetzung des jüngsten Updates, das Fuellmich am 15. Februar auf seiner deutschen Website veröffentlichte:
"Die Anhörungen von rund 100 international renommierten Wissenschaftlern, Ärzten, Ökonomen und Juristen, die der Berliner Untersuchungsausschuss zur COVID-19-Affäre seit dem 10.07.2020 durchgeführt hat, haben inzwischen mit an Sicherheit grenzender Wahrscheinlichkeit ergeben, dass es beim COVID-19-Skandal zu keinem Zeitpunkt um die Gesundheit ging.
"Vielmehr ging es darum, die illegitime (illegitime, weil mit kriminellen Methoden erlangte) Macht der korrupten 'Davoser Clique' zu festigen, indem der Reichtum des Volkes an die Mitglieder der Davoser Clique transferiert wurde, was u.a. insbesondere den Mittelstand zerstörte. Plattformen wie Amazon, Google, Uber usw. konnten sich so deren Marktanteile und Reichtum aneignen."
https://baden.jungbrunnen.tips
War der Impfstoff der Grund für den Virus?
Der vielleicht ungeheuerlichste Auswuchs des Coronavirus-Betrugs war die Panikmache, die nicht nur zu verheerenden und unwissenschaftlichen Abschaltungen führte, sondern auch zur überstürzten Markteinführung eines unbewiesenen, experimentellen Impfstoffs, der nun Milliarden von Dollar für Big Pharma einbringt.
Genau wie die Abriegelungen ist der Impfstoff unnötig, weil es bereits mehrere gut dokumentierte Behandlungen mit altbewährten Medikamenten gibt, die nachweislich sicher und weithin verfügbar sind.
Genau wie die Lockdowns, trägt dieser Impfstoff potenziell verheerende langfristige Auswirkungen auf die menschliche Gesundheit.
Es gibt Fragen über seine Auswirkungen auf die Fruchtbarkeit von Männern und Frauen, und er hat bereits mehr als 1.100 Todesfälle in den USA und mehr als 400 Todesfälle in Großbritannien verursacht.
Zu allem Überfluss wird immer deutlicher, dass man diesen experimentellen Impfstoff für die gesamte Menschheit zur Pflicht machen will.
Es war der milliardenschwere Impfstoff-Investor Bill Gates, der ursprünglich im April 2020 die Idee in die Welt setzte, dass die Menschheit niemals zur "Normalität" zurückkehren könnte, bis "wir einen Impfstoff haben, den wir im Grunde an die ganze Welt ausgegeben haben."
Dieser Berichterstatter sagte im April letzten Jahres voraus, dass der Impfstoff schließlich obligatorisch gemacht werden würde, vor allem durch Konzerne, die Zwangstaktiken anwenden.
Israel übernimmt die Führung bei der Einführung der medizinischen Tyrannei
Unter den Nationen, die als Teil der "freien Welt" gelten, übernimmt Israel die Führung beim Vorantreiben einer neuen Art von Gesellschaft, in der Konzerne und Regierungen zusammenarbeiten, um jeden Menschen auf dem Planeten zu zwingen, eine Injektion mit experimentellen Impfstoffen zu erhalten.
Seit dem Dritten Reich der Nazis hat es in einer westlichen Nation nicht mehr so wenig Respekt für die Rechte der Bürger auf individuelle Gesundheitsautonomie gegeben.
Ob Sie in Amerika, Großbritannien, Australien oder Europa leben, wenn Sie sehen wollen, was Ihre Zukunft unter der "neuen Normalität" bereithält, schauen Sie einfach nach Israel.
Die israelische Regierung hat angekündigt, dass es Menschen nicht erlaubt sein wird, an einer Reihe von Aktivitäten des Lebens teilzunehmen, ohne Papiere vorzulegen, die beweisen, dass sie entweder geimpft wurden oder dass sie COVID hatten und davon genesen sind.
Eine Reihe von israelischen Einrichtungen wie Geschäfte, Einkaufszentren, Märkte, Kneipen, Fitnessstudios, Museen, Synagogen, Hotels und Bibliotheken durften am Sonntag, 21. Februar, wieder öffnen, berichtet die Times of Israel.
Aber nur diejenigen Israelis, die geimpft wurden oder sich von COVID erholt haben, werden in der Lage sein, Fitnessstudios und Schwimmbäder zu benutzen, Synagogen, Sport- und Kulturveranstaltungen zu besuchen, einen Flug zu besteigen oder in Hotels zu übernachten.
Um ihre Türen öffnen zu dürfen, wurden alle relevanten Geschäfte von der Regierung angewiesen, ihre Kunden nach dem so genannten "Grünen Pass" zu scannen und jedem den Zutritt zu verwehren, der diesen Nachweis nicht erbringen kann.
Es gibt drei Möglichkeiten für Israelis, den Grünen Pass zu erhalten:
Herunterladen der Ampel-App (Ramzor) bei Google Play oder im Apple App Store, Eingabe der persönlichen Daten und Erhalt des Passes auf dem eigenen Telefon.
Anmeldung auf der Website des Gesundheitsministeriums und Herunterladen eines ausdruckbaren persönlichen Dokuments.
Anruf bei der Hotline des Gesundheitsministeriums und Zusendung des Passes per E-Mail oder Fax.
Auch Europa bewegt sich in Richtung Impfpässe
Auch die Europäische Union scheint kurz davor zu stehen, ähnlich drakonische Maßnahmen zu ergreifen. Die deutsche Bundeskanzlerin Angela Merkel erklärte diese Woche, dass das Konzept eines digitalen Impfpasses " einstimmige Unterstützung innerhalb der E.U." gefunden hat.
"Alle waren sich einig, dass wir einen digitalen Impfpass brauchen", sagte Merkel am vergangenen Mittwoch nach einem Treffen mit europäischen Staats- und Regierungschefs.
Auch E.U.-Kommissionspräsidentin Ursula von der Leyen lobte das neue israelische System des Grünen Passes.
Europarat: Impfpässe trampeln auf Menschenrechten herum.
Der Telegraph berichtet, dass die Regierung Großbritanniens kurz vor der Ankündigung neuer Regeln steht, die denen Israels ähneln und nach denen es keinem Briten erlaubt sein wird, Pubs, Fitnessstudios, Großveranstaltungen oder Hotels zu betreten, ohne seinen speziellen COVID-Impfpass vorzuzeigen.
GROSSBRITANNIEN: Mehr als 200.000 unterschreiben Petition gegen Impfpässe – Parlament muss debattieren
Seit wann nehmen wir Freiheit weg, um sie unter neuen Bedingungen wiederherzustellen, die von nicht gewählten "Experten" der Weltgesundheitsorganisation der Vereinten Nationen definiert werden?
Das ist die verdrehte Art, in der die globalistischen Technokraten denken. Sie verdrehen immer wieder die Sprache, um ihre Lügen zu verkaufen und verleiten schlecht informierte Massen dazu, direkt in ihre hinterhältigen Fallen zu laufen.
Menschen zu zwingen, eine medizinische Behandlung zu akzeptieren und "ihre Papiere" zu zeigen, die beweisen, dass sie die Behandlung erhalten haben, um an der Gesellschaft teilzunehmen, ist ein Verstoß gegen die wohl etablierten internationalen Normen.
Der Nürnberger Kodex ging aus den Nürnberger Tribunalen hervor, die deutsche Nazi-Führer verurteilten.
David Icke: Wir müssen Nürnberger Prozesse für alle "Covid"-Täter fordern
Der Kodex besagt, dass jede experimentelle medizinische Behandlung nicht nur freiwillig sein muss, sondern auch eine "informierte Zustimmung" beinhalten muss, was bedeutet, dass die Person nicht nur freiwillig zugestimmt hat, sondern auch genau darüber informiert wurde, was die Behandlung mit sich bringt und welche Risiken damit verbunden sind.
Die globalen Machteliten haben COVID bereits als Deckmantel benutzt, um die freie Meinungsäußerung, Versammlungsfreiheit, religiöse Versammlungen und kleine Unternehmen einzuschränken und eine Welt der Besitzenden und Besitzlosen zu schaffen.
Großmärkte wie Walmart und der Online-Händler Amazon gedeihen prächtig und fahren Rekordgewinne ein, während kleine Unternehmen aussterben.
Die Sammelklage scheint also gerechtfertigt, zumindest in der Theorie. Eine kleine Kabale von globalistischen Konzernen und "Experten" bei der WHO hat das Problem geschaffen und es für die Menschen unmöglich gemacht, ihr Leben als normale Menschen zu leben, was zu Massenangst und riesigen Spitzen bei Selbstmorden führt.
Jetzt, wo alle unglücklich sind und verzweifelt versuchen, wieder normal zu werden, führen die Technokraten eine experimentelle Gentherapie ein, den mRNA-Impfstoff, und halten ihn als die Rettung hin, was es für viele ach so verlockend macht, sich anzustellen und die Ärmel hochzukrempeln.
Verlockend, wenn man nicht recherchiert hat, wer für den Impfstoff wirbt, welche Motive und Ziele sie verfolgen und wie ihre bisherige Erfolgsbilanz aussieht.
Eine solche Recherche würde Sie direkt zur Bill and Melinda Gates Foundation führen, die über die globale Impfstoffallianz GAVI und andere Organisationen Milliarden in eine ständig wachsende Reihe von Impfstoffen investiert hat.
Gates hat mit der enormen 20-zu-1-Rendite" geprahlt, die er durch Investitionen in Impfstofftherapien erzielt hat. Sein Nettovermögen ist um 17 Milliarden Dollar gestiegen, seit er seinen Fokus von Computern auf Impfstoffe verlagert hat.
Ein italienischer Abgeordneter fordert die Verhaftung von Bill Gates als "Impfstoff-Verbrecher" wegen Verfolgung von Verbrechen gegen die Menschlichkeit.
U.S.-Firmen bestechen Mitarbeiter für die Impfung
Eine Reihe von US-Firmen bestechen jetzt ihre Mitarbeiter, indem sie Geldprämien von 100 bis 150 Dollar anbieten, wenn sie sich impfen lassen.
Meijer, Kroger, Publix, Dollar General, Aldi, JBS Meat Processing und Trader Joe's, unter anderem, sind auf den Zug aufgesprungen. Sie werden von "Gesundheitsexperten" dafür hoch gelobt, also erwarten Sie, dass weitere Unternehmen diesem Beispiel folgen werden.
Diejenigen, die die Impfung verweigern, was nach den Nürnberger Gesetzen ihr Recht ist, werden zu den neuen Unberührbaren in einem Kastensystem, das die Menschen nach medizinischen Gesichtspunkten einteilt.
Diejenigen, die die Impfung erhalten, werden wieder in etwas eintreten dürfen, das der Normalität näher kommt, während diejenigen, die sie ablehnen, zurückgelassen werden.
Die Puzzleteile sind alle da – mit dem Virus, der Angstmacherei, den Abriegelungen und Maskenverordnungen und den kommenden Impfverordnungen. Alles, was Sie tun müssen, ist, sie zusammenzufügen.