Welcome to my Hebrew reading & language series.
Genesis 31:42-44
Jacob and Laban have been arguing for several posts. They finally met after Jacob took his family and left. The argument is now calming down now that each one stated their grievances (last week). Now Jacob reminds his father-in-law that God had rebuked him last night because of how he had afflicted Jacob. Laban also states that he already misses his daughters and grand kids. Then the suggestion comes. A covenant!
Covenants were common but only used when there was an important impasse between parties. In cities they would make a big deal and get the public's attention so that everyone sees the deal being made and they are all witnesses to the treaty or land deal. In this story about Jacob and Laban, everyone is from the same family but still they are at odds. So they made a pillar of rocks that will be a 'witness' between the two parties. Each will swear not to cross to the other's side of that marker with intent to do harm. That is for next week.
Today's reading
English
If the God of my father, the God of Abraham and the Fear of Isaac, had not been on my side, surely now you would have sent me away empty- handed. God saw my affliction and the labor of my hands and rebuked you last night."
Then Laban answered and said to Jacob, "The daughters are my daughters, the children are my children, the flocks are my flocks, and all that you see is mine. But what can I do this day for these my daughters or for their children whom they have borne? Come now, let us make a covenant, you and I. And let it be a witness between you and me."
---
Hebrew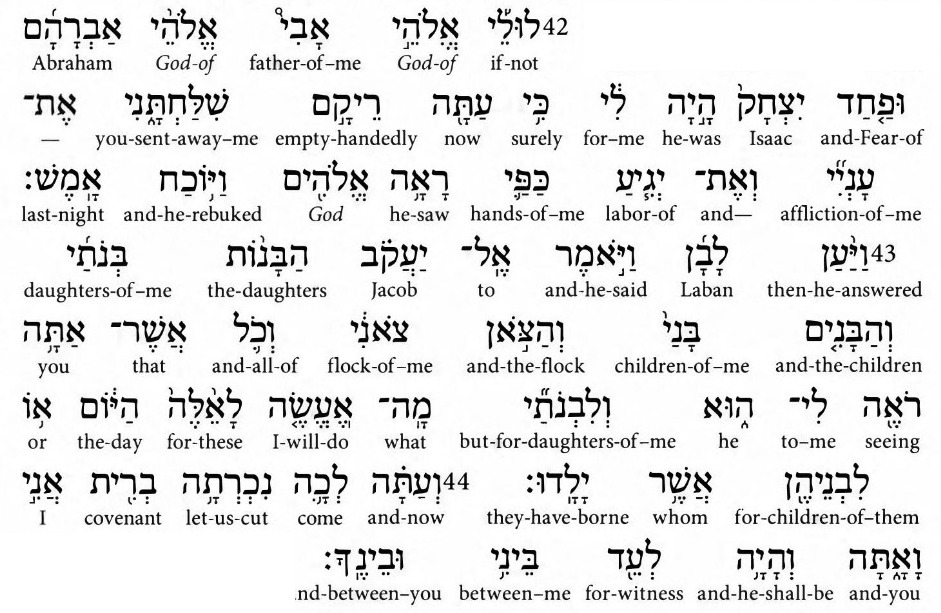 The story continues next week as each swears an oath...
---
Info on each letter starting at the beginning
If you are just starting, my lessons are all here starting at Alef, adding vowels (the dots and lines) as we go. I explain the meaning of each letter and its numerical value. Just go to my blog and scroll to the bottom or click here
Get your Hebrew Bible now!
Click here to obtain the book we are using. It is a free download or browser usable.
Thanks for reading.
Shabbat Shalom