Choosing your favorite songs is harder than choosing what clothes to pack for a trip. I have a long list again and five is not enough hehe. Usually, I choose music depending on my mood. Moreover, I always use music to speak my heart out.
Without further discussion, here's my pick...
1. Bestfriend by Jason Mraz
From his album "Yes!" , which was released in 2014. I didn't know this song until my husband introduced it to me just a year ago. It's not so popular. The first time I heard it, I loved it from the lyrics, melody, beat. In fact, we decided to use it for our AVP presentation in our wedding. This song perfectly expresses my feeling towards my best friend, my husband. I listen to this song almost everyday. Thanks to Jason Mraz, for making amazing songs, always.
2. Mirrors by Justin Timberlake
There's no dull moment in listening to this eight-minute-long mid-tempo Pop and R&B ballad. The lyrics really caught my feelings, it's well written. Every line is my favorite. I'm even more amazed when I learned that JT made this song as a tribute to his grandparents and also for his wife Jessica Biel.
3. Let's Stay Together
This list will not be complete without a song from Maroon 5. Among my choices, this is the oldest. This song is originally sang by Al Green in 1972. However, as a millenial, I like the cover of Maroon 5. I love this song because it's like it is reminding or encouraging couples to stick together through good times and bad.
4. Shallow by Lady Gaga & Bradley Cooper.
Have you watched the movie "A Star is Born"? It's a perfect duet. I learned to love Lady Gaga's songs because of that movie. I can't help but sing along every time it plays.
5. I Don't Wanna Fight by Westlife.
Among the boy band's member, Mark Feehily is my favorite. Majority of the song was sang by him. I think that this song is a good one when you want to apologize to your loved one hehe.
How about you guys, what's your top5 songs? I would love to know you favorites too. Please drop your comments below.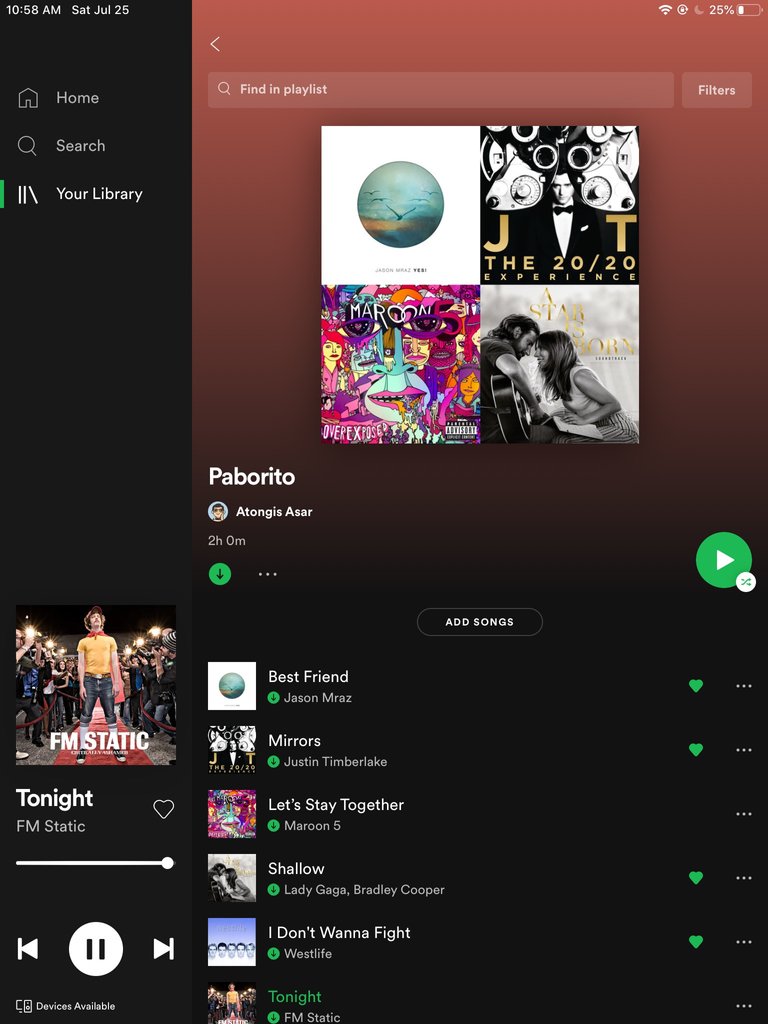 https://open.spotify.com/user/atongis?si=gqX84ovwSyqXmN1M18AxHg
I have saved these on my playlist in spotify (actually it's @atongis' subscription hehe). Feel free to listen my favorite songs and follow. Enjoy listening!
This blogging challenge is initiated by @tegoshei