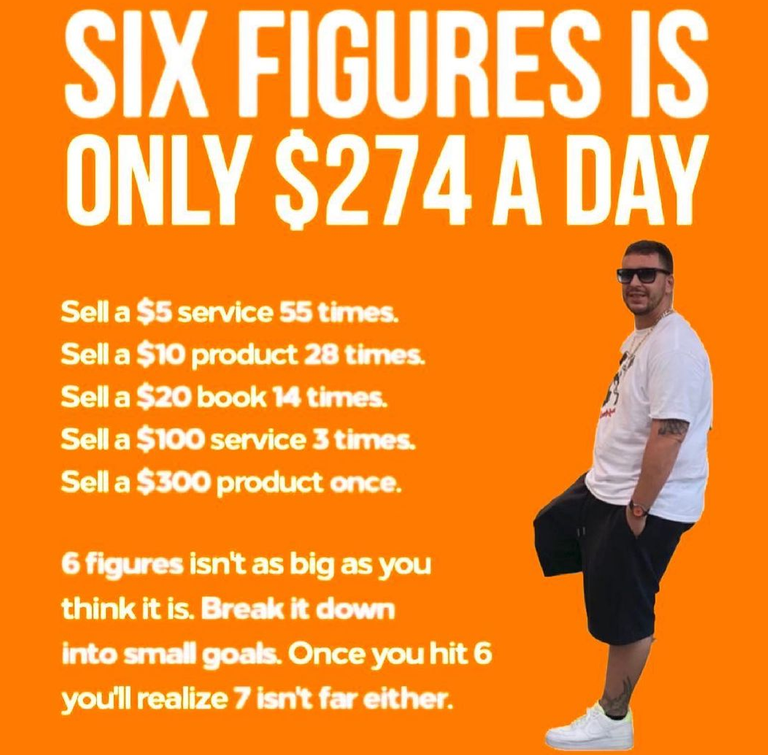 Six figures is not as much as you think it is.⁠
⁠
If you have your own business or are an entrepreneur you probably already know this. ⁠
⁠
Having a six figure salary is great, and something many people strive for. But, as an entrepreneur you know your business is capable of making way more than six figures.⁠
⁠
In the beginning this may seem like an impossible goal. But, if you break it down into smaller goals (which I suggest you do) it makes everything seem easier and much less daunting. ⁠
⁠
Instead of thinking about how much you want/need to make in a year, set goals for how much you should be making daily or weekly.⁠
⁠
Six figures is only $274 a day. That adds up to $100,010 a year. Roughly, give or take. ⁠
⁠
When you compare $274 to $100,000 it's a lot easier to come up with ways on how to make that $274 in a day. ⁠
⁠
Once you've accomplished that goal you can go ahead and set the bar higher. Like $300 a day or $500 a day. ⁠
⁠
Once your business has already reached the six figure goal you'll realize that seven isn't too far either. ⁠
Do you have an income goal for your business?
▂ ▃ ▄ ▅ ▆ ▇ █ █ ▇ ▆ ▅ ▄ ▃ ▂
Please visit my