For a very long time I have been collecting, propagating, and growing numerous succulents and aloes, and one of my favorites in my garden is my enormous Portulacaria Afra plants better known as the elephant bush, porkbush or as we call it in Afrikaans the spekboom.
This gorgeous small-leaved succulent with vibrant red stems is a great attribute to any garden that will have it. It is drought and frost resistant and creates a lovely ecosystem for creatures and critters to shelter in during harsh weather conditions. Above that, it is also a very beneficial plant with medicinal properties and contributes greatly to carbon reduction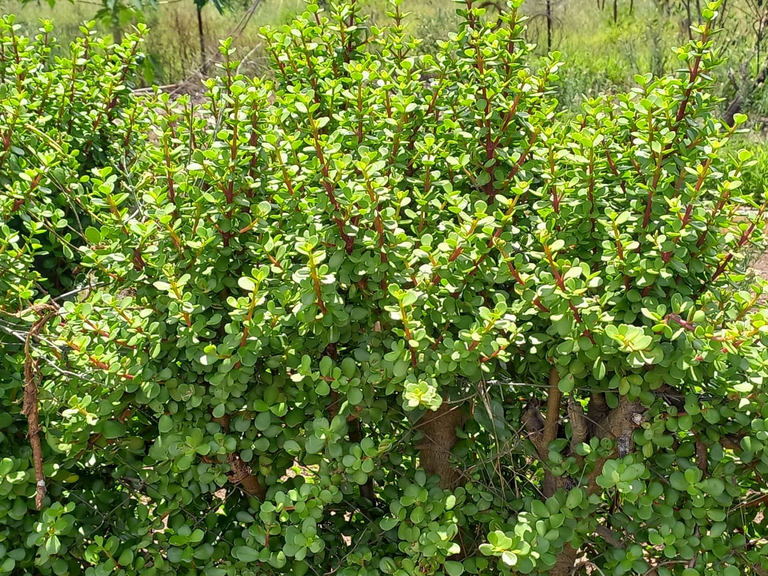 Little did I know when I started growing spekboom that it would not only become a favorite in my garden but also in my kitchen as well.
I would often add some spekboom leaves to salads, their tart taste and crisp texture add a new dimension to the classic table salad, and eating the leaves straight off the tree while working out in the garden is hardly uncommon for me.
But today I wanted to see if I could take it one step further, and I decided to make a relish with some spekboom leaves incorporated into it. The end result did not disappoint.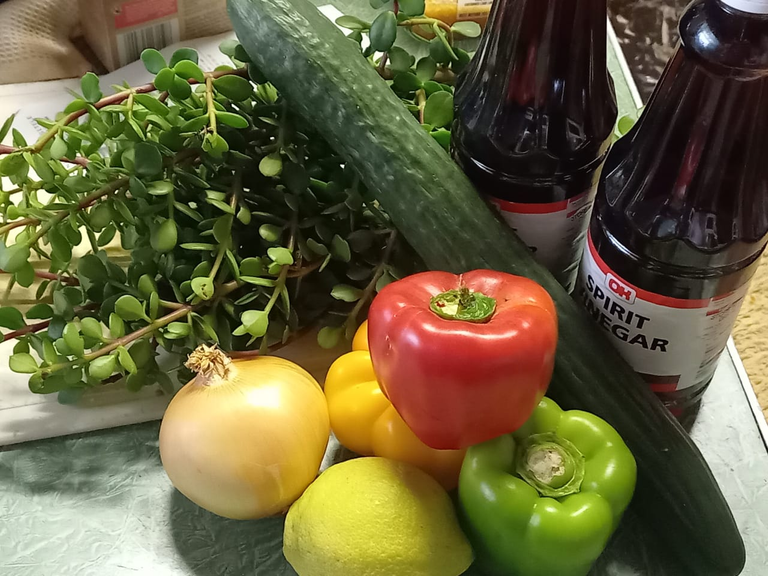 Recipe
200g diced cucumber
100g spekboom leaves
100g diced white onion
50g sweet pepper (Optional)
10g chopped garlic
6 tsp sugar
Half cup brown vinegar
2 tbsp lemon juice
1 tsp mustard seeds
1 tsp fennel seeds
1 teaspoon salt
Method
Firstly I diced my cucumber and onion then hand-selected the spekboom leaves off a few branches that I had picked earlier. Once I had the desired quantities of all of them, I placed them in a dish and sprinkled them with a tsp of salt, and mixed thoroughly. (I wanted to add some sweet peppers, but I forgot) This mixture was then set aside to rest for 30 minutes, then rinsed.
In a saucepan, I combined the garlic, sugar, vinegar, lemon juice, mustard seeds, and fennel seeds and simmered that over medium heat stirring continuously until all the sugar was dissolved then I lowered the heat and added the cucumber, spekboom, and onion mix. I let this cook on low heat for about ten minutes until the onion and spekboom were nice and soft.
Such a quick and simple relish to make, and it tasted divine.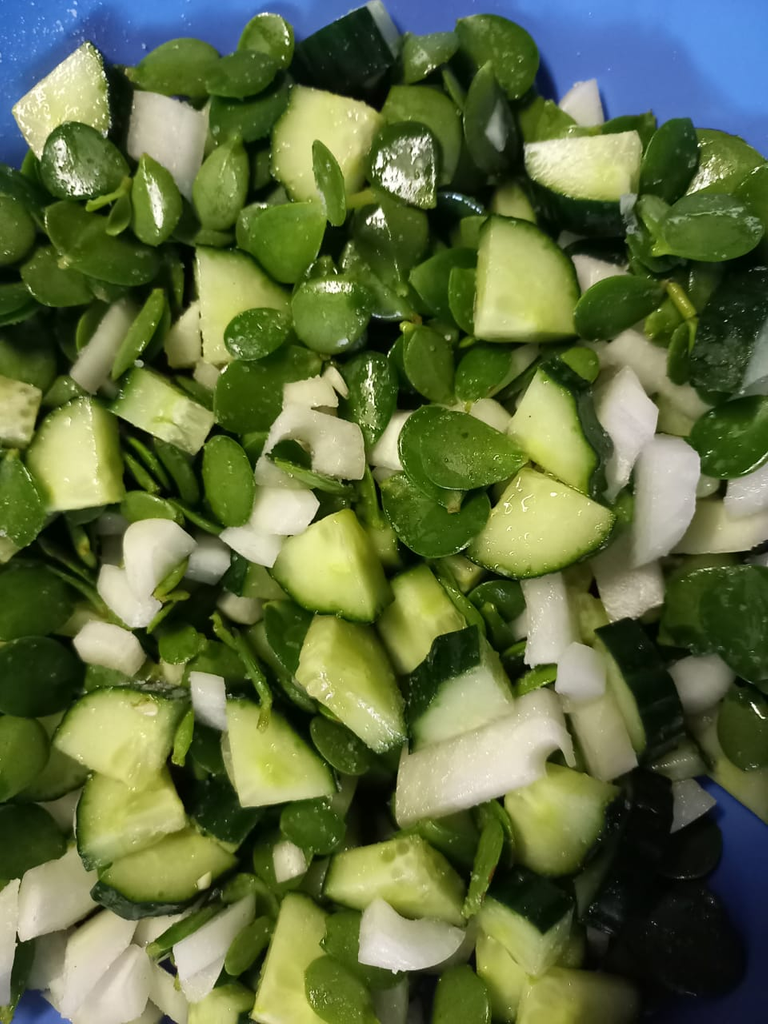 For serving, I used some Pro-Vita crackers and slathered a thick layer of cream cheese on them. I then spooned over the relish, and of my, what a wonderful taste combination.
I think that this relish will also go well on burgers and hotdogs, or even as a side with a juicy steak.
This is definitely a relish that I will make again and again.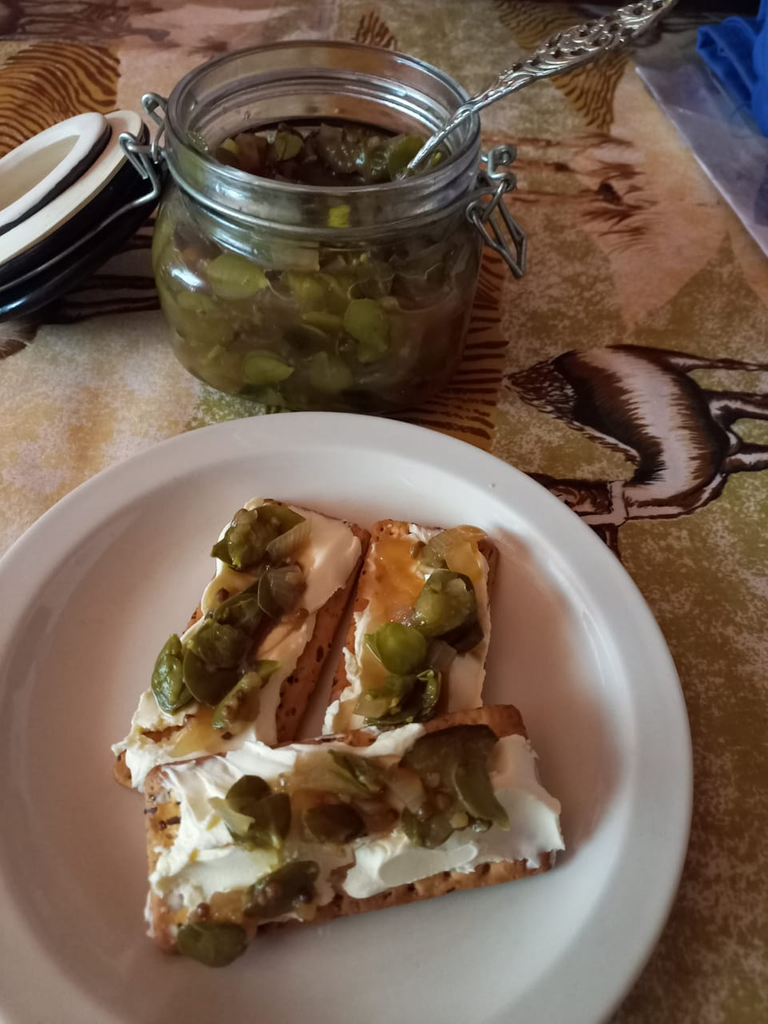 So, you see, succulents can be more than just a gorgeous plant. <3