They say when in Rome, but we are not in Rome. We are here on the Hive Blockchain. And when on the Hive Blockchain, everything that has to do with Hive is part of everyone's business.
The feature-length film we are making for Hive is not an exception. We work closely with Community members and we are glad to inform you that a good number of the reviewers of the first draft of the script are 'impressed with how things are looking so far.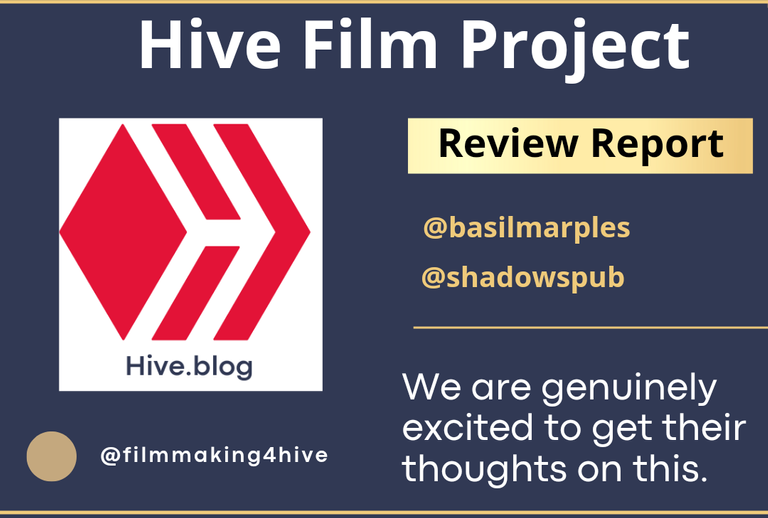 Yeah, @basilmarples and @shadowspub are two members of our review team for the first draft of the script and they shared their thoughtsIN THIS POST and THIS POST, respectfully.
Please do us a favour and show them lots of love on both posts.
---
---
1. Basil is impressed.
Those that witnessed the event that transpired during the birth of Hive can agree to the fact that there are different facets to it, that can be explored to make an interesting story.
Basil expressed his excitement with how the key story threads of what transpired were weaved together to come up with the script. According to him, this creates plenty of room for laughs, drama, tech jargon, and crypto politics.
You will easily lose count of the number of times he mentioned 'humour' in his review. I bet that sends a strong message.
---
2. There's a long way to go from here.
While Basil is full of praise for the first draft of the script so far, he was also keen to draw a line on the aspect of the script he feels needs to be adjusted.
He highlighted the way the script explored the basic concepts of crypto blogging and offered insight into how uncomfortable he feels about it. In addition to this, he left tips that he feels can be explored to give the story a more captivating narrative.
---
3. Basil wants more.
Tell me you are not surprised. Who wouldn't want more after being let in on the first draft of Hive's very own feature film script?
According to Basil;
It isn't a full script yet (80 pages so far!) so I was left biting my nails when the story was cut short... I can't wait to read the next instalment
That says it all.
---
Key Notes From @shadowspub's Review
---
1. There were bound to be challenges.
Firstly, the tech side of Hive is an important aspect of any story that will be told about Hive. Will this story be relatable to a non-tech viewer?
Secondly, Hive operates in the virtual world. Will it be possible to present a script where most of the action will take place on computers?
To crown it all, we have the ninjamine issue which is 'crucial to the story. Can that be presented in a relatable way?
These were the challenges envisaged by Shadows before exploring the script.
---
2. Her impression of how these challenges were handled.
Accordingly to Shadows, 'the scriptwriter has managed to overcome these challenges.
It feels good to hear that, right? She backed it up by highlighting that viewers will be aware that Hive is nothing like the average social media, without being overloaded with the tech side of the blockchain.
She likes how the issue of the ninjamine and the on-screen actions were captured in the script and she lauds the effort of the scriptwriter for overcoming these challenges.
---
3. Shadows is liking the flow of the story.
It is the partial script of the Hive film and shadows is looking forward to seeing the larger picture when the next part of a draft of the script is in place.
She also highlighted an aspect of the story that could use some refining, but her overall impression of the part of the script that has been released is positive.
---
Hive Filmmaking Team's Remark;
These reviews were both pulsating and fascinating in equal proportion. We are genuinely excited to receive every reviewer's thoughts and impressions and we are taking note of all of it.
Thanks so much @basilmarples and @shadowspub. We appreciate your feedback and genuine support for this project.
Our next reviews round-up for the first draft of the script that was passed will be coming from the reviews we will get from @arcange, @guiltyparties, @traciyork and @amirtheawesome1.
---
---
You may already have guessed, but here is the reason for posting these reviews on this blog page;
---
- For the community: As @shadowspub always says, "it's all about Community".
This script tells the story of our adorable Community and we want every member of the community to be well-informed about what is happening.
We will keep you updated as we complete this project. In return, we implore you to give us as much time and support as we need.
- For the filmmaking4hive team: It is already exciting for us to be working on this film. As we take each step in this project, we also want to build a strong database of all the progress we are making.
These reviews will be instrumental in the next big step we are taking as we shape things up. Shortly, we would like to look back at this blog page and appreciate every inch we walked and every milestone passed, as well as all those that were actively involved in taking this journey with us.
---
Mailing List
---
This is for accounts that asked to be mentioned in our publications.
@ericwilson, @demotruk, @crrdlx, @jacoalberts, @traciyork, @the-bitcoin-dood, @invest4free.
Upon request in the comment section of this post, we will gladly mention you in our subsequent publications. Think of it as a mailing list. It'll be a good way of staying updated on everything we are doing here at filmmaking4hive.
Ending Note;
Filmmaking4hive is a team that is developing a feature-length film based on the events that transpired with Steemit Takeover and the Hive Fork while showcasing the power of Web3. Please check out our blogpage for more details!
Feel free to JOIN our Discord channel. That is where you can join our AMA section and have another timely discussion with us in real-time.
Let's take a moment to acknowledge the brilliance, dedication, and unwavering effort of @killerwot and @thedeltron for the role they play in the overall progress of this project.
Huge thanks to @kenechukwu97 for his role in helping us keep the community informed about the progress of this project. Please check out his page and consider giving him a follow!



Thumbnail image is designed on Canva
Hive logo is from Hive.blog
Short Preview Description: These reviews were both pulsating and fascinating in equal proportion.