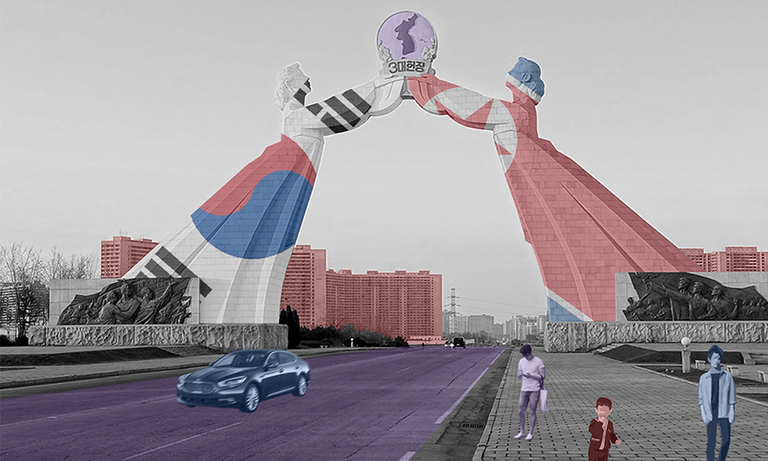 ---
Sorry for the long wait! The last few weeks have been very busy regarding the finalization of framework process. This article consolidates all the research that I have done as a final presentation that I had prepared for the final review in the overall 2018 fall semester. This is a very long post so please take your time with reading through the slides. Thank you.
---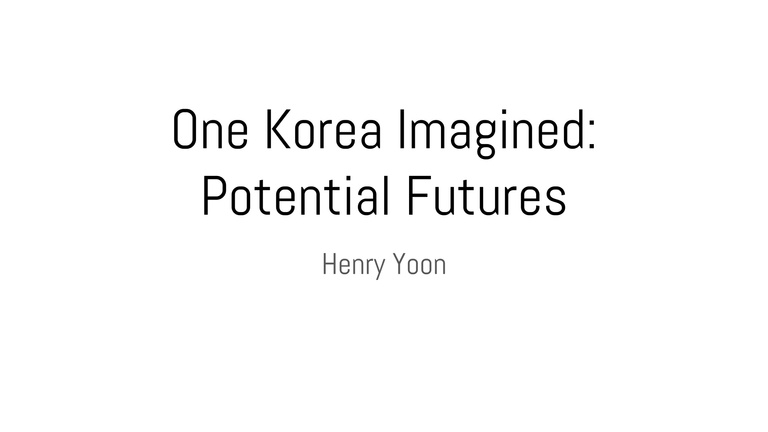 Anthony Dunne's Quote on Speculative Futures
---
This quote by Anthony Dunne is important as it sets the overall framework of this presentation regarding the exploration of different potential futures of a unified Korea, and what kind of discourse emerges from these different scenarios.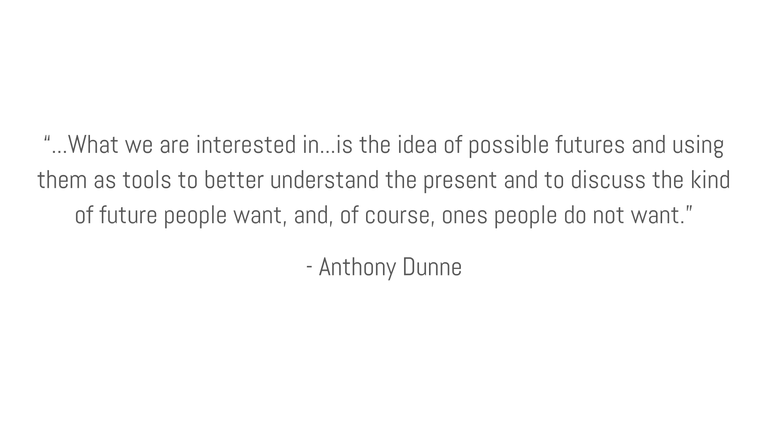 Spectrum Diagram
---
This diagram was taken from a book called Speculative Everything by Anthony Dunne and Fiona Raby, where it categorizes these potential futures into different levels of feasibility. This book talks about using speculative design as a way of creating ideas, and not just things.
Speculative design is a critical medium for exploring the implications of new developments in science and technology, to the aesthetics of crafting speculative designs. The author emphasizes thinking about more than just predicting, forecasting, and spotting trends, as these kinds of predictions are proven wrong, again and again. Thinking through this spectrum of futures compels us to consider "what if?" questions that weren't considered before, opening up a whole new level of discourse regarding futures that people want.
These collages are used as a methodological visual tool for conveying these different emotions and the intent of my thesis proposal through a contrasting color code of red, blue and purple. Red would represent North Korea, blue would represent South Korea, and purple would represent a unified stance. This represents the methodology that is used, where an existing photo is taken, and overlaid as a collage with this color coding.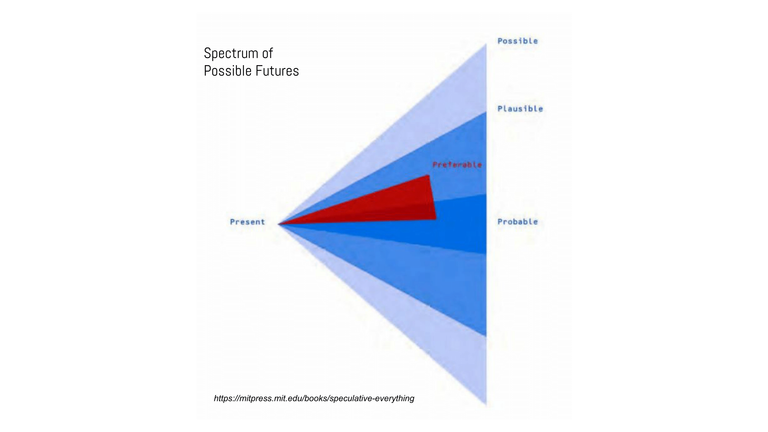 Disclaimer: My Position as an Outsider
---
Before we get into speculating these different kinds of futures, I would like to address my position as a speculative designer for potential futures of a unified Korea. I am a third party observer that is limited to sympathy for the situation, as I was not born in either Korea, nor am I directly affected by the events of unification. My only existing relatives reside in South Korea, and visiting them is very difficult due to financial issues and a minor language barrier. I am presenting my proposal as a westernized observer that is looking into this ongoing ordeal through speculative binoculars.
The Present Realm
---
Before we get into the potential futures, we need to focus on the significance of the present, where an understanding of Korea's historical context and its current events, especially with the past few years. This includes the era of the Three Dynasties, the significance of the Joseon Dynasty, how they functioned as a unified Korea before they were occupied by the Japanese, how they were divided amid the Korean War, and how each country developed as one half of a Korea.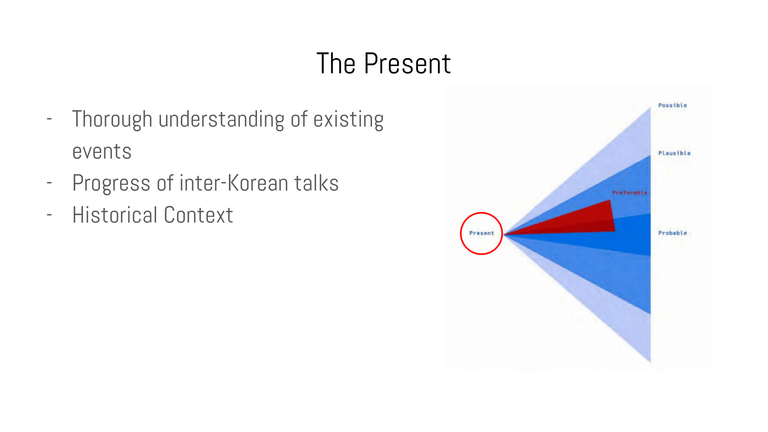 Overall Timeline
---
This timeline presents the history of Korea into three different scales, where it contrasts when they were under colonial rule, when they were divided, what events caused the division of the country, and how recent developments of unification are slowly mending the split back together. The history leading until today shows that Korea has endured many hardships due to the political agendas of other countries, such as China, Japan, Russia, and the United States.
This quote from a German general explains the situation perfectly, where he states that "we were divided due to our innocence, but the Koreans were divided due to their innocence."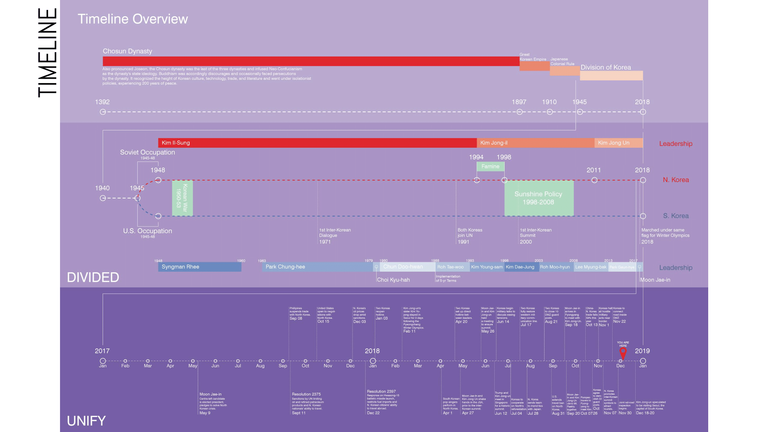 Existing Infrastructures
---
There have already been reports of a joint railroad inspection crossing the DMZ border, and the existing highway and railroad infrastructures show that there are visible points of intervention along the DMZ border.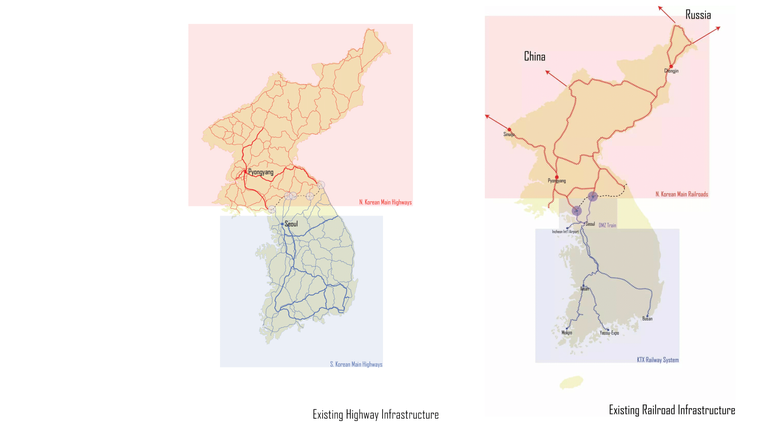 The "Beginning"
---
This historical event may have been the metaphoric catalyst for getting the ball rolling regarding the unification process. Before this event happened, there was hostility, tension, and very little progress being made regarding any peaceful talks. Moon Jae-in utilized patience, and took his time with establishing friendly relations with Kim Jong-un in an effort to resume the Sunshine Policy, which was created by past South Korean progressive presidents to mend the ties between the North and the South.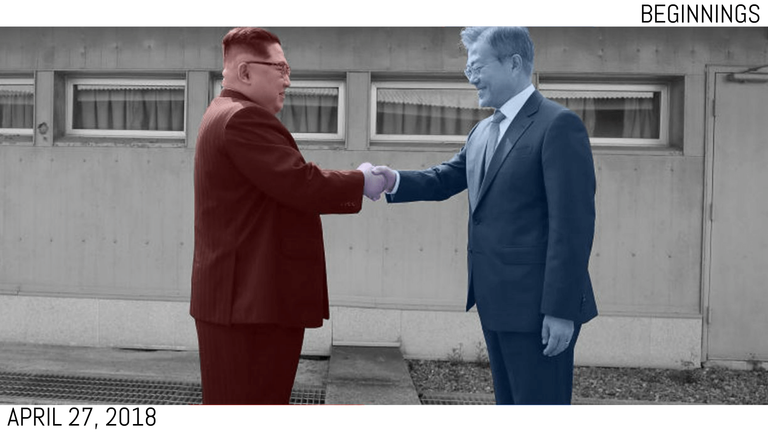 Probable Reality
---
This is the realm where most designers operate, with consideration for past events and precedents in order to develop a prediction. This is how current designs are evaluated, and leads to the most likely conclusion regarding thinking about the future events of unification.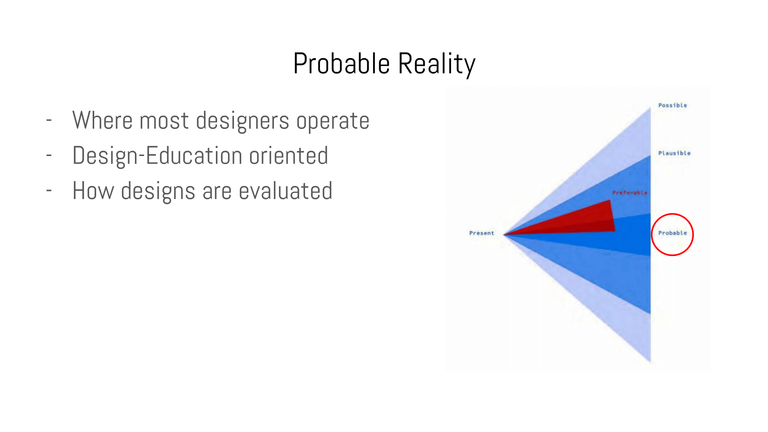 Moon Jae-in's Three Belt Strategy
---
This strategy can be found on South Korea's official Ministry of Unification website, where it outlines Moon Jae-in's goals and intent in great detail. This three-belt strategy is one of his main proposals which focuses on connecting the countries with immediate surrounding countries to begin developing a global trade pattern.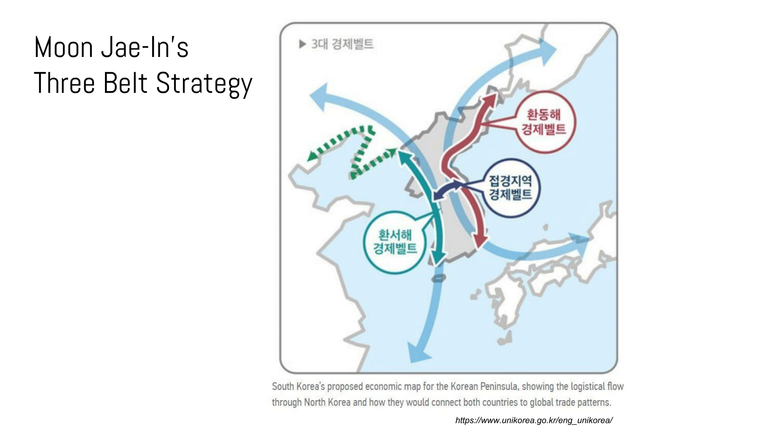 Intercontinental Road
---
Taking into consideration of the president's belt strategy and the ongoing sanctions on North Korea by the United States and the United Nations, there is a good chance that the borders surrounding North Korea will gradually come down for the sake of globalized trade, but that doesn't necessarily mean that the countries will unify. There will be multi-continental transportation, but North and South Korea will require extra time to set the stage for a successful unification.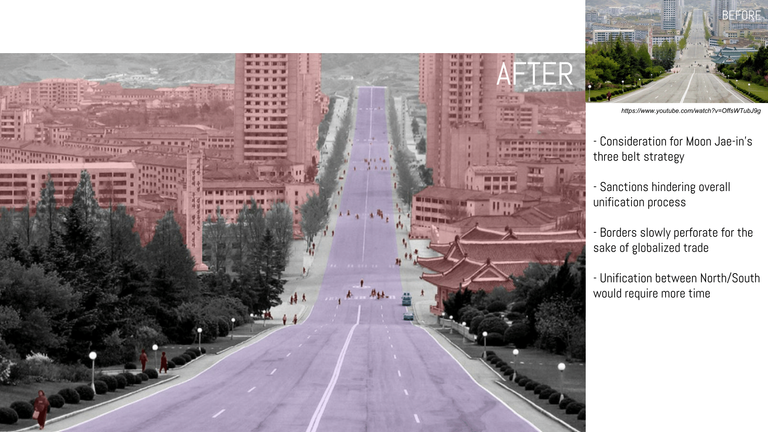 What is a Checkpoint?
---
When we talk about crossing the border, a checkpoint comes to mind. What kind of form would the checkpoint take? Where along the DMZ would it be located? How will the level of surveillance be addressed when citizens come to cross? Would the process be different depending on if you're a North or South Korean?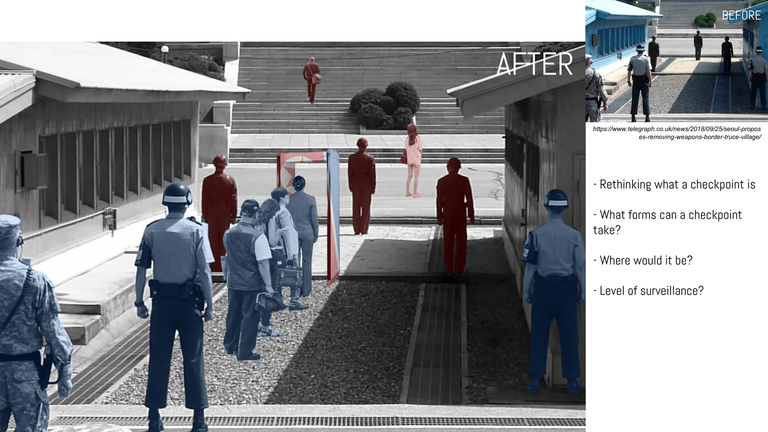 Checkpoint Scenarios
---
On RealTimeBoard, I arranged this diagram in order to give an overview on all different types of scenarios that are possible when one is crossing the DMZ border, including the form of the checkpoint, methods of transportation, level of surveillance, the types of roads, how many people are crossing, social hierarchies, and a contrast of realistic scenarios and utopian scenarios.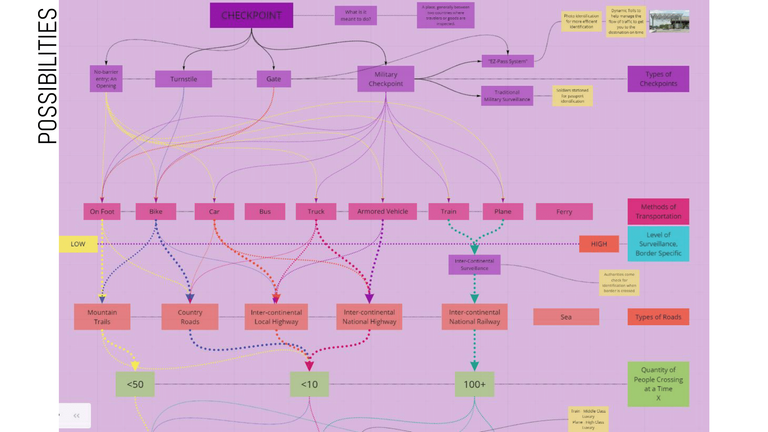 Plausible Realities
---
This realm of realities deals with considerations for alternative routes, with the intent to thrive given unforeseen circumstances that can still happen. Showing these realities prepares the audience for the consideration of thriving in case of an unexpected event occurring.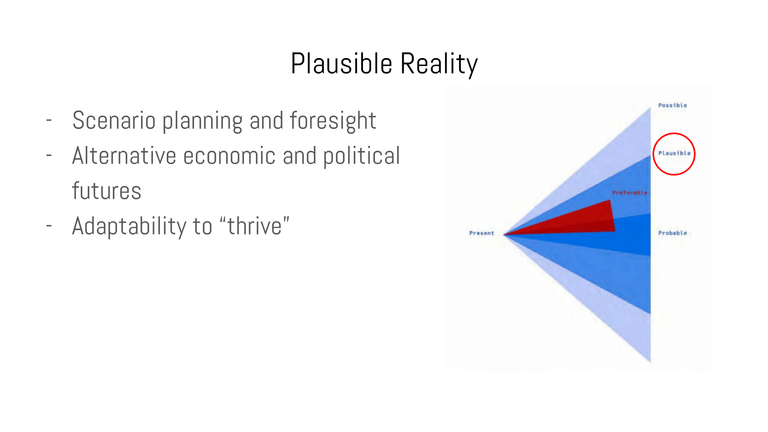 Collapse of the Regime
---
Many people have pointed to the conclusion that the North Korean regime must fall as the best course of action. There are consequences to a collapse in North Korea happening, mainly because no matter who is in charge of reconstructing the country, the burden is great. You have a large group of refugees and migrants that do not have a political institution to follow. This would be a huge financial burden to whoever is involved, whether it is South Korea, China, the United States, Japan, or Russia.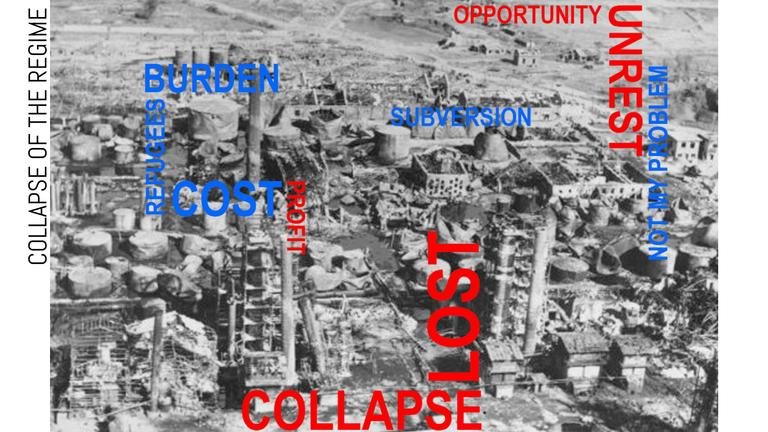 Transition into Full-Digital Currency
---
This collage imagines a scenario where digital currency completely overshadows the traditional fiat currency and all transactions are done through blockchain technology and cryptocurrency. Context points to a possibility of this happening, as the transition from fiat to digital currency has already begun, with 93% of the world's currency being represented in digital currency in comparison to fiat physical currency only making up 7%. With South Korea fully investing in the cryptocurrency system to the point of developing its own sector, and North Korea utilizing cryptocurrency as a way of sustaining their economy despite strict U.S. sanctions, I can imagine a future where they adapt to this new method of global currency.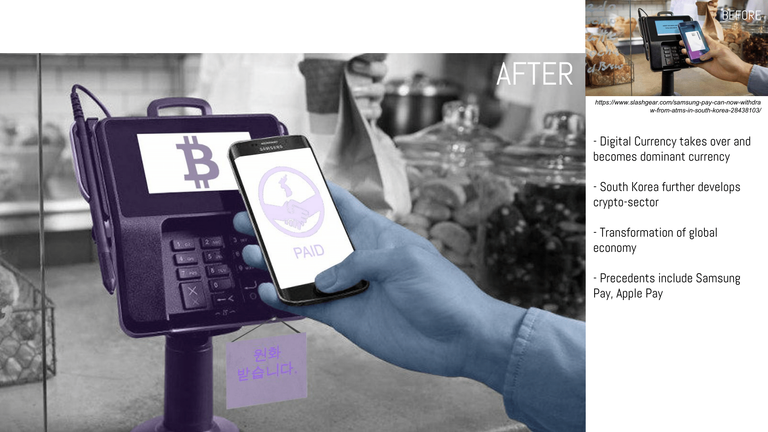 Rise of Peaceful Protest in North Korea
---
With dissatisfaction in North Korea rising, the citizens of the country are taking more of an aggressive stance of voicing their concerns to the authoritarian regime. Using the Berlin Divide as a precedent, they utilize peaceful protests in order to get the attention of the regime and persuade them on enacting some changes to their existing institutions.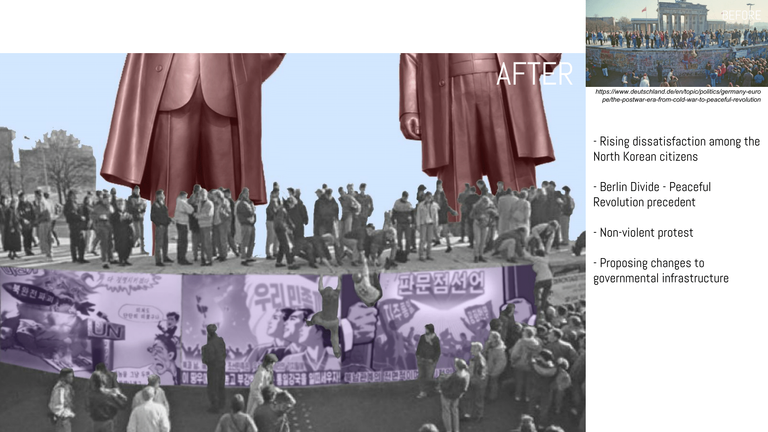 Possible Realities
---
This realm seeks to establish a connection between today and any suggestions that are made. This starts to lean more towards the plotline of a sci-fi novel as we approach the impossible realm outside of the triangle.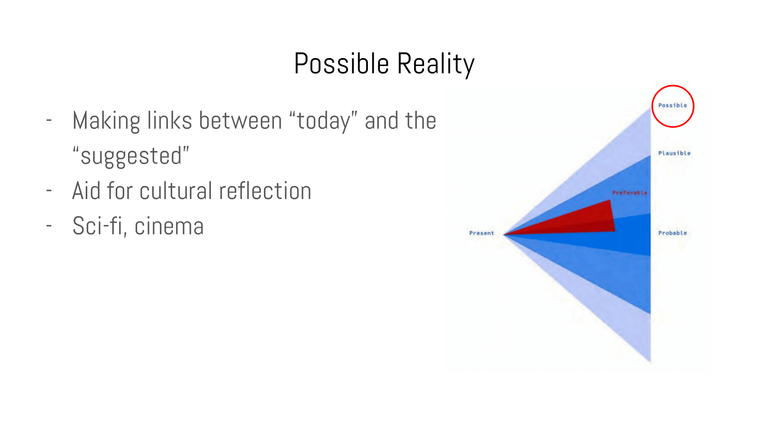 What if China absorbs North Korea?
---
Before North Korea collapses due to the strict sanctions that are set on them by the U.S. and the U.N., China decides to absorb the country into their own workforce and society. Through commonalities in the systems of Communism, the absorption only briefly stagnates their economic powers, as they have dealt with a third party of workers entering the modern economy from China's own countryside.
World War III
---
North Korea is pushed to the edge with demands to denuclearize and the results of the sanctions causing their economy to suffer. The people cannot be fed, and widespread panic within the country begins. The regime decides to pull the trigger and launches their nuclear weapons at South Korea, Japan, and the United States. This causes a chain reaction of nuclear launches by the United States and Russia, beginning World War III.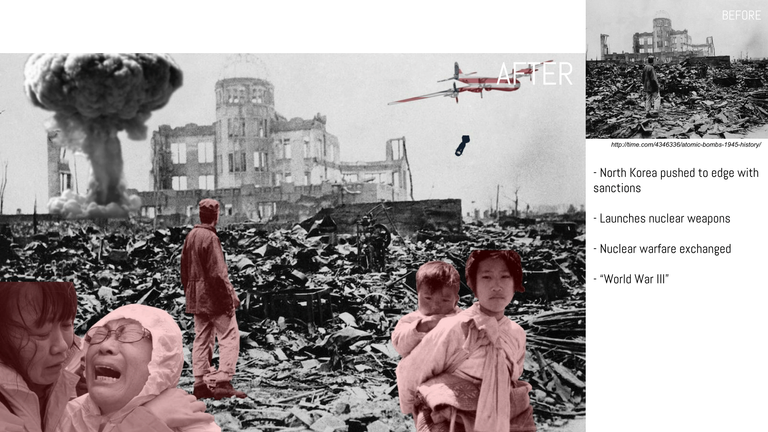 Impossible Realities
---
This realm is going full fantasy, where the possibilities of these futures are 100% impossible. Through showing these scenarios, they encourage new discussion and discourse that haven't been considered before.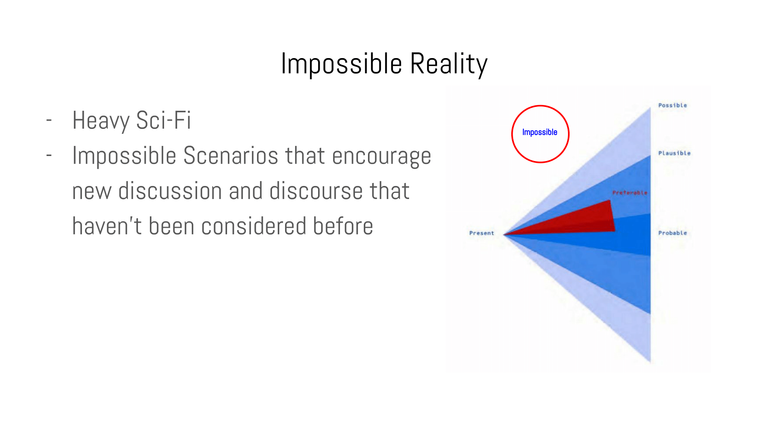 "Commissions for a Utopia"
---
The interesting thing about North Korean architects is that they have very limited access to contemporary architecture, and these images give an example of how this architect imagines what tomorrow's eco-tourism might look like. This journey into the mind of this architect shows what their understanding of a utopia is for the future. It gives off a very innocent, retro-futurist vibe that could pass for the concept art of the Tomorrowland section of a Disney park.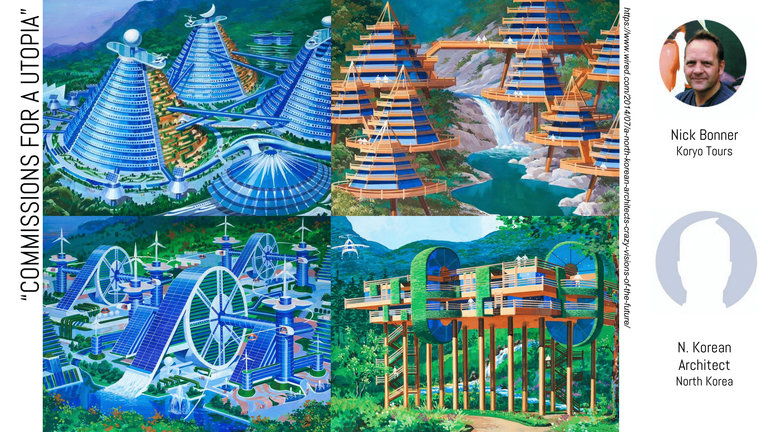 Preferable Reality
---
Through all of the research that I did, this reality is where my justified opinion is inserted into a future that is otherwise currently determined by the government and the industry.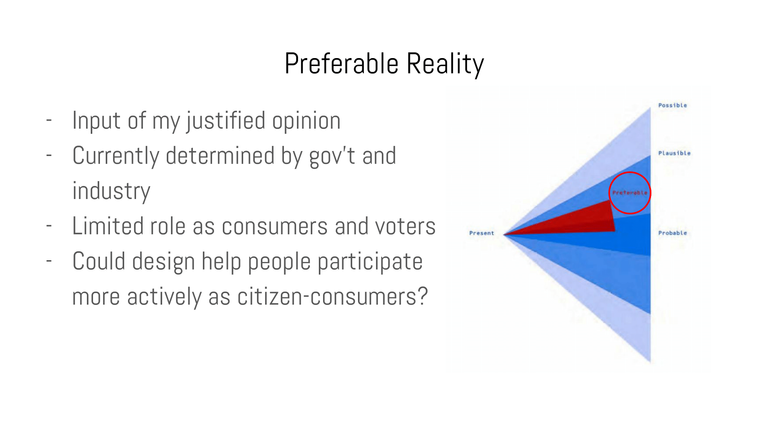 Significance of 2022
---
2022 is an important milestone for South Korea, as that is the year when Moon Jae-In is at the end of his presidential term. Whoever South Korea's next president is very significant, as the attitude towards unification and friendly relations with North Korea vastly differ depending on if the president is progressive or conservative, comparing Moon Jae-in with the president before him that was impeached, Park Geun-hye.
Currently in South Korea, presidents serve for 5-year terms with no possibility of re-election. Due to the countrywide spread of popularity regarding the reunification process, the people have decided to elect Moon Jae-In for another 5 years due to the unprecedented success of the development of the reunification process.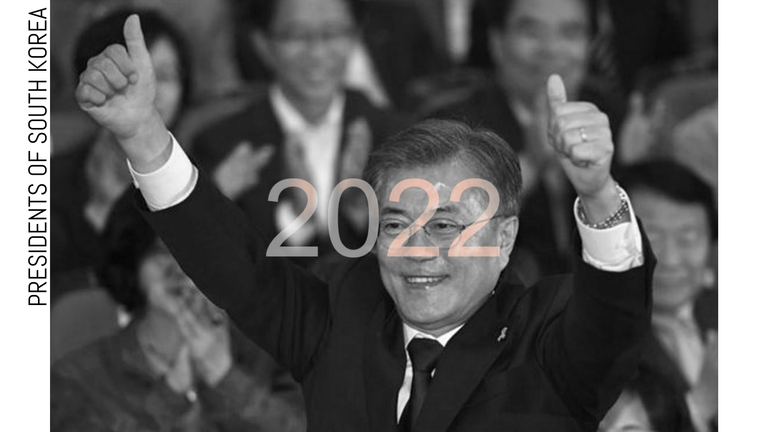 Inter-continental Road and Monumentality
---
The roads would be normalized over time for both North and South Korean mobilization between the countries. Through these speculative futures, a successful reunification is when North and South Korea are compared as spiritual equals, where they both have an equal leverage off one another. Any other conditional differences would extend the process or make unification more difficult for both parties.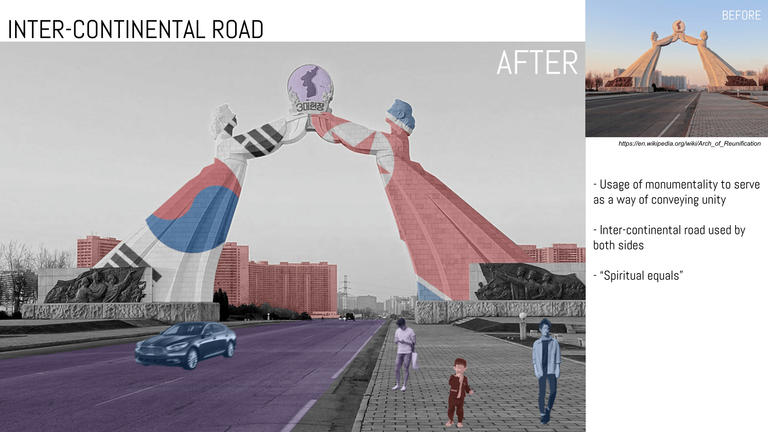 Passport Proposal and Comparison
---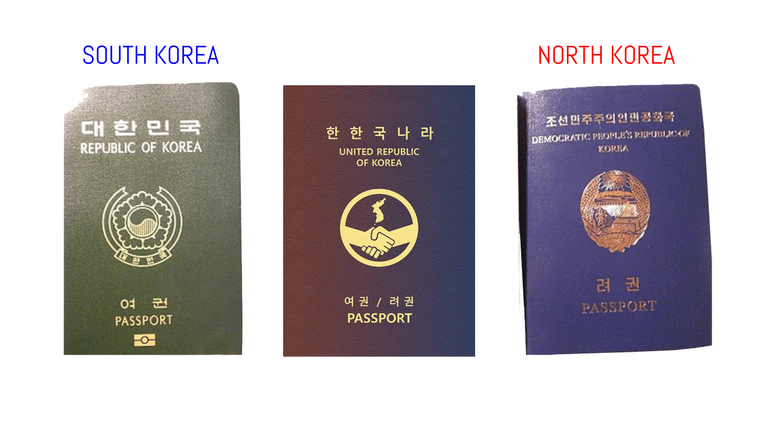 Declaring a State of Neutrality & Temporary Isolationist Development Stage
---
The denuclearization process is put to a halt, and development of the nuclear weapons facility under a unified Korea is continued and accelerated in order to establish its position as a superpower country in the world. This shocking development would be considered by neighboring countries when a unified Korea declares itself as a neutral country, not involving itself in future affairs involving capitalism and communism affairs. They have been separated from this before and they won't let it happen again.
North and South Korea will cut off connection with the outside world for a set amount of time with the intention of focusing fully on internal development, building their strength as one country by utilizing each other's strengths and working around their weaknesses.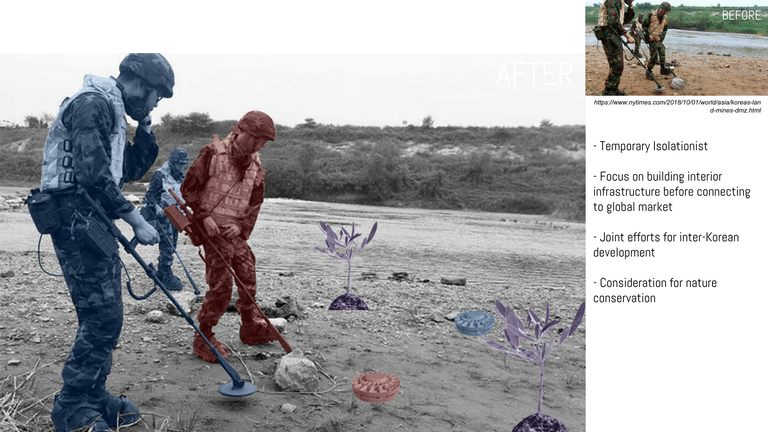 Goals of Initial Incubation Process
---
The goals of the initial incubation process tackle the development of academia, tourism, and the economy as the primary factors in facilitating unification and the perforation of the border.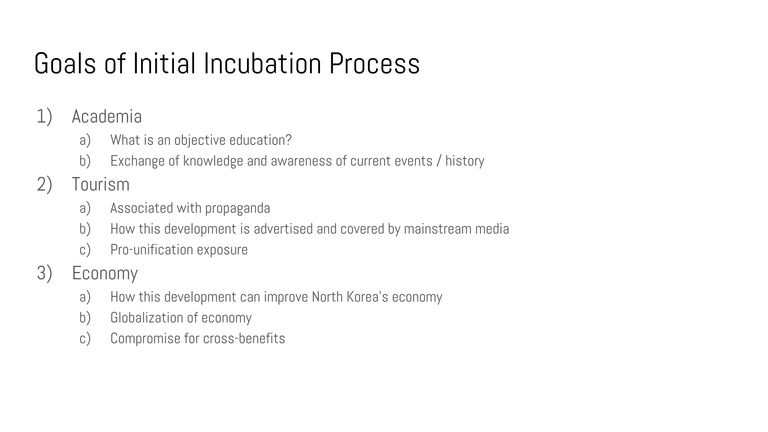 Academia - Classroom Teaching Comparison
---
Questioning what exactly an objective education standard is in the midst of all this propaganda, both sides will take the time teach the other side their perspective of the educational system, developing a compromise regarding historical accuracy and due diligence of being informed of current events through the advancements of technology.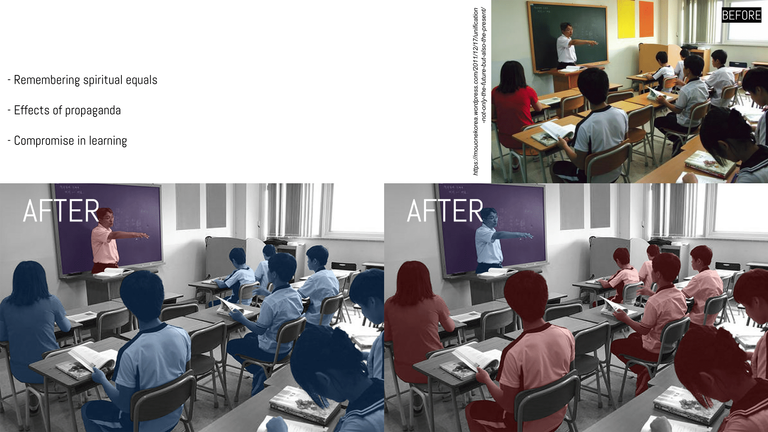 Tourism - Exposure & Pro-unification Propaganda
---
A big problem to address is the fact that South Korea as a country is divided in opinion regarding whether they want unification or not. This existing photo was used to show how people can be informed of the benefits of unification, and possible persuasion regarding their position in the debate.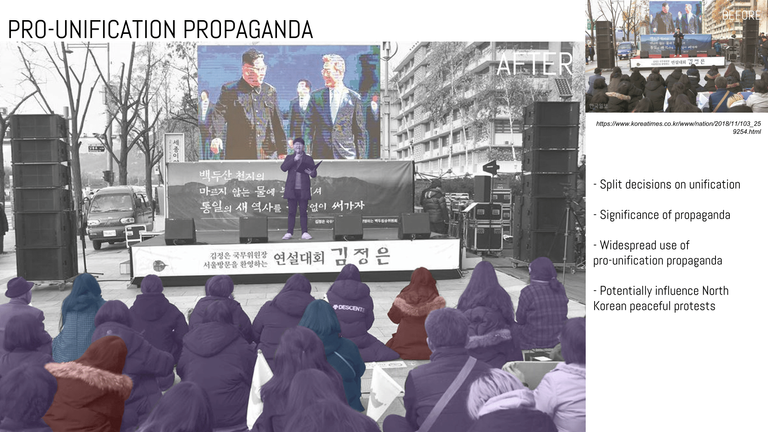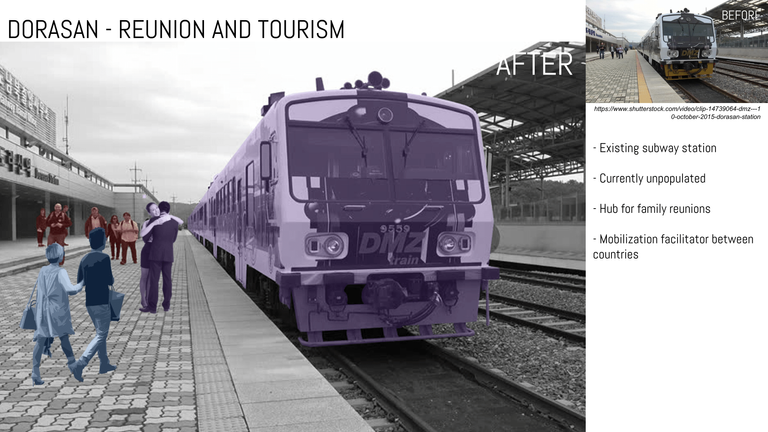 Economy - Reopening of KIC
---
Currently, the Kaesong Industrial Complex is not populated due to past events of tension, but it's initial purpose was to have North Korean workers work for South Korean companies. This complex can be utilized as a hub for mutual economic development and making full use of North Korea's natural resources and South Korea's modernized technology and its ability to develop at rapid pace.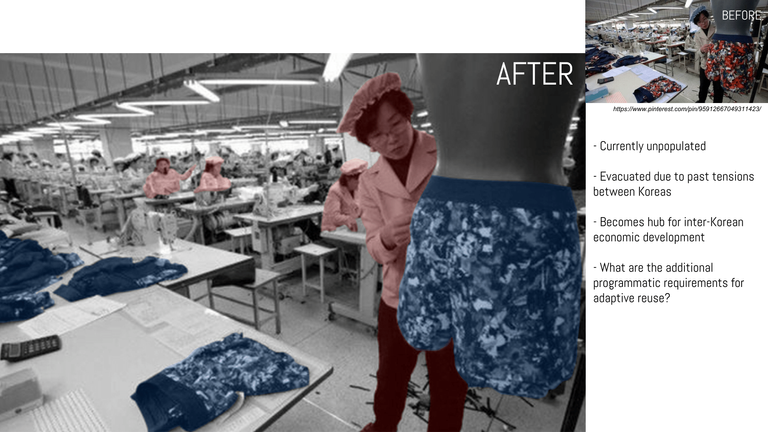 The Development of the Thesis Question
---
My thesis question has evolved numerous times throughout the process of research and intent development. Through the narrowing of my intent down to a workable scale, the proposal zeroes in on a specific site with three points of significance to mark the beginnings of an incubator of mobilization and start to perforate the DMZ as a slow, gradual process.
Moving Forward
---
Moving forward, I am going to focus on the three sites previously mentioned in the presentation as the three points of significance to set new beginnings for serious infrastructural development regarding the facilitation of reunification between North and South Korea: The Kaesong Industrial Complex, the Joint Security Area, and Dorasan Station.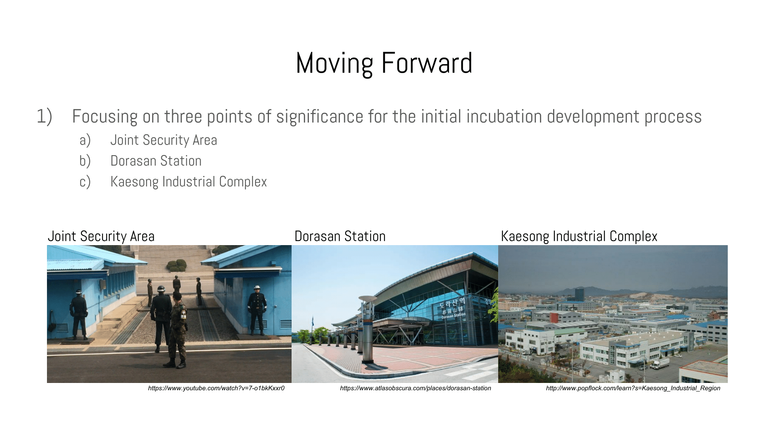 Triangle of Beginnings
---
This diagram draws out a zone of intervention created by the Kaesong Industrial Complex, the Joint Security Area, and Dorasan Station. This enables me to focus down in scale regarding spatial implications.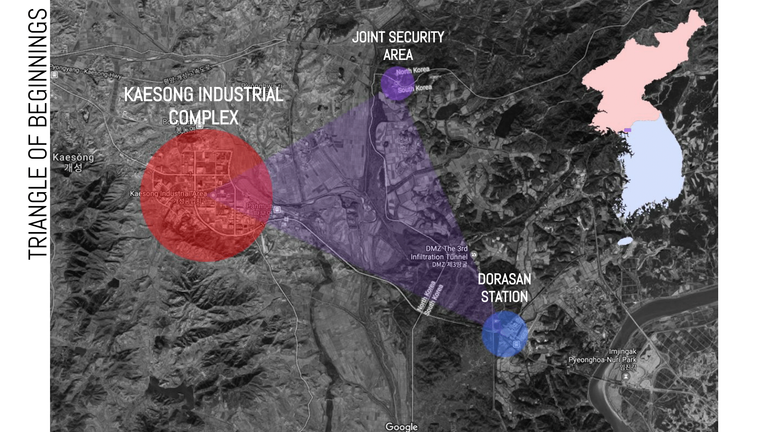 Growth Process
---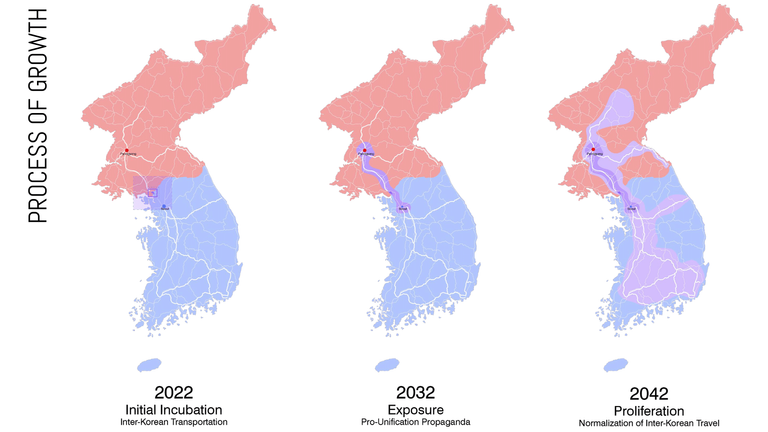 Adaptive Reuse
---
The interesting thing is that these three existing facilities currently serve very menial purposes programmatically, with the Kaesong Industrial Complex and Dorasan Station being completely unpopulated, and the Joint Security Area serving as a space for strictly political divide. In the event of unification, these facilities would no longer serve their initial programmatic elements, thus creating an opportunity to adaptively rebuild these facilities with the intent of fostering more productive functions, such as developing new schools, creating a tourist attraction primarily dedicated to reuniting families, and creating the core for inter-Korean economic development.
---
Thank you for reading through the entire presentation! There is a great framework that came out of these past 6 months, and I'm excited to get into designing in the coming semester. I plan on focusing on the development of an educational space on the DMZ, where one would question how the space facilitates the interaction between two people from otherwise radically different institutions.
---
Posted from my blog with SteemPress: https://unity-coin.org/2018/12/22/12-07-checkpoint-final-review-imagined-futures-for-a-unified-korea/
---