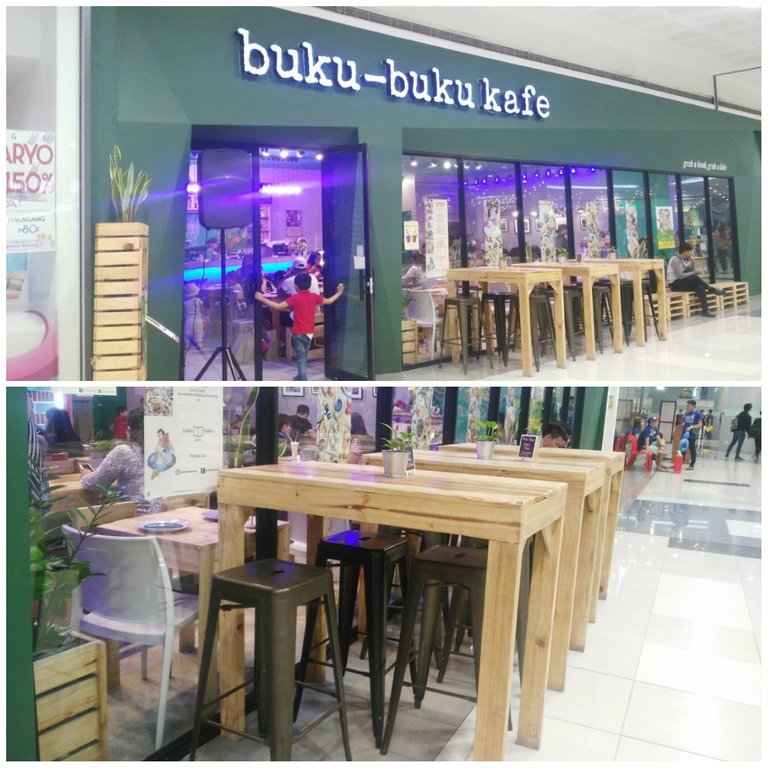 It was a fine Saturday. We just went to a birthday party on the afternoon where my Dad and my Son were invited. Ofcourse Dad tagged me along with them. While my Mom is with her friends, same with my Sister and our youngest was still in her school. After the party, Dad decided to treat us for a dinner and everyone gathered in a mall nearby.
Dad kept on asking where do we wanna have dinner but because I am still full, I just let them decide for a place to eat.
While walking around the mall, they've seen this Buku - Buku Kafe and wanted to try it since we haven't dined here before. This can be easily found because it is located near one of the exit and entrance of the mall where people can surely passed this by. The outside view of this place is simple yet very relaxing in the eye.
---

---
Upon entering, a beautiful mural painting and a mini concert area will greet you. The mural painting is very eye catchy making the place to have more good vibes and a very nice ambiance.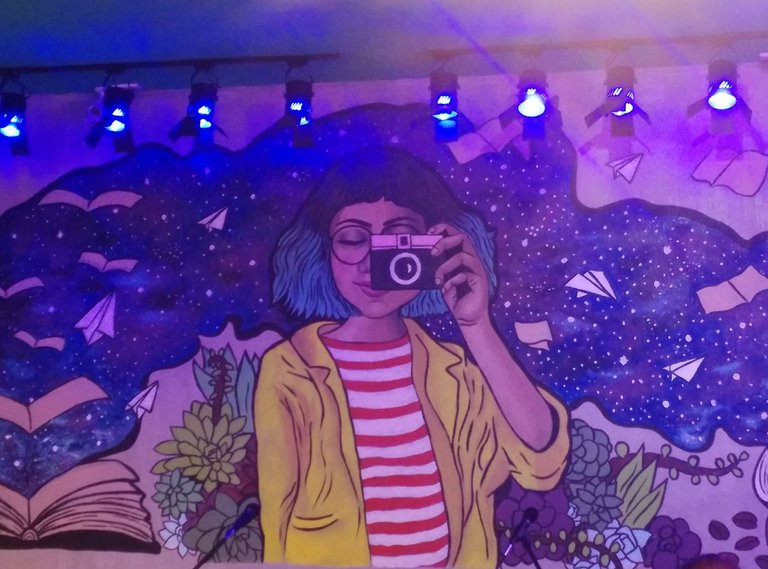 I couldn't help but to stare at this mural painting in the wall for so long. Feels like my eyes were attached to it already and I can't get over it. And this remind me of one of the greatest artist I have met here in steemit, Hi @mariajunia!!!
The place is not too small but not too big. It is just enough and can accommodate lots of customers and it doesn't look crowded even though it has many customers that night. The place is so cute and I cannot stop myself from taking photos of it!
The mini concert area was later on occupied by these talented girl who plays acoustic, singing her original composition. The place was cold already and when she started singing it becomes colder with her beautiful voice that sounds like a lullaby.
---

---
The accommodating staffs handed us their Menu's. Because the three of us were still full that night, my Dad and my sister @yanning, just ordered coffees. My Mom ordered Vegan Tofu Steak while my youngest sister ordered Crispy Mushroom Rice. Me, I just order a Smoothie Drinks. Initially I ordered their best seller Mango-Mango but it wasn't available so I ended up in Strawberry Much. For our additional orders, we get a Finger Food Sisig Nachos and a Red Velvet Cupcake for my sister who ordered a cup of coffee.
---

---
Buku Buku in Malaysia means "many many" books. As stated on the menu of the Kafe, it says that the name reflects literature and art inside their cafe and the Southeast Asian flavors that influence Buku- Buku's menu.
This is one of the great feature and uniqueness of this Kafe. I have never seen a cafe like this before. We are seated near their bookshelves and as our youngest sister loves books, this section is a big "YES" for her. My naughty Son @bravekid accompanied her pretty Aunt to look for something to read while waiting for our food to serve. And the kid got a book that captures his interest.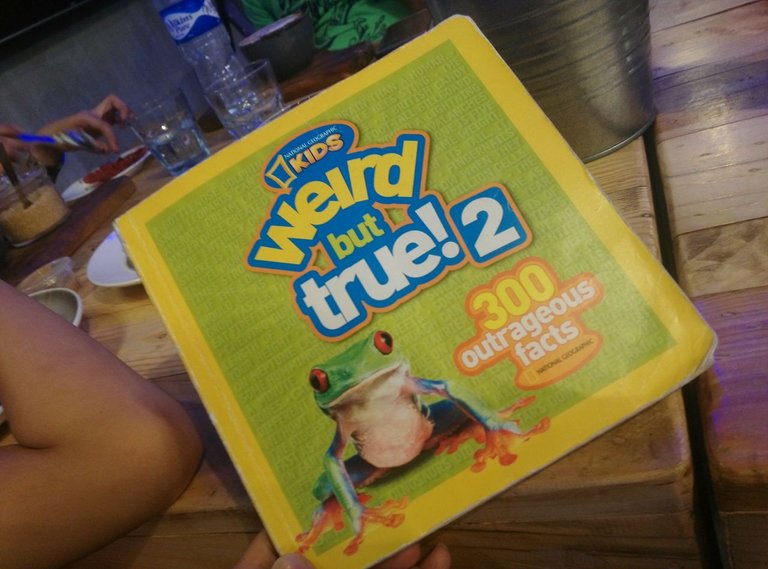 The Kid got this book "Weird but True 2". The Kid then got hungry and he ignored the book already. So I tried to open this book and I can say that I find this book amazing. While they were all eating, I am reading articles and reciting and shared everything that fascinates me to them. And they would also say "Oh! Really?!". I took some photos of it and am sharing this with you also :)

This was the article that really captured me. "Eating shrimp can turn white flamingos pink." I linked this to my favorite anime in Japan, "One Piece" where there's a Flamingo Character in the story. Doflamingo, if you know him, he's one of the antagonist in the anime who was beaten by the main character Monkey D Luffy. It made me wonder if he used to be a white flamingo that turned him into a pink because he loves to eat shrimp? HAHAHA. Nonsense right? So yeah, never mind! :D
---

---
Nachos was served first followed by the coffee and the cupcake (I just went to the restroom and when I came back the cupcake was gone already. HAHAHA).
| | |
| --- | --- |
| Here's @yanning enjoying her coffee | Here's my Smoothies Drink Strawberry Much that tastes good! |

Vegan Tofu Steak on the left which my Mom ordered. She didn't enjoy eating this one as she says that it was slimy. Mom is not into slimy foods that's why she didn't appreciate the taste of it. Crispy Mushroom Rice on the right where my youngest sister enjoys it and says it is very tasty!
---
We didn't have a decent Family photo that night because the kid keep on insisting that he'll be the one to hold the phone to capture the groupie photo so we just let him be.
Anyway, it was still cute. ♥
---
Photos are all mine captured using Huawei G7-L02 phone.
---

---