Wanting to play the game? Click my referral link and let's share the rewards! :) -> https://epicdice.io/?ref=jassennessaj
The recent update of @epicdice gives more reasons to hold more EPC tokens. I'm seeing more and more EPC tokens will be burned by this update! So it will be more valuable as because of this burning mechanism.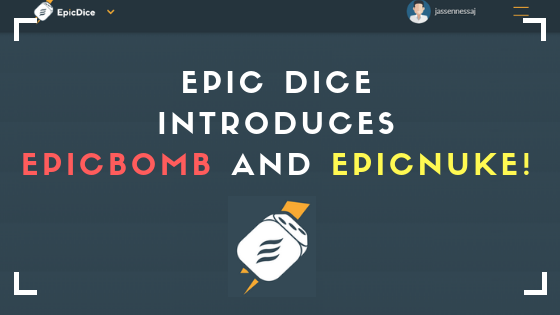 When tokens are burnt (via @null account), this gives a chance for token holders to receive more dividends. More and more EPC tokens burned gives a better percentage of dividends to EPC holders. I'll explain below why more tokens will be "burned" by this update below.
We take note that @epicdice made an official post. Jump into that post or read more below because I will try to explain the announcement in a manner that can be understood more by many.
Epic Dice is the only dice game in Steem that enable players to wager their earned "EPC tokens" and receive Steem as rewards. You can jump into The Mechanism Behind @epicdice's EPC Token Betting to understand more about the EPC Token betting and how impactful the recent update (EpicBombs & EpicNukes).
Epicbomb is an event where @epicdice throws an additional 10 STEEM to the prizepool on top of the 3 Steem prizepool per hour. There has been a lot of activity of EPC token betting (which we can see that we recently surpassed 1000 Steem prizepool won). Epicbomb will be drop if there's a day worth celebrating, a milestone accomplished by the platform, STEEM price mooning, or it can be whenever the house is feeling fabulous.

Meanwhile, EpicNuke is almost the same as Epicbomb only that this event drops 100 STEEM to the prizepool and will be rarer and will depend upon the discretion of the team. Note that these do not affect the daily dividend and will be sponsored by the house!
I believe these are amazing additions that can attract more tokens burned which will benefit the entire EPC community in the long run. If you have any comments and questions feel free to drop below! :)