Join me today as I explore the wonders of Papaya leaf tea.
As I explore new avenues of fruit leaf teas as well as the taste sensations that go with it, I am learning more about the amazing health benefits that these teas provide. Another day, another reason to live your best life!
Papaya Leaf Tea (Carica Papaya)
Today I am exploring the benifits of papaya leaf tea, and I have harvested a bunch of leaves for the cause. As with many of the fruit leaf teas that I have covered, papaya leaf tea can be diversely beneficial.
Papaya leaf tea is great for skin health, the leaves contain a healthy amount of amino acids that aids in good skin condition and helps with younger looking skin. It can also alleviate rashes, minor cuts, scrapes, insect bites and burns. The presence of anti-inflammatory properties helps reduce swelling and eliminates pain. for this the tea can be consumed, but also applied directly to the skin.
Drinking Papaya leaf tea is also a great way to curb digestive issues, such as indigestion, heartburn, stomach ulsers, stomach pains, and gluten digestion all while keeping internal parasites such as intestinal worms at bay.
Reasearch has shown that Papaya leaf tea can aid in the treatment of various types of Cancer and allergies, Typhoid, and Thrombocytopenia. It can be used as a Diuretic and as an aid to promote healthy eyesight
As with all good things, the use of this tea does not come without a warning. The papain in the papya leaf could cause allergic reactions in some people, and excessive consumption can lead to a runny tummy. So if you would like to try this be sure to do your research on the recommended daily dosage or consult your doctor.
source
You can also read up on even more heath benifits here
---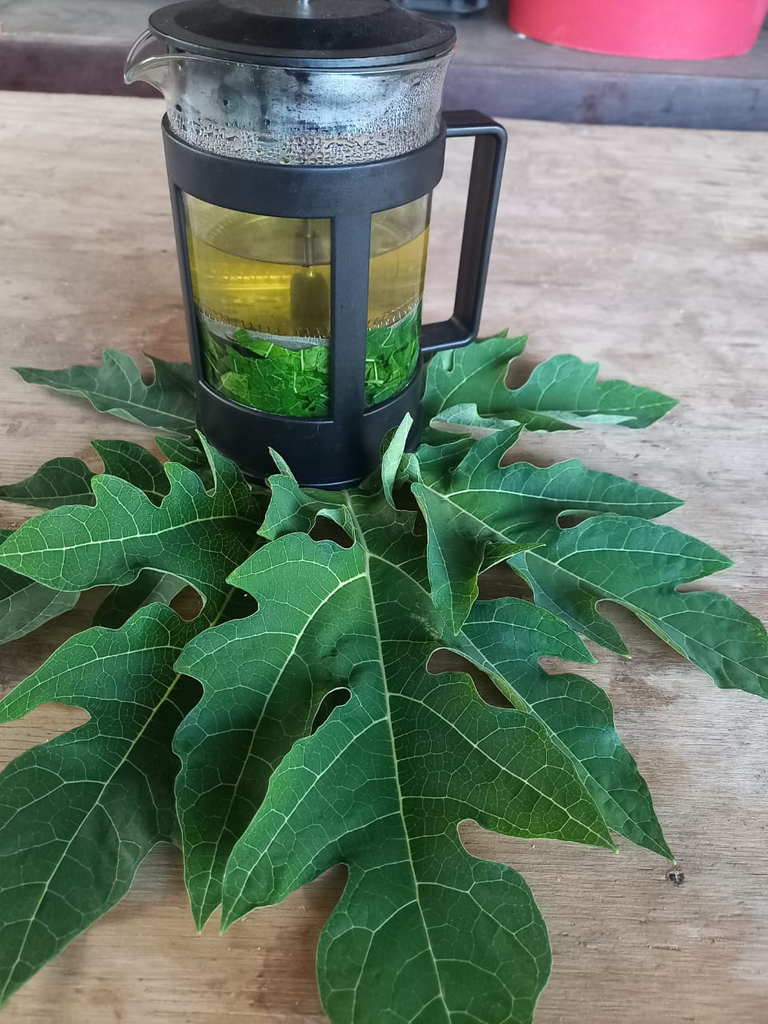 Trying the Papaya Leaf Tea
I took the freshly harvested papaya leaves and shredded them finely before steeping them in a Frensh press for a few minutes. For this I used the younger leaves of the plant because from what I have read the younger leaves are less bitter. The colour and aroma came through strongly almost as soon as water touched the snipped leaves. Unlike the other teas that I have tried recently, which had a soft green color, the papaya leaf tea almost had a milky yellow tinge to it. The smell reminded me a bit of asparagus in a way. After about 3 minutes of steeping, I was ready to pour a tongue test cup.
The taste was mild but rounded and as the smell suggested, it tasted a bit like asparagus, but this was shortlived and the refreshing taste of asparagus was immediately followed by a very frank taste, which linguered long after the first sip. I wouldn't say that this tea is completely unbearable, but it is certainly not the most pleasant taste that I have experienced. I guess if you take all of the health benifits into account, the slightly unpleasant taste is worth the reward.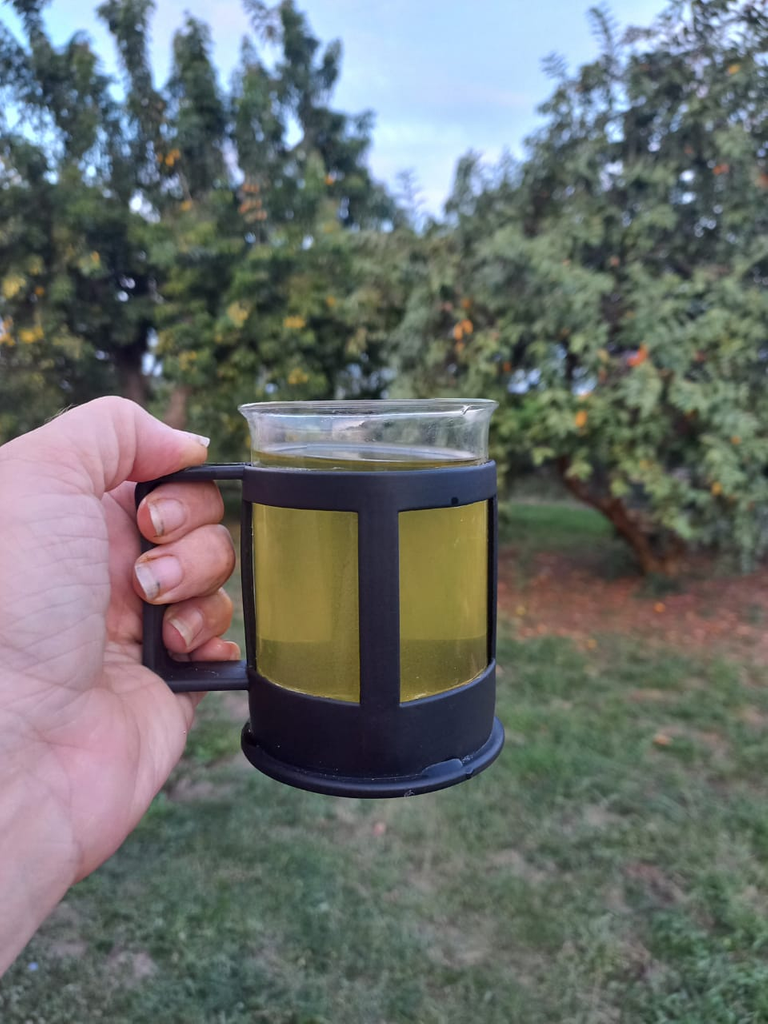 I will be trying this tea again sometime, and I am hoping that the taste will become an acquired one as time goes by. I read that the leaves are also used in cooking, but I am honestly not sure if I would want to go that far :D