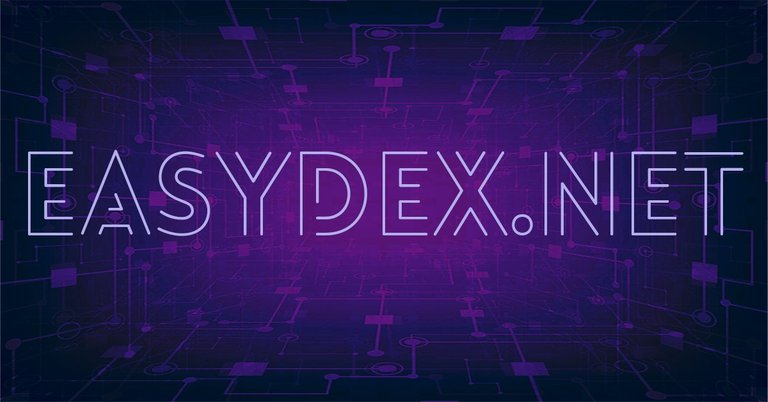 Greetings Steemians! Today we are proud to announce the open beta launch of EasyDex! EasyDex is a new company creating services and providing an interface for the Bitshares platform. Our goal is to provide transparent highly needed services to the crypto space. We chose to build our services on the Bitshares platform because it is the most efficient decentralized exchange option. Our research has given us some insight on how we can make the platform a more attractive option to not only experienced crypto enthusiasts but also to users who are new to the crypto space.
One of the ways we are implementing this is through an improved user interface. One of the biggest problems that we wanted to solve is an account recovery process. Until now, if you lost your Bitshares web wallet password you lost access to all of your funds. It was important to us to create a trustless and secure way for users to recover their password in the case of accidental loss. We're happy to say that we have solved this problem. New web wallet accounts created through the EasyDex UI have the option of storing an encrypted version of their password in our databases. Through our 2 step process, the user (and only the user) can recover their password.
One of the biggest problems within the entire crypto space has been transparent fiat-tethered assets. There is so much uncertainty with current options about whether they are actually backed by an equal amount of the fiat asset they represent. To solve this problem we wanted to make sure to provide a crypto asset that fully represents and is freely tradeable for the asset it represents. Therefore, our primary order of business was to create viable fiat bridges to the Bitshares platform. We are now happy to announce that we have cleared all legal hurdles and can provide deposits and withdrawals of USD and EUR! Our pledge is to regularly (once a week) publicly post the amount of each currency we hold in deposit in our accounts compared to the amount of the corresponding asset in circulation. We will also have regular 3rd party audits as deemed necessary to ensure that users can rest assured that their tethered assets are appropriately backed. We plan to add many other fiat assets in the future and will spread our holdings across as many banks as possible to ensure that users will always be able to trade in their crypto assets for the fiat currencies they represent.
Our experience has proven that the best way to create a successful project is by building a community with whom to share value. To this end we have created the EasyDex Portfolio Builder token (EASYDEX.PB on the dex). The portfolio builder token is backed by the crypto bridges that are currently in development. Holders of our Portfolio Builder token will receive regular sharedrops of each crypto asset that we have a bridge for amounting to 50% of the market fees collected for each asset. Some of the first assets in development are Steem and SBD so users will be able to buy and sell these assets directly for fiat! The maximum supply of Portfolio Builder tokens is 1 million. Most of these (800 thousand) will be sold through an EOS style campaign. However, we have made an initial presale supply available here. In addition we have set aside 100 thousand tokens to share with the community through bounties, contests, and to reward people working on the project.
One of our primary goals is to provide the most intuitive, easy-to-use interface possible. To achieve this we will need feedback from the community. So, we invite you to try out our services here. Everyone who tries our services and posts a review of their experience will be rewarded with 5 Portfolio Builder tokens. Please let us know your likes and dislikes about the UI and any suggestions you may have. Constructive criticism is extremely welcome. You can log in with your existing Bitshares account or you can create one to take advantage of our account recovery option. To be eligible, post a link to your review in the comment section along with your Bitshares username.


---
Join the community on Discord!

Join us on Telegram!