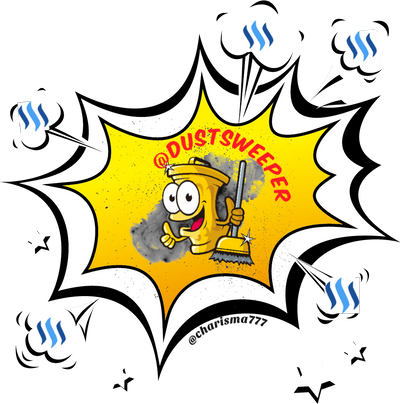 Dustsweeper has now its own Discord server.
The server hosts a Discord bot where you can check individual user stats as well as general Dustsweeper stats. It will also be a place where we can, in addition to the blog, announce important updates and report on ongoing issues.
Join us on Discord! Come and connect with other Dustsweeper users, discuss problems, suggest improvements and ask for help.

User Statistics
$stats USER
With the $stats command, you can check stats for a specific user. You can check the remaining balance, the total number of votes received and the total amount of dust saved.
Dustsweeper Statistics
$info
With the $info command, you can check Dustsweeper stats. This command will return the total amount of Dustsweeper users and the total amount of dust saved.

Discord Channels
#help channel
Please try to use this channel exclusively for when you are stuck and need help. It might not be that we are available to answer your question right away but we will always check this channel and help you as soon as we can.
#suggestion channel
If you have suggestions, please drop it in here. It can be anything linked to Dustsweeper, improvements or suggestions of new features etc.
Please come and join us in Dustsweeper's own Discord server.
Stats in transfer memos
We have also improved the transfer memos.
We understand there are users not interested in Discord, so we have at the same time updated the transfer memos. The following changes have been implemented:
Whenever you top-up your balance the returned memo will include your user stats.
0.001 transfers are now accepted from Dustsweeper users. Send 0.001 with any memo and the bot will return your user stats.
The new stats returned will look something like this:


Thank you for reading and we wish you a great week!
---
---
ps. If you wonder about the cool @dustsweeper graphics above, they were all designed by @charisma777. Please check out her post: https://steemit.com/dust/@charisma777/a-gift-for-dustsweeper
---
Dustsweeper is an initiative supported by Witness @danielsaori. @danielsaori is also one of the co-founders, together with @davemccoy. Their shared vision is to help newcomers grow and prosper in the STEEM universe.
Seeing a 2 cents profit turn into dust doesn't sound like much, but for someone new, it can make all the difference. @dustsweeper is trying to prevent that potential disappointment by helping protect those tiny profits.
Do you like Dusty? Please give a Witness Vote to @danielsaori