English
Hey and Hello my lovely community :)

Deutsch
Hey und Hallo meine liebe Community :)

---
I've been making my own soaps for a while now and now I wanted to try my hand at making candle making. So I read up and came across a paraffin wax that, due to its low oil content, (namely only 0.5%), is supposed to burn very evenly and stably, without developing smoke. The wax is from Materialix , colorless and can absorb particularly much fragrance due to the high paraffin content and distribute them pleasantly in the room. Of course, you can also choose colored wax already, if you have decided what colour you want :) l At the end follows a step-by-step guide so you can try yourself, but first to the things that went wrong :D
Ich mache ja schon seit einer Weile meine Seifen selbst und jetzt wollte ich mich mal in der Kerzenherstellung versuchen. Also habe ich mich belesen und bin auf ein Paraffinwachs gestoßen, das durch seinen niedrigen Ölteil, (nämlich nur 0,5%), sehr gleichmäßig und stabil abbrennen soll, ohne Rauch zu entwickeln. Das Wachs ist von Materialix , farblos und kann durch den hohen Parafingehalt besonders viel Duftstoffe aufnehmen und diese angenehm im Raum verteilen. Natürlich könnt ihr auch schon farbiges Wachs kaufen, wenn ihr euch festgelegt habt :)
Am Ende folgt eine Schritt-für-Schritt Anleitung, damit ihr euch selbst ausprobieren könnt, doch zuerst zu den Dingen die schief gelaufen sind :D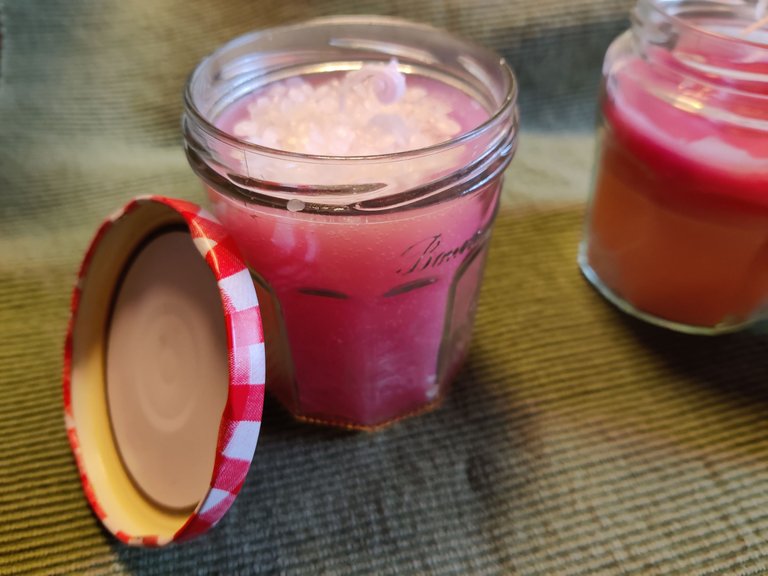 ---
For my fragrances I have chosen essential oils with the scents of lavender, orange and rose but of course there are no limits to your imagination :)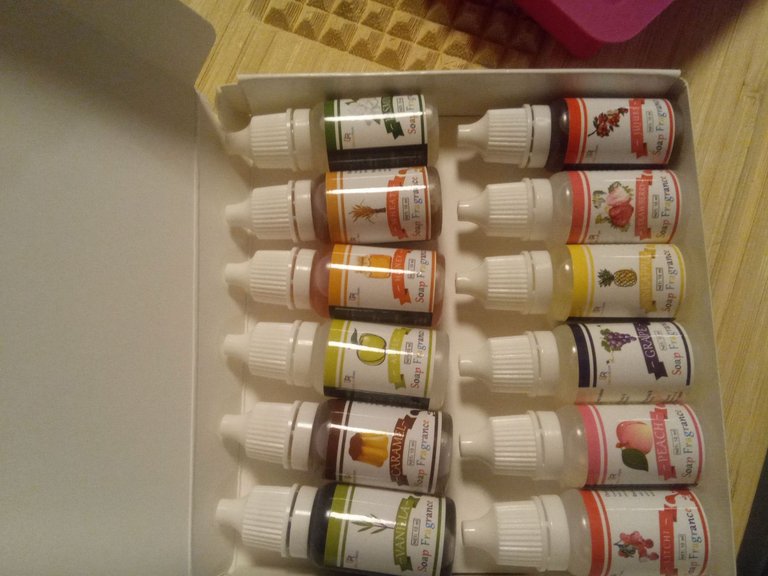 Bei meinen Düfte habe ich mich für Ätherische Öle mit den Gerüchen Lavendel, Orange und Rose entschieden aber eurer Fantasie werden dabei natürlich keine Grenzen gesetzt :)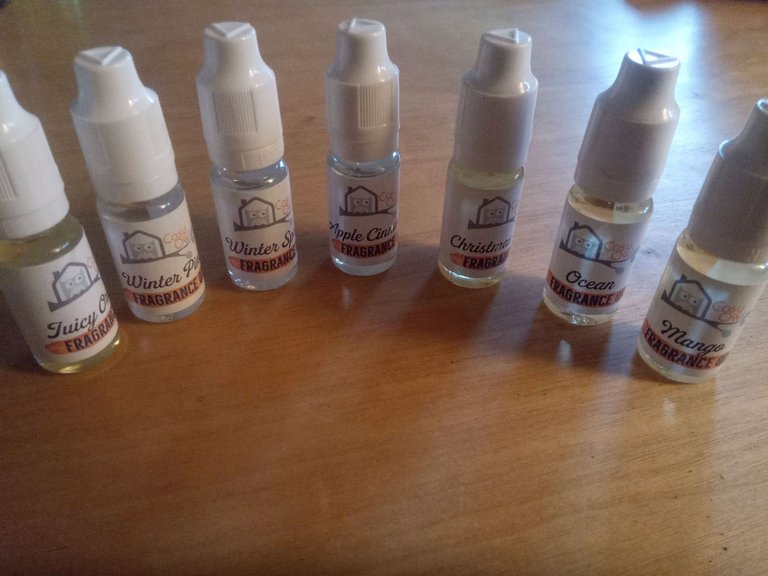 ---
When I wanted to go to the colors hit me first the shock...the colors that I normally always take for my
soaps do not work in wax, because of the viscosity. The drops just stuck to the bottom and didn't mix at all with the candle wax.
Luckily I still had old tea lights and broken wax crayons, which then also worked wonderfully. But you can just as well use wax pastilles, Sigel wax or food coloring.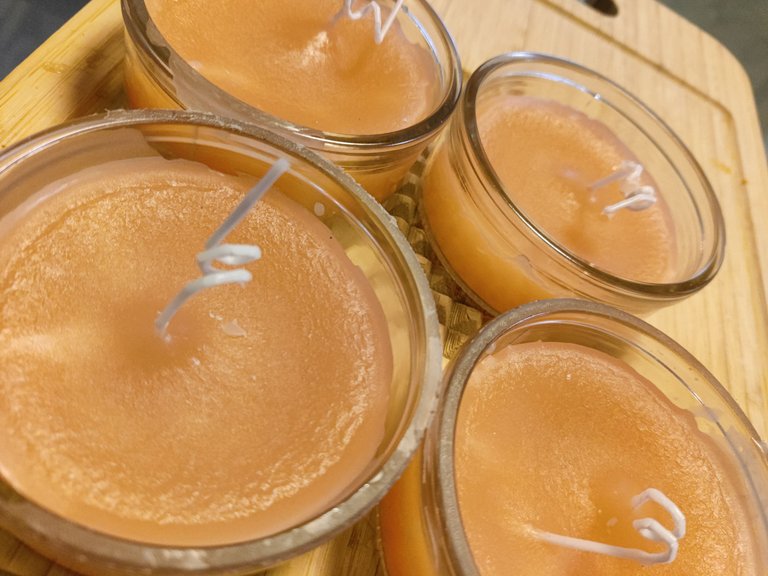 Als ich zu den Farben übergehen wollte traf mich erstmal der Schock...die Farben, die ich normalerweise immer für meine
Seifen nehme funktionieren in Wachs, wegen der Viskosität nicht. Die Tropfen klebten einfach nur am Boden und vermischten sich garnicht mit dem Kerzenwachs.
Zum Glück hatte ich noch alte Teelichter und zerbrochene Wachsmalkreiden, die dann auch wunderbar funktioniert haben. Ihr könnt aber genauso gut Wachspastillen, Sigelwachs oder Lebensmittelfarbe benutzen.
---
so now for the fun part...the production
What do we need?
Wax as desired either colorless or pre-colored
candle wicks (length as needed)
2 pots for a water bath
fragrances
colorants (wax crayons, wax pastilles, food coloring or sealing wax)
containers for the candles (glass, ceramic or for my big candle I simply took a Pringlesdose, this can be simply cut open at the end)
Stirring spoon (wood or thermoresistant plastic)
Wooden sticks (toothpicks or shish kebabs)
So jetzt aber zum spaßigen Teil...die Herstellung
Was benötigen wir?
Wachs nach Wunsch entweder farblos oder vorgefärbt
Kerzendochte (Länge nach bedarf)
2 Töpfe für ein Wasserbad
Duftstoffe
Farbstoffe (Wachskreiden, Wachspastillen, Lebensmittelfarbe oder Siegelwachs)
Gefäße für die Kerzen (Glas, Keramik bzw. für meine große kerze habe ich einfach eine Pringlesdose genommen, diese kann man am Ende einfach aufschneiden)
Rührlöffel (Holz oder thermoresistentes Plastik)
Holzstäbe (Zahnstocher oder Schaschlikspieße)
---
prepare water bath
put candle wax into the pot (make sure that the wax is not heated above 56 degrees Celsius - about level 3-4 on a commercial stove)
if available, add colors or colored wax directly, so that everything can melt well together
add fragrances (with my essential oils it was about 12 drops for about 1kg wax)
in the meantime, prepare the containers and position the wicks with the help of the wooden skewers.
as soon as all the wax has melted together, you can add the fragrances and also mix them in well
now pour the wax mixture into the jars, making sure that the wick remains in the center
if you just let the candles cool down, there will be a hollow on the wick, to counteract this, put the candle with the container in the water bath again and let the wax set.
Wasserbad vorbereiten
Kerzenwachs in den Topf geben (darauf achten, dass das Wachs nicht über 56 grad Celsius erwärmt wird - ca Stufe 3-4 auf einem handelsüblichen Herd)
sofern vorhanden Farben oder farbliches Wachs direkt hinzugeben, damit alles gut miteinander verschmelzen kann
Duftstoffe hinzugeben (bei meinen Ätherischen Ölen waren das um die 12 Tropfen für ca 1kg Wachs)
In der Zwischenzeit die Gefäße vorbereiten und die Dochte mithilfe der Holzspieße in Position bringen
Sobald das ganze Wachs miteinander verschmolzen ist, könnt ihr die Duftstoffe hinzugeben und ebenfalls gut untermischen
Jetzt die Wachsmasse in die Gefäße geben und darauf achten, dass der Docht in der Mitte bleibt
Wenn ihr die Kerzen jetzt einfach abkühlen lasst, entsteht eine Kuhle am Docht, um dem entgegenzuwirken die Kerze mit Gefäß nochmal ins Wasserbad stellen und das Wachs setzen lassen
---
I hope this tutorial has helped you a bit and you can now start to make your very own and perfectly matched to you candles😁
Feel free to let me know how it went...I look forward to your experiences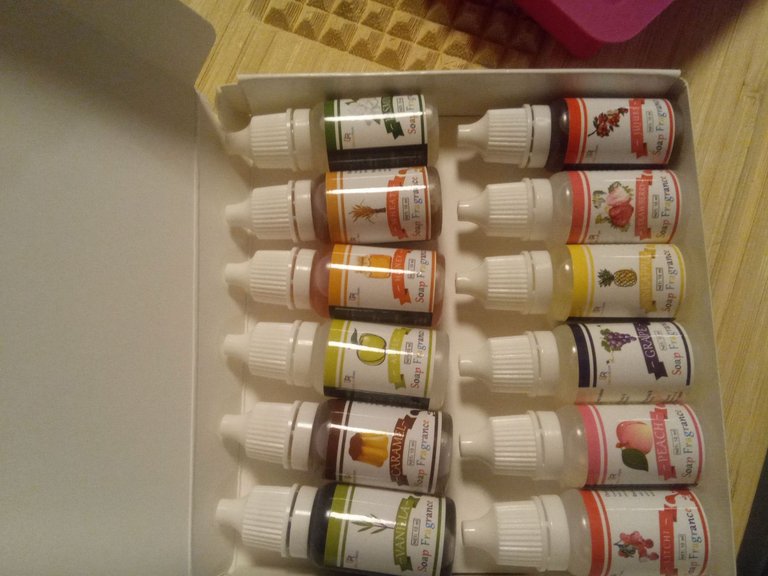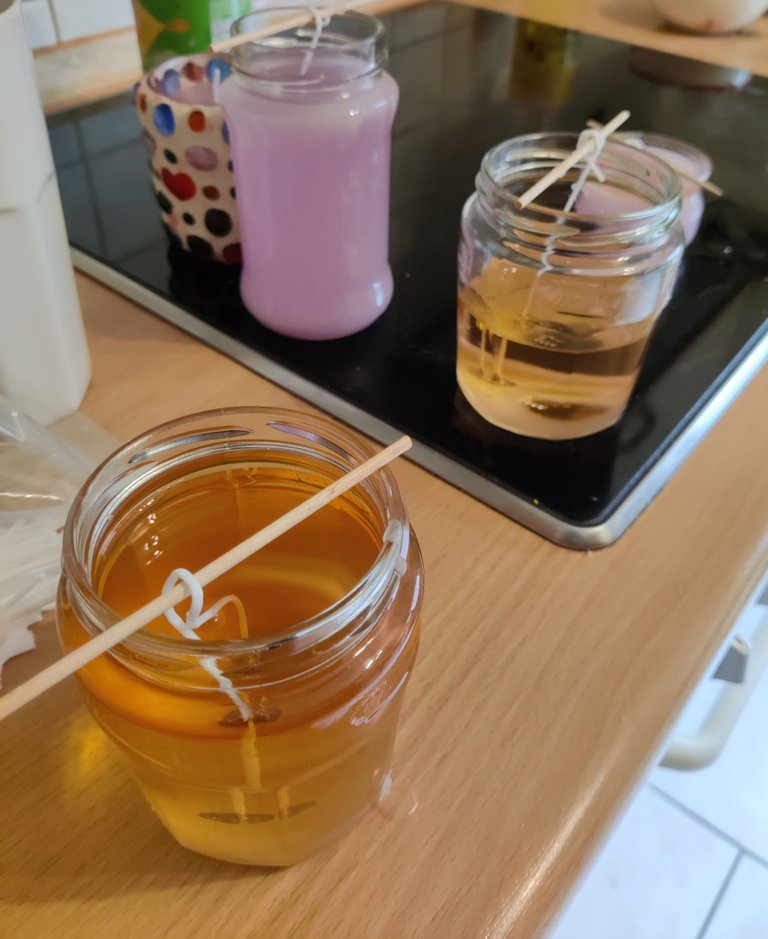 Ich hoffe diese Anleitung hat euch etwas weitergeholfen und ihr könnt jetzt starten eure ganz eigenen und perfekt auf euch abgestimmten Kerzen zu machen😁 Lasst mich gerne wissen wie es gelaufen ist...ich freue mich über eure Erfahrungen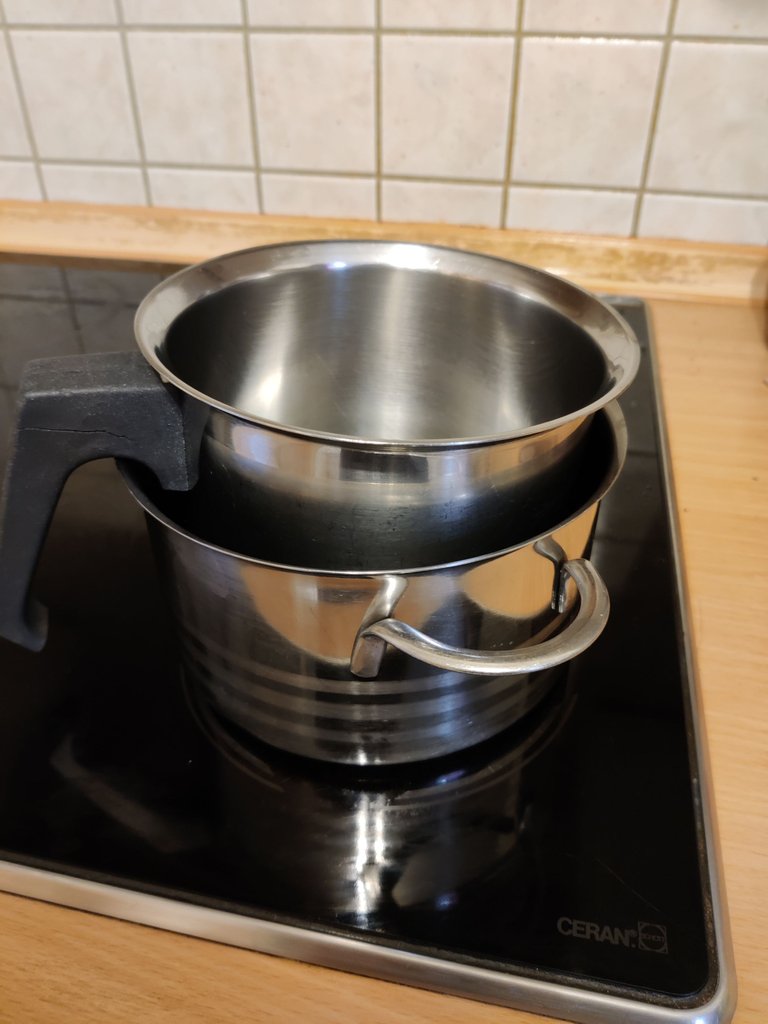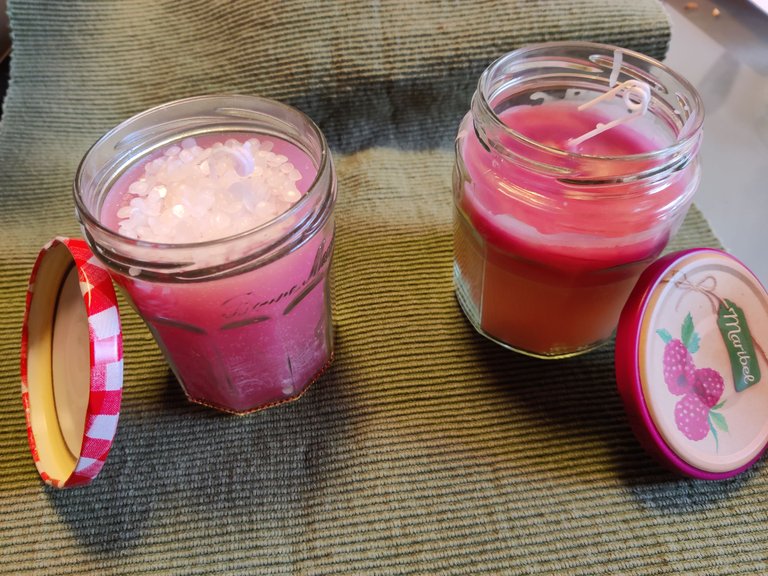 ---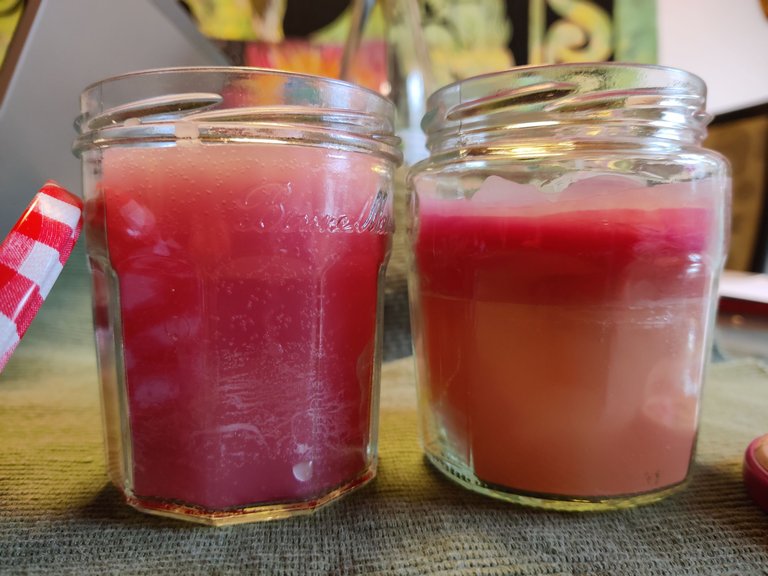 ---
lovely greetings
@y3ssi
---
o