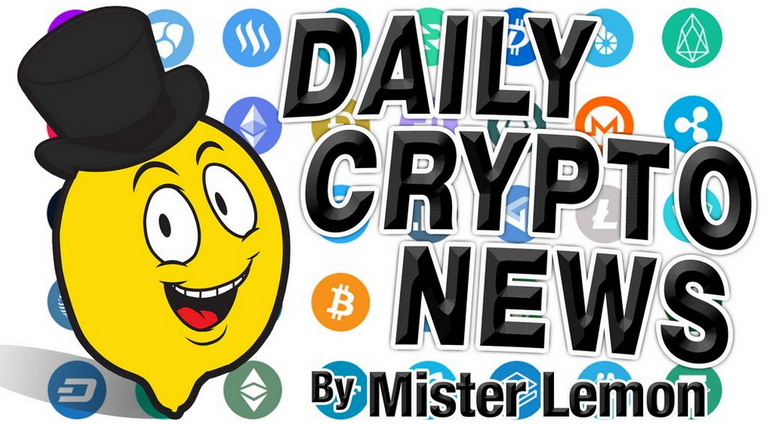 Constantinople, For Real This Time ;
Coinbase Exchange Users Can Buy and Sell XRP Starting Tomorrow ;
Long-Term Bitcoin Price Indicator Turns Bearish, Suggesting Bottom May Be In ;
Bitfinex Recovers $106,000 of Stolen BTC With US Government Help ;
NFTs Are Here. But Where Are They Headed? ;
📑 Daily Crypto Calendar, February, 26th 💰
STEEM Trading Update
Welcome to the Daily Crypto News: A complete Press Review, Coin Calendar and Trading Analysis. Enjoy!
The much-anticipated Ethereum hard fork known as Constantinople is set to be implemented at block number 7,280,000, which developers have predicted will take place on Thursday, February 28. Of course, the exact timing of activation depends on block times between now and then, meaning the upgrade could happen one to two days before or after this Thursday.

Constantinople was initially set to activate last month, but a security vulnerability in EIP 1283, one of the originally included improvement proposals, delayed the upgrade's implementation. Core developers decided to remove the faulty EIP and push the hard fork back to block number 7,280,000.
Crypto exchange Coinbase is launching support for XRP, the third-largest cryptocurrency by market capitalization.

The exchange announced Monday it would be listing XRP on its professional trading platform, Coinbase Pro, in "transfer-only" mode, meaning customers can only deposit tokens to begin with. After a minimum of 12 hours, the company plans to activate other trading services, though this timeline is variable.

Initially, Coinbase Pro customers in the U.S. (excluding New York state), the UK, some EU nations, Canada, Singapore and Australia will be able to access XRP, with support for other jurisdictions possibly being added in the future.
Japanese multinational holding conglomerate SoftBank Corp. and American telecoms-focused blockchain firm TBCASoft are to lead a new blockchain-based digital identification study group under the canopy of the Carrier Blockchain Study Group (CBSG). The development was announced in a SoftBank press release on Feb. 26.

As previously reported, CBSG — a global blockchain consortium of telecom carriers — was founded in September 2017, in a bid to push greater adoption of the technology in the industry. Alongside Softbank and TBCASoft, the organization counts Taiwan-based telecoms carrier Far EasTone and U.S.-based telecoms firm Sprint as founding members.
Bitfinex has recovered 27.7 bitcoin stolen by hackers in August 2016, the company said on Monday. The coins, worth around $106,000 at the time of writing, represent only a small fraction of the total BTC stolen. U.S. federal law enforcement agencies recovered the bitcoin and returned it to the cryptocurrency exchange.
Over two years following the hack of the Bitfinex platform, today we see the results of a clear and robust response strategy and the efforts of the U.S. government. It gives us great pleasure to be able to reimburse our traders that were loyal to us and believed in us at a very difficult time. We would like to thank U.S. federal law enforcement agencies for their ongoing efforts to investigate the security breach and their commitment to seizing and returning stolen assets.
There was something both fresh and familiar about the NFT.NYC conference that non-fungible token developer PeopleBrowsr put on at the PlayStation Theater in Times Square last week.

It felt like some of the early bitcoin conferences: A little scrappy and rough around the edges, some wild ideas that ranged from practical to pie-in-the-sky, but in all exuding a great deal of enthusiasm for a novel blockchain technology that could spawn a variety of new business and philanthropic models.

It remains to be seen whether NFTs can get beyond the gimmick status they occupied in popular imagination since Dapper Labs launched CryptoKitties, the popular game that creates unique, collectible, breedable digital cats. There are questions about scalability and interoperability associated with ERC-721, the dominant, Ethereum-based NFT standard, and on whether the world will embrace outside-the-box ideas for redefining value, property and commerce.
📑 Daily Crypto Calendar, February, 26th💰
"A live video AMA with the FintruX team is quickly approaching on 26th February!"
"The second version of Constantinople will not actually hit the network until February 27th."
New deadline set by SEC to further review the rule change proposals to list a Bitcoin ETF.
Testnet Release
Dev team hosts weekly update on current status developments, including the Tritium mainnet and satellite launch.
STEEM Trading Update by my friend @cryptopassion
Here is the chart of yesterday :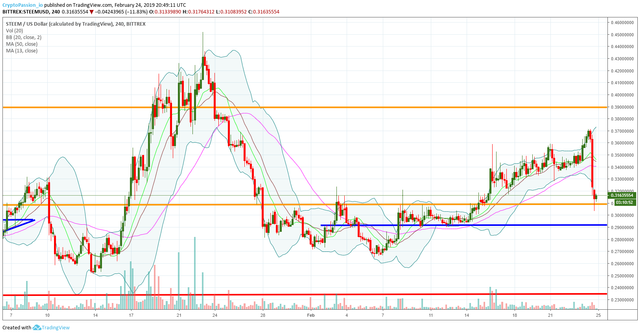 Here is the current chart :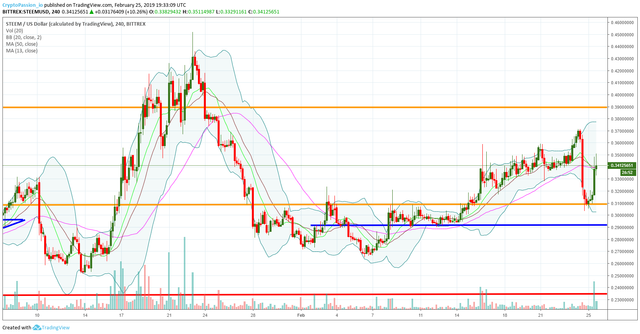 With this kind of chart, it is obvious that my lines are well selected and used by the market. Look how the STEEM went touch exactly the support line at 0.31$ and how the bounce has been created by the support line. The chart is confirming exactly my scenario. So now let's see, that bounce is perhaps just a pause before the next drop but the DROP could also be invalidated if the UP is continuing. The coming hours will be very important.
Last Updates
You don't want to miss a Crypto news?
Join SteemFollower and get Upvotes back !
https://steemitimages.com/DQmRhDtjokAZnGKi4QwheqksKTFo6m4fsjMYsNNrsitC1xk/upvote.gif
---
Posted by Quod Scripsio from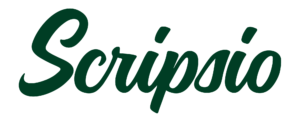 https://scrips.io
using SteemPress
: https://scrips.io/blog/mr-cryptolemon/%f0%9f%97%9e-daily-crypto-news-february-26th%f0%9f%92%b0/
---