Hello Hivian,
When I first have read about the community-celebration campaign, I didn't have to spend much time thinking about which community I would like to celebrate.
I've been a Hivian for more than 23 moons now and have seen a lot of great projects, communities and people in the sheer boundless expanses of the blockchain.
In fact, the Hive was ultimately the only reason for me to still be engaged in social networking at all. Nowadays, it is the only social network in which I still participate and enjoy participating.
Because in the Hive, there is movement! At every corner here, people are tinkering, brainstorming, working on and implementing new things. What I like most is the fact that it's not just a company that moves things around here, but "We, the Hivians!".
With that opening, I celebrated the Hive, which absolutely deserves it. But beyond that, I want to celebrate a very special community of the Hive with this post.

Hallo Hivianer,
Als ich von der Community-Celebration Aktion las, musste ich nicht lange überlegen, welche Community ich gerne Feiern möchte.
Seit mehr als 23 Monden bin ich nun Hivianer und habe schon sehr viele großartige Projekte, Communities und Menschen in den schier unendlichen Weiten der Blockchain gesehen.
Das Hive war letztlich sogar der einzige Grund für mich, mich überhaupt noch mit sozialen Netzwerken zu beschäftigen. Es ist heutzutage das einzige soziale Netzwerk, an welchem ich mich noch beteilige und gerne beteilige.
Denn hier im Hive bewegt sich was! An jeder Ecke hier wird getüftelt, Brainstorming betrieben, angepackt und neues Umgesetzt. Am meisten mag ich daran, dass es nicht irgendeine Firma ist, welche die Dinge hier bewegt, sondern "Wir, die Hivianer!".
Mit dieser Einleitung habe ich das Hive gefeiert, welches das auch absolut verdient hat. Doch darüber hinaus möchte ich mit diesem Post eine ganz spezielle Community des Hives feiern.
---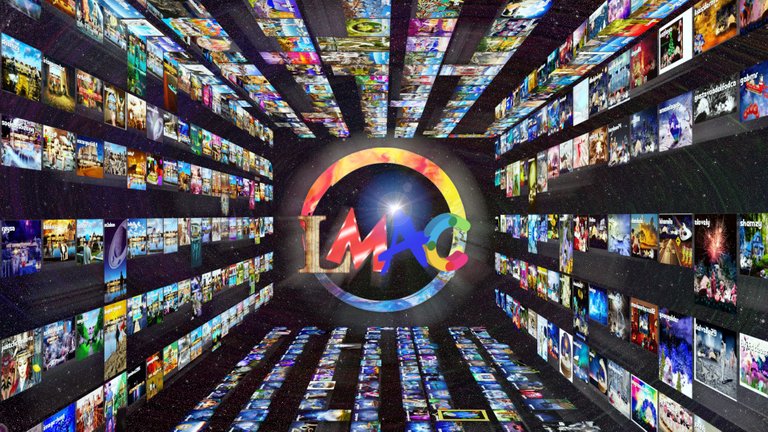 * Image sources | Bildquellen
EN: The cover image was made by-myself with hundrets of the freely usable collages contributed to the LMAC community and the LMAC logo. The language indicators in this post were created entirely by myself.
DE: Das Titelbild habe ich selbst gemacht mit Hunderten von frei verwendbaren Collagen, die zur LMAC-Community beigetragen wurden wurden, und dem LMAC-Logo. Die Spachindikatoren in diesem Post, sind komplett selbst gemacht.
---

My favorite Hive community
I guess, the cover image of this post shows, which community I would like to admit my love to. Also in my profile you will quickly see that I do a lot in this community.
It is LMAC!
Why I like to celebrate LMAC herewith
LMAC is a community in the literal sense. As an art community with intentionally low participation barriers, everyone is welcome to share their ideas and thoughts by posting their artworks. We are a very patient and extremely friendly audience. Even if you once should break the rubbery boundaries of surreality with an artwork, criticism is constructive in our community and many people have already helped each other numerous times.
To participate, you don't need to be an experienced artist! You'll be treated with respect regardless of whether you've never made art before or whether your images have been hanging in galleries for years.
We have a visionary admin who keeps the community moving forward and thanks to his open and far-sighted philosophy, such a community became possible and still exist.
A team of nice moderators always has open ears for every question and always works diligently in the background to make sure that everything runs smoothly.
LMAC also enjoys numerous participation. We post several hundred articles per week on our topics. Therefore, it never gets boring with us.
Quite the opposite, if you want to discover great ideas, ingenious realization and fantastic new worlds, this is the right place for you.

Meine Lieblings-Community im Hive
Am Titelbild dieses Posts ist es unschwer zu erkennen, über welche Community ich hiermit meine Liebe gestehen möchte. Auch in meinem Profil wird man schnell feststellen können, dass ich in dieser Community besonders viel mache.
Es ist LMAC!
Warum ich LMAC hiermit feiere
LMAC ist eine Gemeinschaft im Wortsinne. Als Kunst-Community mit absichtlich niedriger Einstiegsschwelle, ist jeder willkommen, seine Ideen und Gedanken zu Kunst zu machen und vorzustellen. Wir sind dabei ein sehr geduldiges und überaus freundliches Publikum. Auch wenn man mal mit einem Kunstwerk sogar die gummiartigen Grenzen der Surrealität sprengen sollte, Kritik ist bei uns konstruktiv und viele haben einander schon zahlreiche Male hilfreich zur Seite gestanden.
Um mitzumachen, brauchst du kein erfahrener Künstler! Bei uns wirst du mit Respekt behandelt, egal ob du noch nie zuvor Kunst gemacht hast oder deine Bilder schon seit Jahren in den Galerien hängen.
Wir haben einen visionären Admin, der die Community immer weiter bringt und dank dessen offener und weitsichtiger Philosophie eine derartige Community erst möglich wurde und bleibt.
Ein nettes Moderatoren-Team hat immer ein offenes Ohr für jede Frage und sorgt auch im Hintergrund immer fleißig dafür, dass alles rund läuft.
LMAC erfreut sich zudem zahlreicher Teilnahme. Wir posten zu unseren Themenfeldern mehrere Hundert Beiträge pro Woche. Langweilig wird es bei uns daher nie.
Ganz im Gegenteil, wer tolle Ideen, geniale Umsetzung und fantastische neue Welten entdecken möchte, ist bei uns genau richtig.
---

What is LMAC and LIL
LMAC is a great art community in the Hive, dedicated to the realm of collages and everything that follows the principle of a collage. So creating images, with parts from other images and your own modifications.
We have a weekly collage making contest there where you can win prizes.
We also have an image library at LMAC (Let's make a collage) for which numerous Hivers provided and still provide us with photos, artwork and 3D renderings. We call this library LIL (LMAC Image Library).
To make it easier to search this library, we have created a dedicated website. You can find it at https://lmac.gallery/
Just take a look in our community. Even if you think you're not an artist, give it a try. You might prove yourself wrong. The weekly challenges are a great way to awaken and train your inner artist.
📢 >>> Join Our Community on Discord <<< 📢

Was ist LMAC und LIL
LMAC ist eine großartige Kunst-Community im Hive, die sich mit dem Bereich der Collagen beschäftigt und allem was dem Prinzip einer Collage folgt. Also dem Erstellen von Bildern, mit Teilen aus anderen Bildern und eigenen Modifikationen.
Wir haben dort einen wöchentlichen Collagen-Wettbewerb, bei dem man Preise gewinnen kann.
Wir haben bei LMAC (Let's make a collage) auch eine Bild-Bibliothek, für welche uns zahlreiche Hiver Fotos, Kunstwerke und 3D-Renderings zur Verfügung stellten und immer wieder zur Verfügung stellen. Wir nennen diese Bibliothek LIL (LMAC Image Library).
Für eine einfachere Suche in dieser Bibliothek haben wir eigens eine Webseite geschaffen. Du findest sie unter https://lmac.gallery/
Schaue doch mal bei uns der Community rein. Selbst wenn du denken solltest, du seist kein Künstler, probiers einfach mal aus. Möglicherweise wirst du dir selbst das Gegenteil beweisen. Die wöchentlichen Herausforderungen helfen prima, deinen inneren Künstler zu wecken und in Übung zu bringen.
📢 >>> Unser Community-Discord <<< 📢
---
Best regards | Viele Grüße
QuantumG

╭━━⋞ ☙ My NFT artworks ≻≺ ♖ My dCity ⋟━━╮
╰━━━━⋞ ♫ My Rising Star(s) ⋟━━━━╯