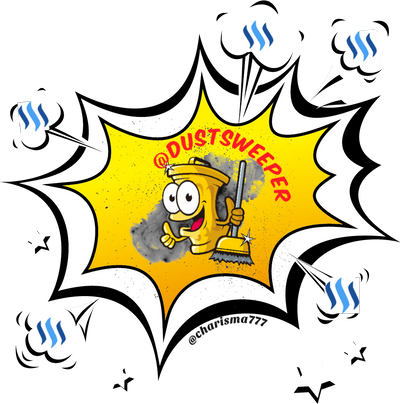 Dustsweeper Issues
After the blockchain issue this week, and the needed upgrade to version 0.19.5, many of the public RPC nodes had to replay, putting a higher burden and overloading the existing active nodes. This caused several @dustsweeper crashes and Dusty struggled to keep up with normal operations.
We even hit 100% VP yesterday!
To avoid wasting our VP we gave out random votes to active Dustsweeper accounts. These are free votes not deducted from your balance.
Hopefully we will be back to normal again in the next day or two.
Gifts and Donations
We have received some very generous donations, but busy times have prevented us from properly acknowledge them.
As you might know, we need SP to be able to operate. The majority of the SP we are renting, using the MinnowBooster market. The other part comes from donations from fellow Steemians. And recently we received an awesome 3K SP delegation from @gamer00, aka. Jaro. A big Thanks and Kiitos to you!!
@johndoer123, a very generous and caring minnow, sent a gift of 2.5 SBD to be distributed to other Dustsweeper users. Please read more about that below.
We also have a remaining 5 SBD donated by @jackmiller. Jack donated 10 SBD in total where the first 5 SBD was used in this Refer A Friend Game.
Suggest a Contest - Win Free Upvotes
This is a "Suggest-a-Contest" Contest. Your task is to suggest a contest that we can run linked to @dustsweeper.
What kind of contest would you like to see?
Give us a short summary and describe how the contest would work.
Please use your imagination and come up with a great contest idea. We will use the donation from @johndoer123 and hand out $1 of @dustsweeper upvotes to the 5 best suggestions.
Write your suggestion as a comment to this post.
The donation from @jackmiller will then be used in prizes when we organize a contest from one of the winning suggestions.

Designed by @charisma777
Upcoming Changes
Things have not progressed as fast as we had hoped and we are still preparing to get the changes below released. Please stay tuned and we should have news in the next few weeks.
Discord Support server and a Discord Dust-Bot.
Opt-in for outgoing votes to reward other users.
Dustsweeper Stats
Here the latest Dustsweeper statistics. Except for the issues this week we have had a very smooth ride and an outstanding growth. Since the last update we have almost tripled the user base and we have saved a truckload of dust. Well Done Dusty.
We have almost 600 Users registered.
$950 in total outstanding upvote balance for all users.
A total of $210 saved from turning into dust.
---
---
ps. If you wonder about the cool @dustsweeper graphics above, they were all designed by @charisma777. Please check out her post: https://steemit.com/dust/@charisma777/a-gift-for-dustsweeper
---
Dustsweeper is an initiative supported by Witness @danielsaori. Daniel is also one of the co-founders, together with @davemccoy. Their shared vision is to help newcomers grow and prosper in the STEEM universe.
Seeing a 2 cents profit turn into dust doesn't sound like much, but for someone new, it can make all the difference. @dustsweeper is trying to prevent that potential disapointment by helping protect those tiny profits.
Do you like Dusty? Please give a Witness Vote to @danielsaori