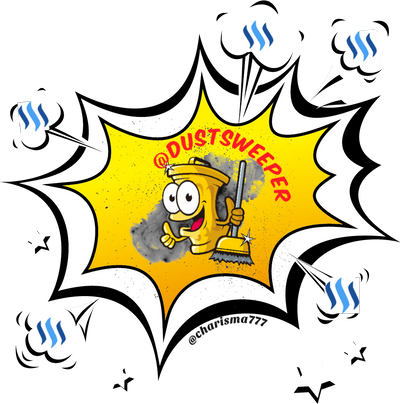 Dustsweeper is now finally up and running on HIVE. Dusty has been sweeping dust for a few days now and everything seems to be working fine.
Dusty's Discord server has also been updated, please find the link here if you haven't joined yet: Discord Server
---
Dusty on HIVE
@dustsweeper did the first dust sweep on 24th of May, 12:56 UTC, helping this comment from @bluemoon reach a payout value above $0.02. If Dusty hadn't reached out, the value of the vote from @vgalue would have been thrown in the bin.
Good old Dusty with some minor changes
Other than updating the code to work with HIVE, and some code changes behind the scene, @dustsweeper is functioning almost the same as before. The visible changes are listed below.
Account Balance - Account balances are now stored using HIVE, instead of HBD. All current balances have been converted from HBD to HIVE. You can still top-up your account using HBD, but that will be converted to HIVE and added to your balance.
Free gift - To mark the opening of the HIVE blockchain, all accounts with a low balance have been given a balance of 0.1 HIVE. That should be enough for at least 2-3 votes.
Delegation - You can delegate HP to @dustsweeper in exactly the same way as before. The only change is linked to the reward payout threshold. You will now receive a payout if your reward is higher than 0.01, instead of 0.001 as before. This change is to avoid too many small transfers.
The only exception to this is when you stop your delegation. Then you will be paid out as long as your reward is above 0.001.
Discord Server
The Discord Server looks pretty much the same as before. But as we are dealing with two blockchains, there are two completely separate instances of Dustsweeper running. To make the separation clear, I have created two different channels, one for STEEM and one for HIVE.
See below screenshot from the Discord Server. You will find one channel called #bot-hive and one called #bot-steem.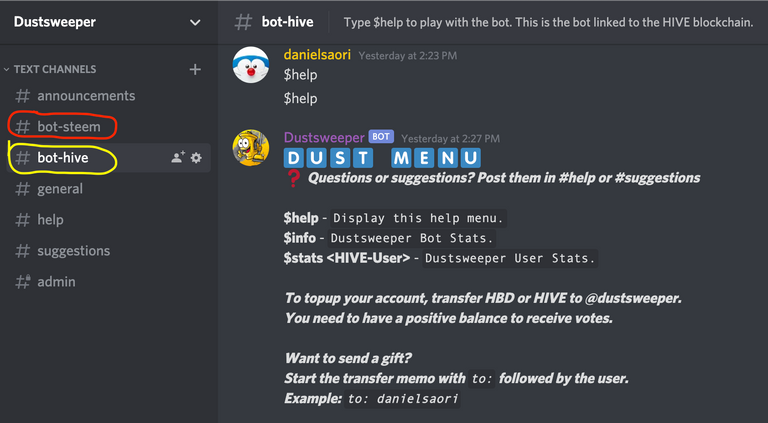 ---
---
Thank you very much for reading
I hope you are enjoying Dustsweeper. Please delegate to support us. Join the Discord Server to stay up to date with your account.
---

---