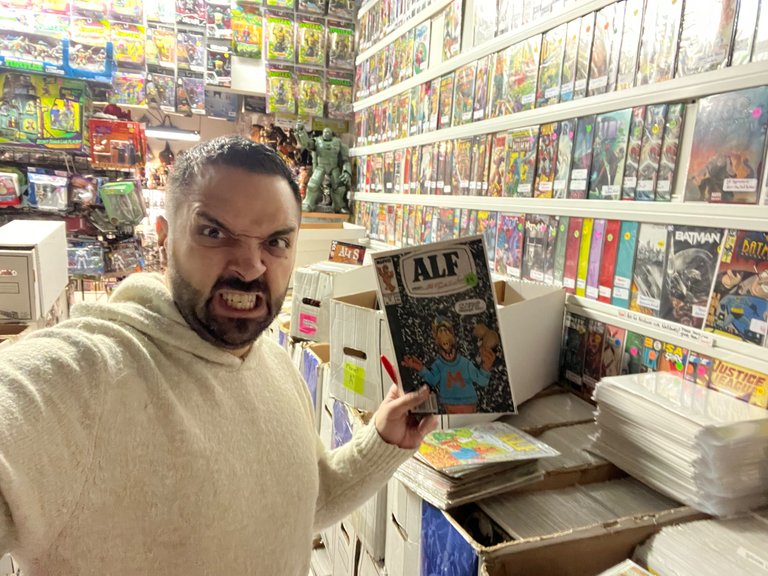 So today is an exciting day for me at my comic & toy shop Conquest Comics. For today is the day that I start (once again), our gigantic comic back issue restock. This is where I infuse our floor stock of older issues. The reason I'm so pumped to hop back into this project once more is it allows me to focus on several areas simultaneously. We get to straighten up the back room where hundreds of long boxes are stacked floor to ceiling, and restock not only the back issues…but the dollar boxes and choice wall books as well. So this project checks a lot of boxes.
Speaking of boxes, I'll be adding in a couple hundred long boxes of back issues on the floor for customers to browse by the time I finish…which might take me a year to fully finish. But once it's complete, we will be a more organized well oiled machine when it comes to back stock. Right now, if it's not on the floor…it's back here which is slowly being organized and usually not able to be found efficiently. The goal is to change that.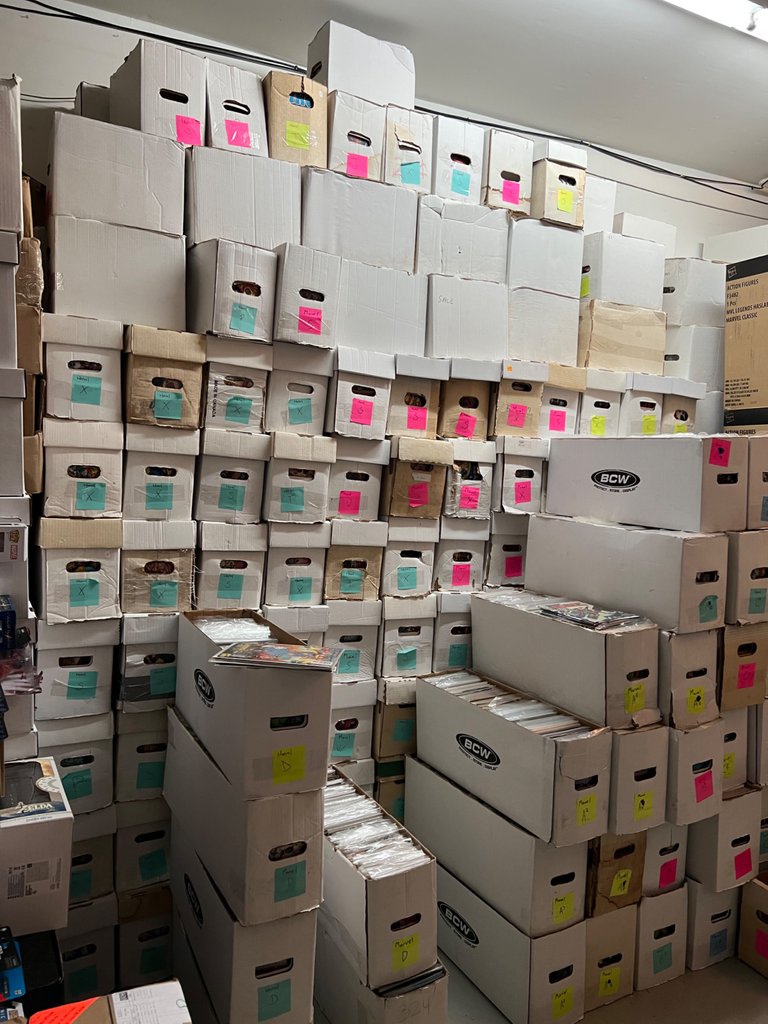 We have our over 300 long boxes on the floor sorted in alphabetical order and separated by Marvel, DC, & Indy books. Today I'm starting with Marvel letter A which is a big letter due to long running titles such as Amazing Spider-Man & Avengers. A will probably take me a couple of weeks to get through on its own.
Funny enough, we need most of the run of Alf which comes as a surprise to me…outside of the nutty #48…who the hell is buying Alf these days?!? Ah well, more filler is a good thing as our back issue selection is one of our strong suits here. Most shops these days have little to no back issues, so we take great pride that we have almost too large of a selection.
Separating wall books is fun as well. Sone of this stuff hasn't been seen in years, so as I go through em I stumble upon tons of cool variants, key issues, and first appearances that I separate. That stiff will either end up on the wall here, or in some lucky cases, even sent off to CGC to get graded. You can even see where there are lots of gaps as Amazing Spider-Man wall books sell like hotcakes!!! I'll have lots of new deliciousness to display shortly!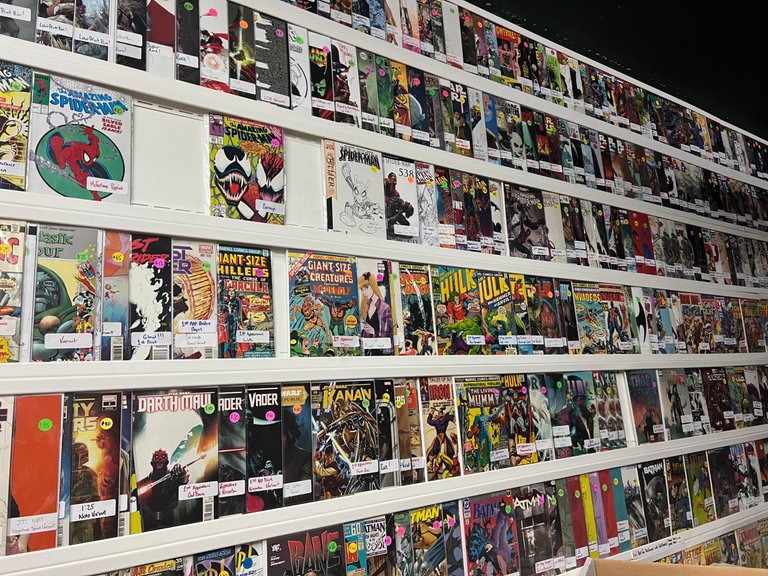 Today has been slower so far which is good for projects like this as it allows me to kinda work uninterrupted for a bit. I have to blend 2 different sources of Marvel letter A's while seeing what we need on the floor. Bag & board em up, price em, and make sure everything is in order while separating dollar books. I have a hard rule that if it's not a key issue and I have 4 or more copies of any issue, I take the most beat up one for the bargain bin. Those get attacked hardcore as well as we have a wide selection of books there for a buck each or 12 for $10. It's a good place to fill runs. Currently all of the boxes on the bottom are empty meaning I have lots of tastiness to add here.
Dollar boxes are a phenomenal way to get rid of big chunks of inventory in a hurry. People love getting a deal, so these get raided often…and it's not all trash. Perfect example is last week we bought a collection of about 1000 books. They were all in decent to good shape but had one major problem. They soaked up a lovely mildew small as they were stored in a dank attic for years. So I popped 99% of them books straight in here including Infinity Gauntlet #1, X-Men #4, Uncanny X-Men #282, Amazing Spider-Man #365, and a few other smaller 1st appearances. Sone of those books are $15-$30 dollar books. Not too shabby a find for a buck or less.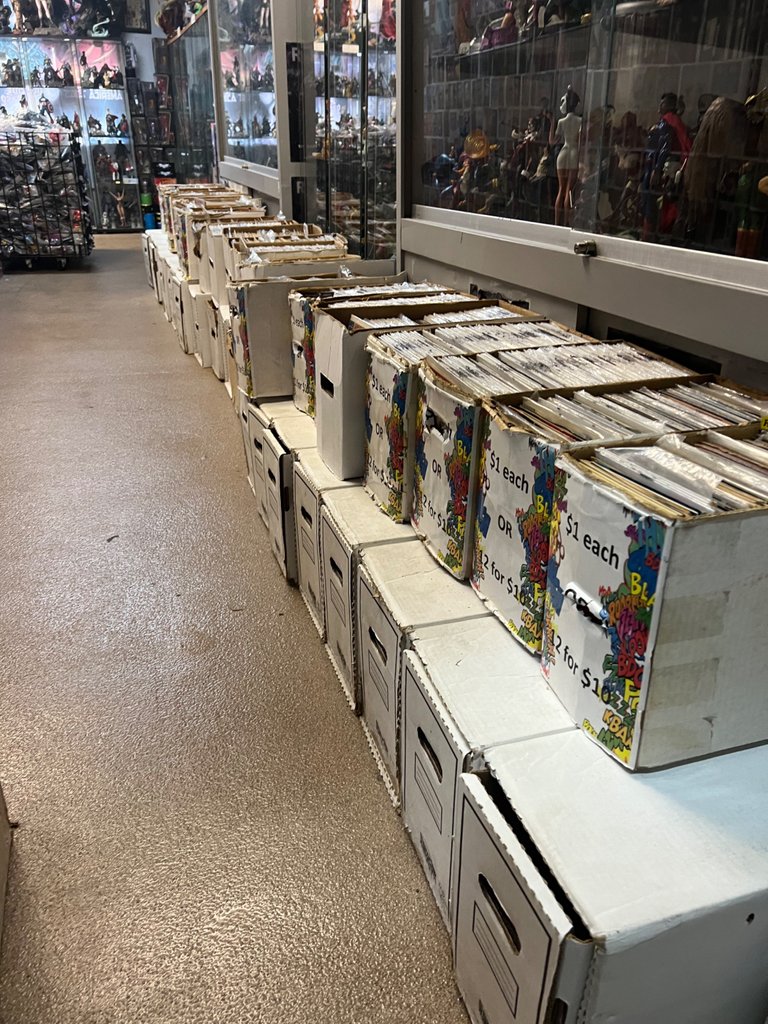 Well, lunch is over and I better get back to it. This will be my view for the next…uh…well this year basically. Let the fun begin!!!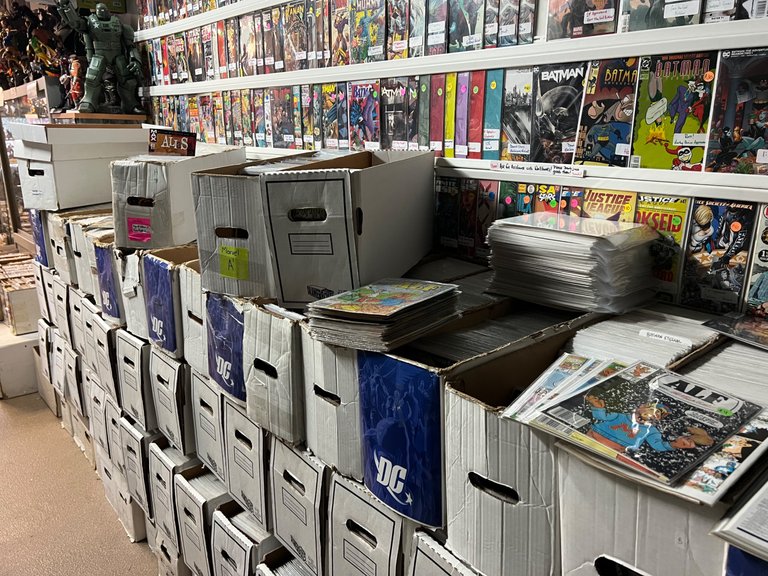 Thx for checking out my nonsense!
Blewitt