Some may say the 'perfect storm', others see the confluence of factors that will conspire to produce a history defining lunge in pricing; towards the stratosphere!

Let's take a sneak peek at BitShares.
THE PRO's SNAPSHOT:
In terms of transactions on the blockchain, BitShares is already #2 (has also been #1 recently) This indicator in my opinion is one of the best predictive indicators of value. (#1 is STEEM)*
The shot below shows that in the last 24 hours, BitShares had over 1.1 million transactions. BTC in the same period had 178,000.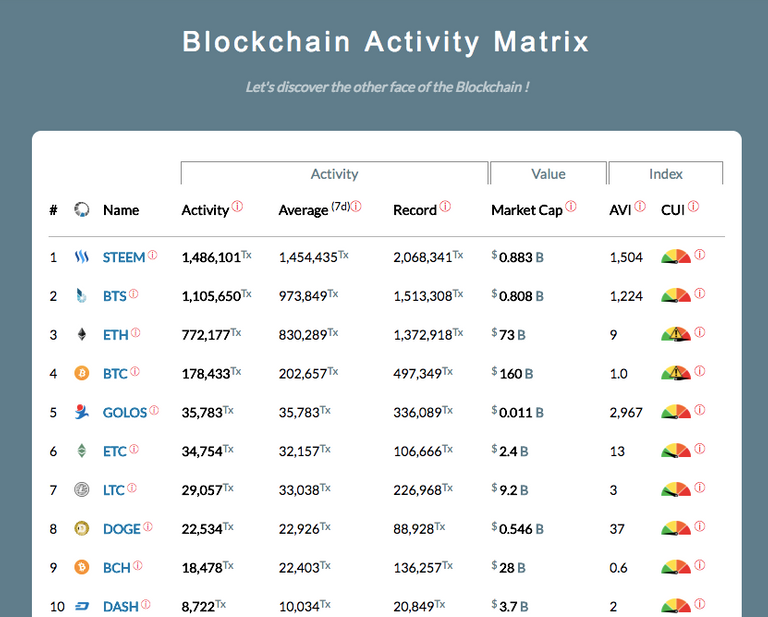 2. Transaction Processing Time
On average, a Bitshares transaction is completed within 3 seconds. Compare that to Bitcoin which can be anything from a few hours to days. ETH is anything from 5 minutes - to a day.
3. Capacity Used of their Blockchain
This is a really interesting one. If you go back to the Blocktivity.org chart in #1, you will notice that both ETH and BTC are running at half of their capacity in terms of transactions. BitShares on the other hand, the needle has not even left the zero position. The net meaning is that even with BitShares doing more transactions than both ETH and BTC combined, it hasn't even registered on the meter.
4. Fees
Considering that we are all driven by economics, fees is a massive consideration.
BitShares: Pennies.
Bitcoin: Can vary from a few dollars to over US$55 (Jan 2018)
ETH: Between US$.50 cents to over US$4
Scalability:
According to the devs of BitShares, the platform is capable of processing 100,000 transactions per second (tps) and even more with minimal optimisation. A comparison with VISA, which is one of the largest financial providers in the world, handles, on average, 2,000 tps with a maximum capacity of 24,000 tps.
Bitcoin on the other hand can currently provide 3 - 7 transactions per second (tps).
The current chart: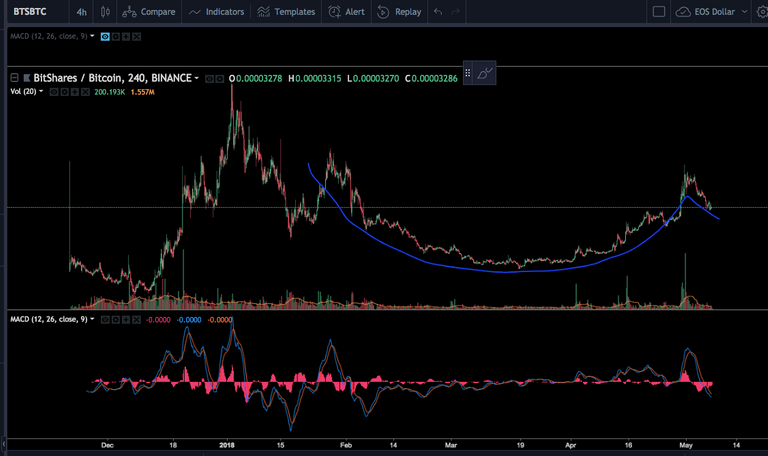 Excuse my amateur drawing skills. I think my 1 year old could do better. The point here is that we have a great example of a cup and handle. If you take a look at the MACD, it looks like we are getting closer for a cross over.
THE CONS SNAPSHOT:
The UI for some is dated and without some key features.
Personally, I have no issue with the UI. I find it practical. Having said that, if you were to compare it to Bitfinnex, it is clearly lacking some features.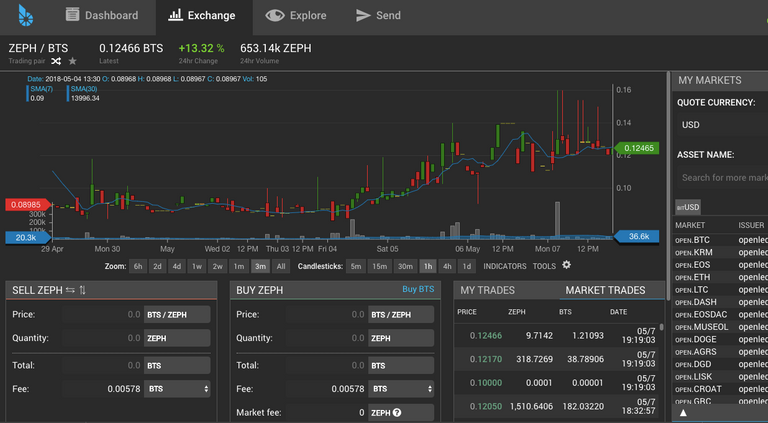 It seems that most centralised exchanges have an issue with BitShares.
This is kind of obvious as most exchanges would see BitShares with its decentralised model and extremely low fees as a threat. Now @Stan has gone on record saying that a number of new exchanges will be announced this year.
---
Given the facts (and there are a lot more I could list), I am very bullish on BitShares. If you buy and hold this baby, in a few years you could be in for massive profits. More importantly, you will be part of an amazing vision that has positive effects on millions of people.
I would love to hear your thoughts.
Love, love, love.
Remember: DYOR - Do Your Own Research. This information is meant for entertainment purposes only. Authors who spend free time gaming, is akin to listening to Homer Simpson for advice.