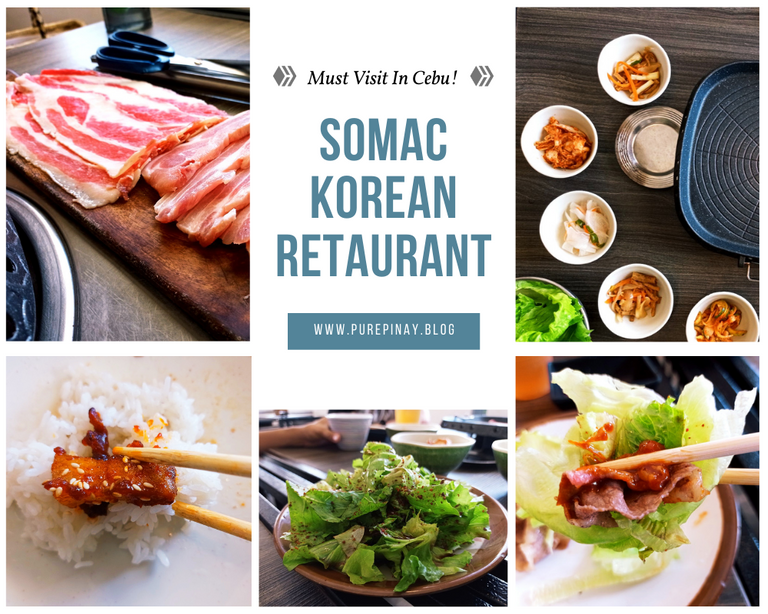 I've had some Korean food before at my friend's place and even at home but, the truth is I haven't been to any Korean restaurants. I think it's because I didn't really know which restaurant in town to go to. Also, I was also reluctant to get disappointed with the price of the meal and I won't be able to eat enough food on the table, especially anything with kimchi. If you're wondering why not Kimchi and who does not love Kimchi? Sadly, I am one of those people who have a selfish allergy, it may be in liquid forms like oyster sauce or anything with real shellfish in it.
Until one of my friends invited me to have lunch together with two of our girlfriends at this Korean restaurant called Somac. I remember one of them called me and I was just leaving the gym, when I heard the word food, it was music to my ears! Your girl here immediately called her partner and asked if he can put our baby for a nap so she can join with the girl squad!
Luckily, my partner was kind enough to take the responsibility so I can dine in with my friends. I didn't even shower, we just left and I was excited to dine in.
The staff recommended that if we order at least three main dishes from the main menu we will get free kimchi pancake and steamed eggs for free which usually costs; kimchi pancake: 500pesos (10 USD), steamed eggs: 150pesos (3 USD), and jjamppongtang, a vegetable and seafood soup: 500 pesos (10 USD). At first, I thought it's not a good deal because the portion size would be smaller than they usually serve on the regular menu. Plus, I could not eat any of the two free dishes that were offered. However, we're going to order three dishes from the menu anyway, so they can just bring the free dishes to our table.
---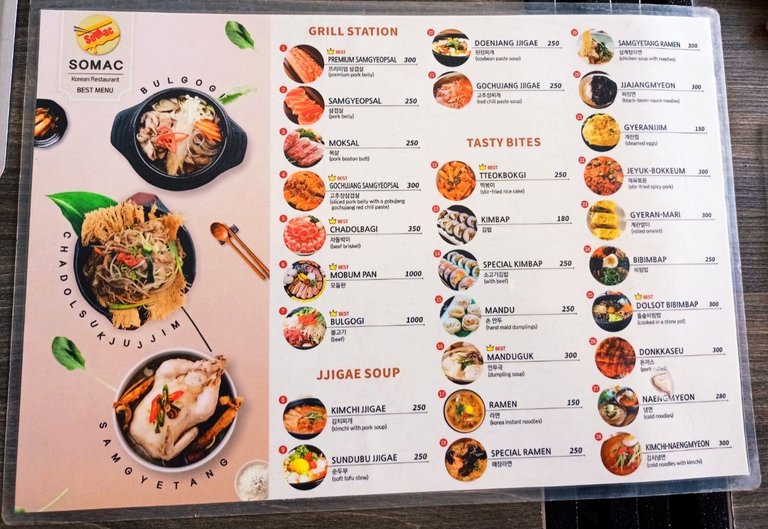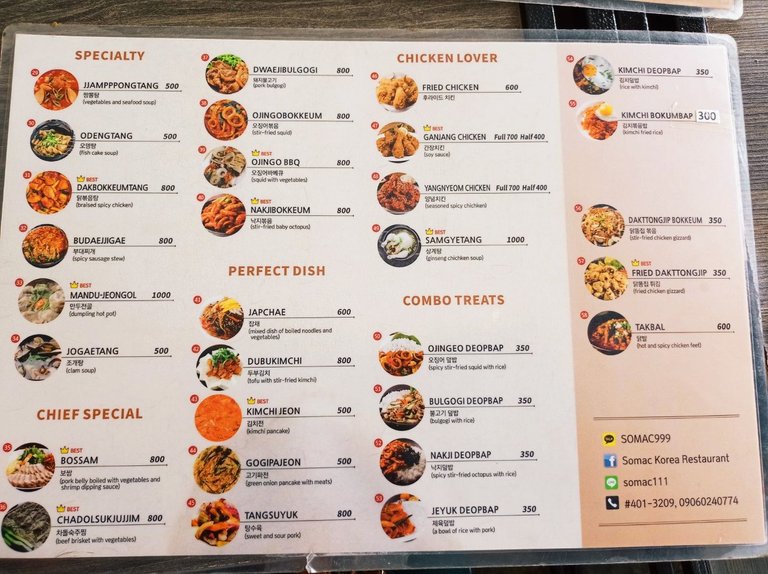 We all agreed to order premium samgyeopsal (300pesos or 6USD) which is a raw pork belly but it's cut about half of an inch thick, chadolbagi ( 350pesos or 7USD) raw thinly sliced beef brisket and gochujang samgyeopsal ( 300pesos or 6USD) which is sliced pork belly in Korean red chili paste called gobujang gochujang. We also ordered four steamed rice became why not.
The other staff brought the meat and the heavy black griddle, a nonstick grilled pan to cook the meat. My friend, Cynthia has this at home too, so this won't be my first time using it because she hosted samgyeopsal lunch and dinner before.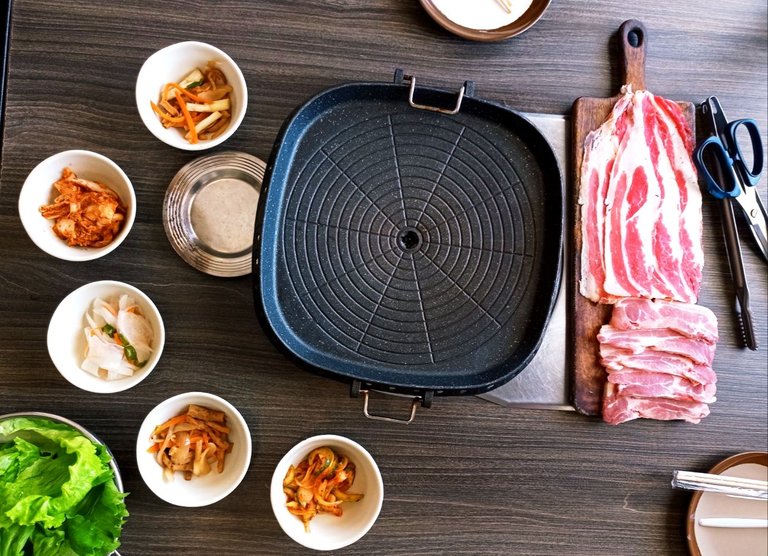 After a couple of minutes, the first staff who took our orders brought several bowls of different stuff in it. It's free and you can even ask for more if you want to! But of course, only ask if you have a plan in finishing all the food so it won't go to waste.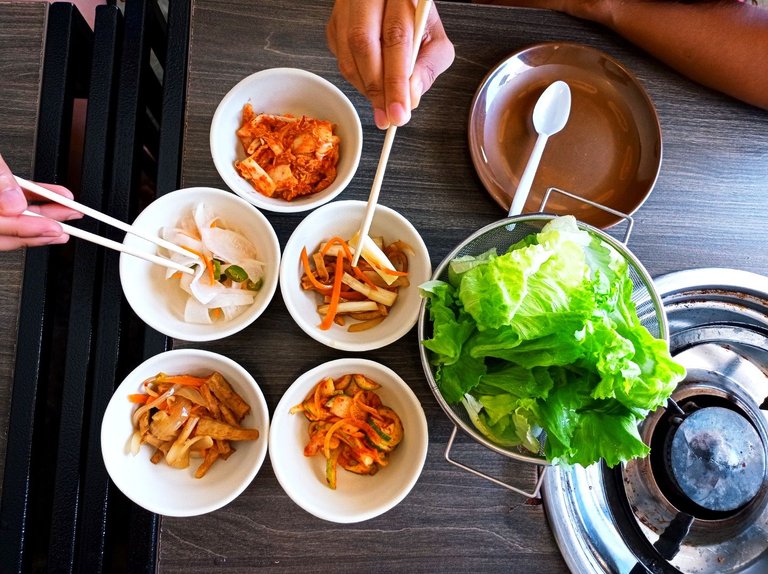 So here we have kimchi, pickled white radish, cucumber, and onion mixed with kimchi, mixed vegetables with tofu, and sliced carrots with leek or the stem of the spring onions. Wait! There's more… Simple Korean salad and unlimited lettuce!
I could not believe that they serve all these if you order any samgyeopsal dishes! One of my favorite side dishes was the pickled radish, it was a different kind of radish, not like the local ones we have. My friend said that she and her partner go to this Korean grocery store and they have imported big white radish. After our visit here, I tried to make some pickled radish with just the local ones that we have and it was much different in terms of taste and crunchiness. This one doesn't have that strong aftertaste of a root vegetable if you know what I mean. Next time we visit, I will ask if I could buy it in a jar that might be worth the price, we'll see.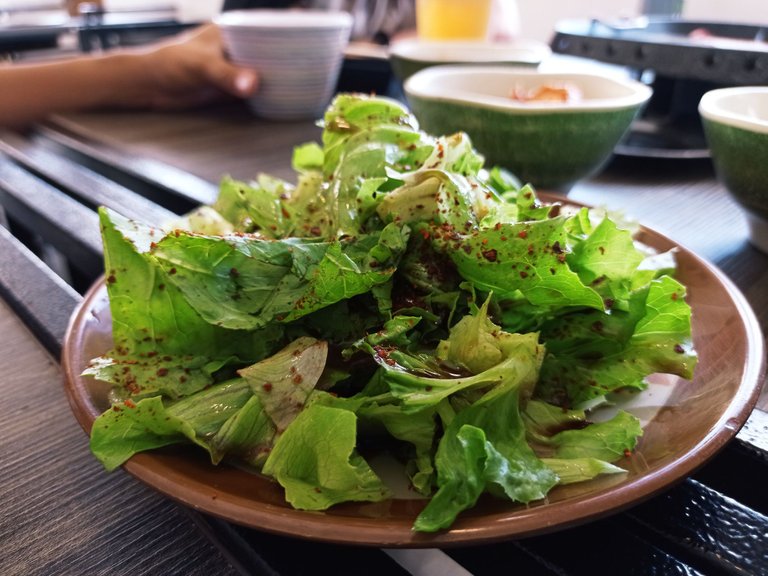 Korean Green Salad
Another side dish not to miss is the simple salad. Am not quite sure what is really called but it's simply a salad. One would ask what is especially about this chopped leaf lettuce with dressing- you actually just read it; it's the dressing! It was the first time I tried this kind of Korean salad dressing. It is so simple yet so good, we could not stop eating it. If you ask my friend, @itsmiessyonpeakd who was also with me, she'd probably not remember how many times we asked we asked for a refill, lol.
All the meat was very good and you can tell that it's high-quality fresh meat because of how it looks and of course, it has no strong smell. Our favorite is the thinly sliced beef brisket, it so good that my friend, Marie ordered another and she offered to pay for it. The perks of having awesome friends (wink)!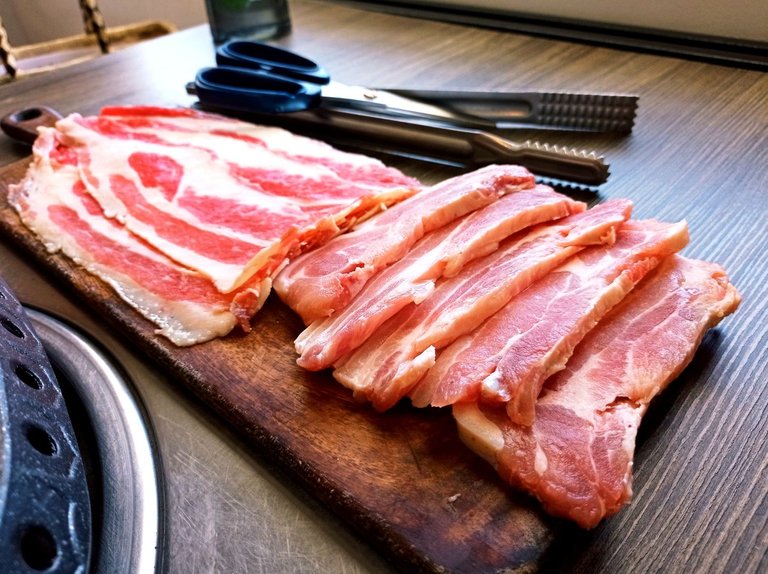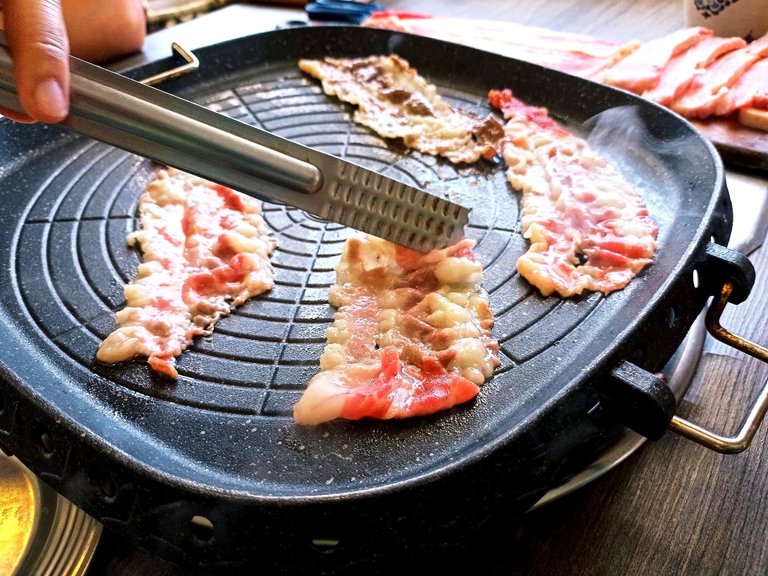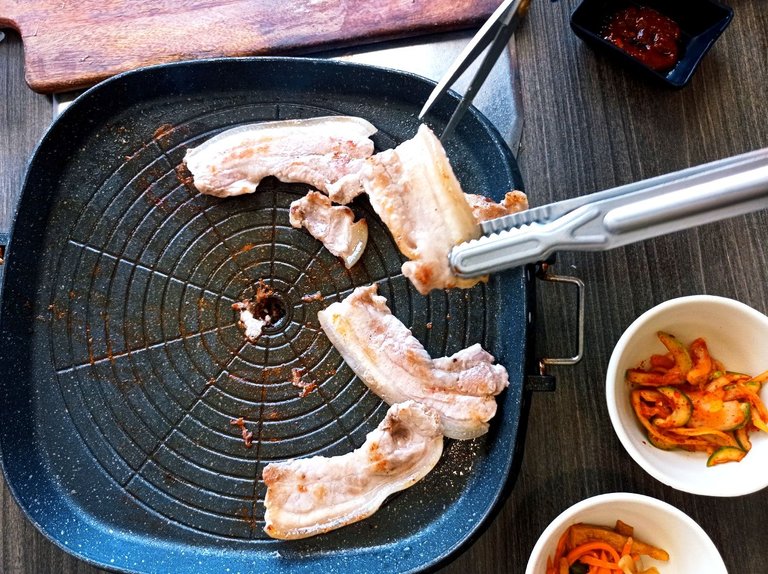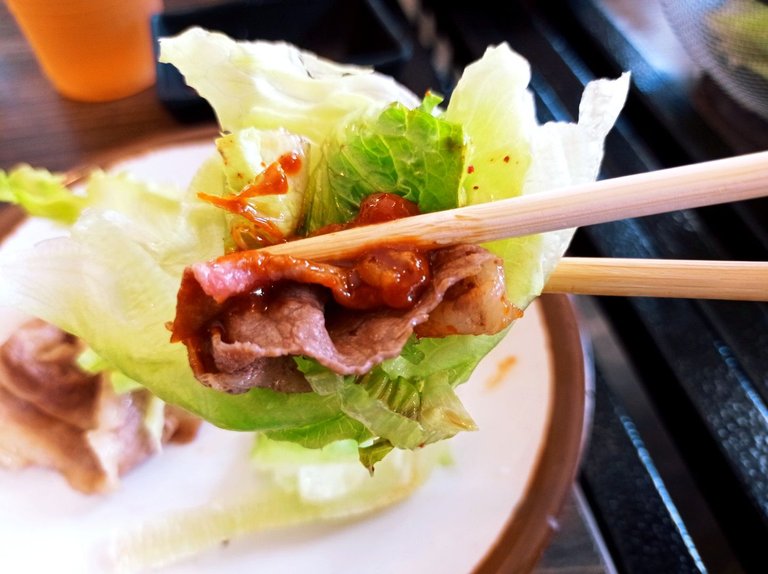 ---
The trick to not overcooking the meat on the griddle is to cook it for about 10 seconds and depending on the heat level. It was about 10 highest heat seconds for the thinly sliced beef brisket. Thanks to our friend, Cynthia our Korean chef that day, she is well trained by her Korean partner, hehe.
There were so many things on the table, it was like a feast and of course, we all enjoyed every bite!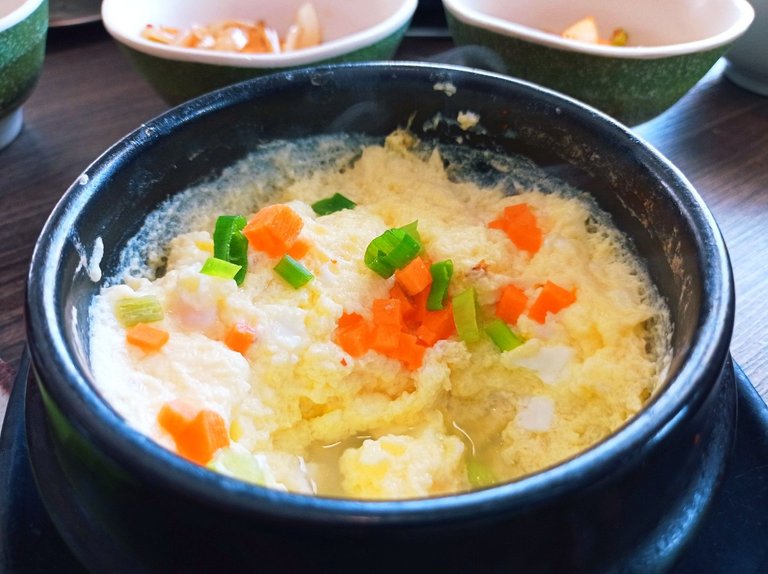 Steamed egg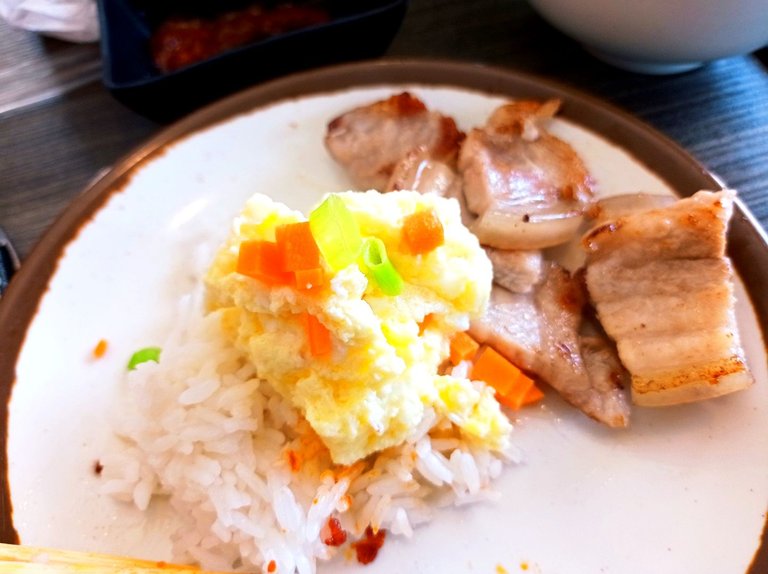 ---
The steamed egg is probably something I will try at home if I ever get bored of normal boiled eggs. It has a soft texture, and the small diced carrots and green onions in it, it really compliments the overall umami taste and adds texture to the dish.
---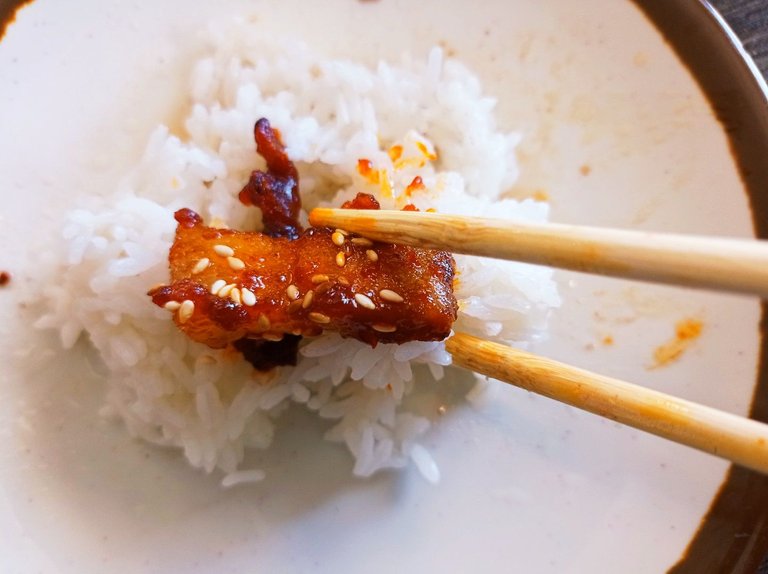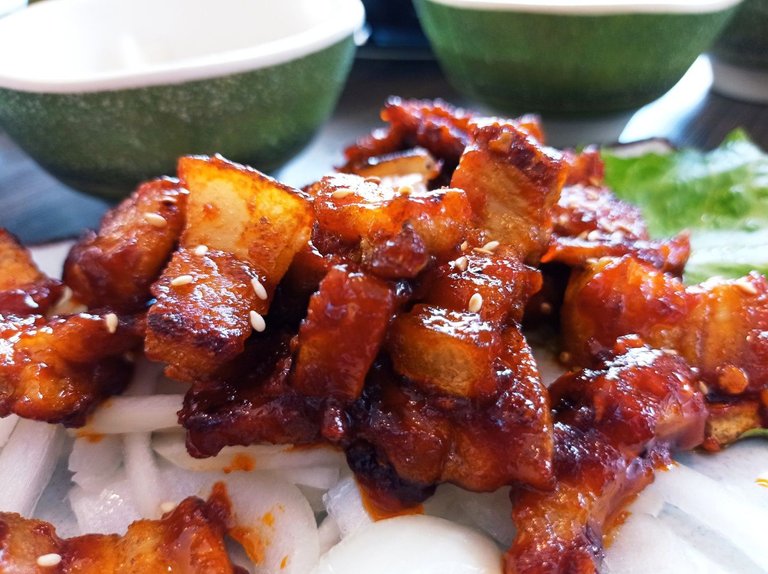 ---
Gobujang gochujang, chopped pork belly with Korean chili paste. This one is also very good. Am glad it didn't have any kimchi in it, so I was able to try it out.
Below is the photo of jjamppongtang it's got some vegetables and seafood in it, only I couldn't eat it, as I've mentioned at the beginning of this blog that I am allergic to shellfish.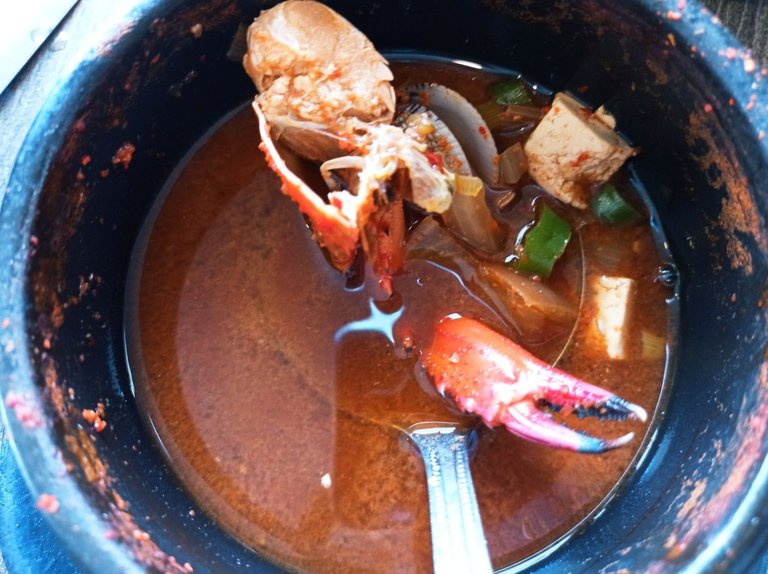 Jamppongtang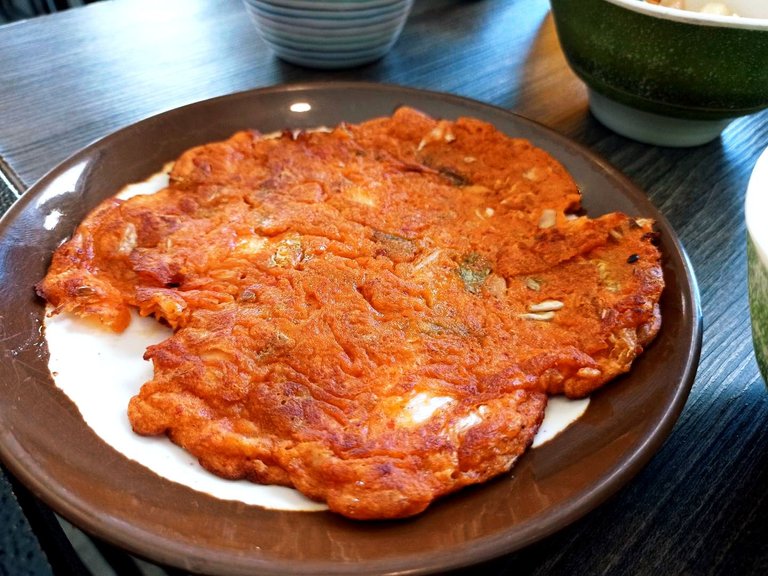 Kimchi pancake
---
The prices of each dish we ordered were worth it because of the quality of the ingredients and all free condiments that comes with it.
This is how I know that I enjoyed the food because we went back a few weeks after since I was craving some of their dishes. We ordered the same food except for the sliced pork belly in Korean red chili paste called gobujang gochujang.
The funny thing is, I passed this restaurant many times but because I am not a fun of seeing the restaurant's menu displayed on big posters outside, I assumed it was one of those tacky places and graffiti on the wall at the restaurant's entrance; a painting of the three Presidents; the Philippine President, the previous US president, and the Korean president, and two more people which I don't recognize.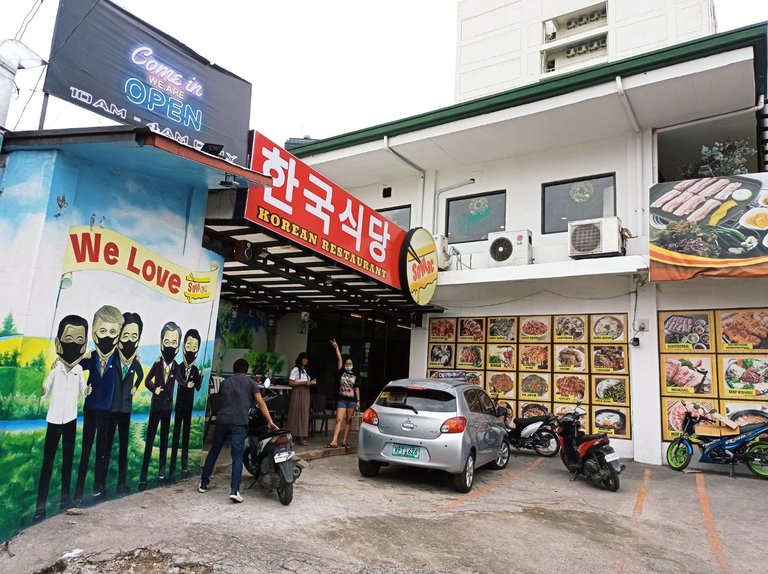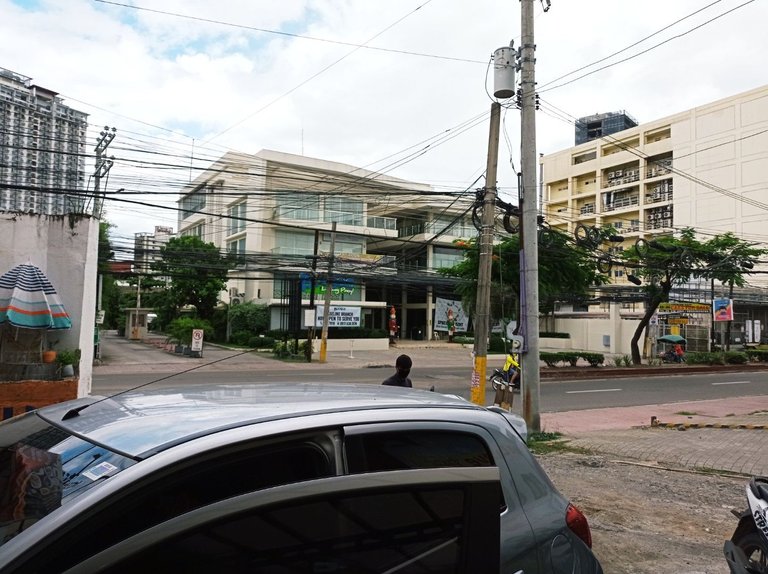 I called the phone number on Facebook just because I was curious who are the other two people on the graffiti wall. Unfortunately, the owner wasn't there and the lady that works there isn't sure who are those people either but anyways this blog is not about the graffiti, I just thought maybe there is a story behind it that relates to the theme of the restaurant but if you know, feel free to share with us (wink!).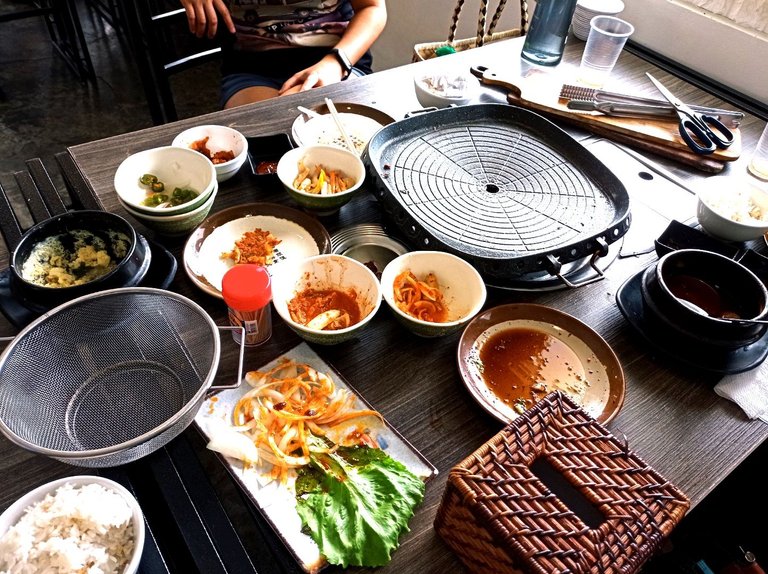 The after math!
I thought it was just mediocre but excellent rather, as far as the dishes that I tried from this place. I highly recommended you visit Somac Keoran Restaurant if you are in Cebu and let me know if you tried other dishes that you love!
Location:
The place can be found just a few minutes' walk from the Petron gasoline station and it's next to the Flame IT Burger shop, which is across from The Greenery. Since they were not busy when we visited that day which wasn't a surprise ever since this pandemic happened, my friend was able to get a spot to park her car.
---
Fb page: Somac Korean Reaturant
Operating Hours: 9am - 10pm Mondays to Fridays ()
Contact #: (032) 401 3209 | 09060240774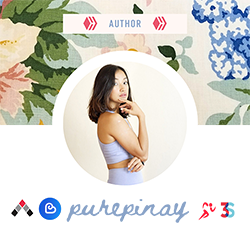 P.s. Only Hive members can leave comments in this blog but feel free to connect with me on my social media accounts, just click on the icons below:
Interested in Blogging on Hive?
Signing up is now made easy with OCD's onboarding project! Just follow the instruction on the yellow card and I will personally guide you on setting up your Hive account and join our growing community in Cebu, check out our Facebook Page showcasing some talented bloggers and aspiring bloggers, and be updated on fun Hive events!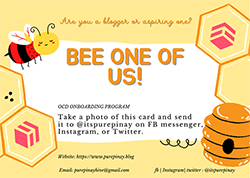 ---
Originally posted on Purepinay. Hive blog powered by ENGRAVE.